Opexa Therapeutics Inc. (OPXA) is fresh off the heels of an announcement on February 7, 2013 that they would be offering units containing shares of its common stock and warrants for half-shares of its common stock for $3/unit with the goal of raising $3.25 million. The $3.25 million will go towards continuing the Phase 2b clinical study of Tcelna and general corporate purposes. Tcelna is meant to treat Secondary Progressive MS patients. The offering was expected to close on or about February 11.
Opexa trades at a pretty brisk pace, with a 3-month average volume of 270k, although it has increased sharply recently, and traded at 1.5m over the past ten days or so. That is coming down from a high of 9.8 million shares traded on February 5.

The short interest of OPXA steadily lowered throughout 2012 as the stock slipped from a closing high of $4.12 last February to a much lower $1.20 on January 31 of this year. The days to cover and short interest steadily declined throughout 2012. Yet now, with the sudden spike in the price, it will be curious to see the short interest that gets reported on this stock in the near future.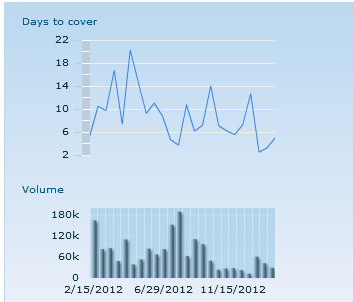 Another interesting bit of recent news that has quietly flown under the radar is a bit of a shakeup in the institutional holdings. The last reporting on nasdaq.com showed that only 5% of shares were held by institutional investors.

Yet, on February 11, 2013, Sabby Management LLC acquired a 9.6% stake in the company. Sabby Management is a New York City-based investment group that focuses on healthcare-related stocks. It seems that someone at Sabby Management thinks grabbing a chunk of Opexa, a larger chunk than all other institutional investors combined, is a good idea.
No analysts have weighed in on this stock or its prospects for the upcoming year. No price target or range exists. It certainly represents a tempting pick to a certain kind of investor. Is it better to get on board right after an institutional investor signals it's getting on board? Or is it better to wait awhile, perhaps until the next phase of testing, to see if the stock will really pan out? As always, that's for the investor to decide.
This stock does represent an intriguing opportunity. Treating MS is certainly a worthwhile goal and potentially a lucrative one to boot. With the FDA seemingly becoming more expedient in their approval process, the turn-around time and likelihood of seeing results sooner rather than later, whether for good or ill, certainly makes this stock more attractive than it would have looked just a year ago.
This stock is for those more willing to take a risk, although that risk does seem to be mitigated a bit with Sabby Management getting on board. Those with weak stomachs should probably stay away.
Disclosure: I have no positions in any stocks mentioned, and no plans to initiate any positions within the next 72 hours. I wrote this article myself, and it expresses my own opinions. I am not receiving compensation for it (other than from Seeking Alpha). I have no business relationship with any company whose stock is mentioned in this article.