[Editor's Note: The article has been updated to reflect the correct figures for Yamana Gold's Argentina production, which were overstated in the original.]
Yamana Gold (NYSE:AUY) is a great company. Just look at the chart below where we compare the share price performance of Yamana Gold with some of its peers including Barrick Gold (NYSE:ABX), GoldCorp (NYSE:GG) or Newmont Mining (NYSE:NEM). Yamana Gold has executed brilliantly on their ambitious growth plans and has been one if not the top performer in the senior gold producer space. They even beat the S&P500 index over the past two years which is a rare feat for gold producers in recent times.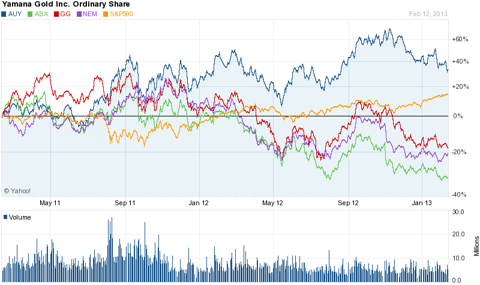 And then look at the chart below showing the development of dividends and yield since the maiden installment in 2006.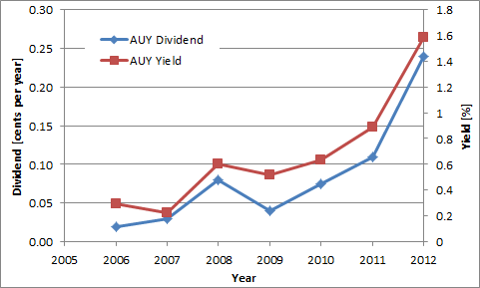 We have analysed Yamana Gold's assets and have duly noted that Yamana Gold has some of the lowest cost operations with plenty of mine life and obviously competent management. We have followed them with growing admiration when they acquired Extorre last year. And we have had a close look at their development projects concluding that Yamana Gold has some outstanding organic growth potential in the pipeline.
Yamana Gold's market capitalization is $11.96B which puts them in sixth place in a list of largest gold producing companies. Its balance sheet looks healthy, with $456M total cash on hand and a very reasonable total debt to equity ratio of 9.9%. The trailing P/E is 33.17 at the time of writing this article, which is rather high compared to peers; but consider the forward P/E of 13.05.
The share price has been dipping recently, and we would be getting ready to take a position as soon as technical analysis gave us the signals, but no, we shall not go there at this point in time. In our opinion, there is one fundamental problem with Yamana Gold, and that is rooted in the fact that 16% of its gold production is coming from mines in Argentina.
Argentina has been getting a lot of bad press by the International Monetary Fund for misreporting economic data. The OECD have set Argentina's country risk rating at 7 out of seven, with 1 being the best.
There have been a series of measures taken by the government in recent times that have reinforced our concerns with regards to investment in Argentina. Here are just the most widely reported incidences that fellow investors might care to remember:
In 2011 Argentina ordered oil, gas and mining companies to repatriate all future export revenue back into the country.
In 2012 Argentina nationalized YPF, the largest oil company in the country by taking Spanish Repsol's 51% stake in the company. A multi-billion international court case with regards to compensation of Repsol is pending.
And only about a week ago Argentina's leader Cristina Kirchner announced a two month price freeze on all goods sold in supermarkets around the country in an attempt to reign in rampant inflation.
Official inflation rate is reported at just over 10% per year. That number was contradicted last November by a leading Argentinian bank, Banco Ciudad, who published their in-house research reporting an inflation rate of over 25%. That would be the fourth-highest in the world. It is worth remembering that the IMF censure was triggered by the IMF's disbelief of inflation and GDP growth data released by the Argentinian government.
Why would these points influence our decision to buy shares of a company invested in Argentina?
High inflation coupled with low GDP growth spells trouble for a country. And pin-pointing an exterior force is a popular measure taken by governments in response to such trouble. Being a foreign investor with fixed assets in a country looking for a scapegoat is not a comfortable position to be in. The decree to repatriate all export revenue into Argentina is a strong indicator that the government is already thinking along these lines. This decree does not pose a problem as long as a company wants to grow and reinvest in a country. Currently, Yamana Gold has 16% of its production coming from Argentina; close to 20% of the company's reserves are situated in Argentina, with an additional resource at the Cerro Morro project, for which a substantial upgrade was released yesterday.
The nationalization of YPF is a case in point that the Argentinian government will not shy away from simply seizing a profitable asset under some pretext or another. Creating such a pretext with a gold mine is a rather simple exercise.
And galloping inflation together with the obligation of buying certain goods and services in the country and also coupled with officially fixed exchange rates is not a healthy environment to run large capital intensive mining operations in. Just listen to Rob McEwen of McEwen Mining (NYSE:MUX) speaking on this topic in a special web cast in May last year.
We are of the impression that conditions for mining companies in Argentina are getting worse rather than better. We also believe that not all the country risk is currently priced into Yamana Gold. So for ourselves, we have decided to stay away from this stock for now. For those with a stomach strong enough to digest the Argentinian country risk associated with Yamana Gold, we recommend to wait and speculate on a lower share price due to the pricing-in of this increasing risk. And for those with an appetite for a high-stakes play: have you considered shorting Yamana Gold based on their country risk profile?
Disclosure: I have no positions in any stocks mentioned, and no plans to initiate any positions within the next 72 hours. I wrote this article myself, and it expresses my own opinions. I am not receiving compensation for it (other than from Seeking Alpha). I have no business relationship with any company whose stock is mentioned in this article.