By Sumit Roy
We examine the latest developments in the natural gas market. Natural gas fell after the Energy Information Administration reported that operators withdrew 157 billion cubic feet from storage last week, below the 160-165 bcf withdrawal that most analysts were expecting. Additionally, the withdrawal was above last year's draw of 127 bcf, but below the five-year average draw of 166 bcf.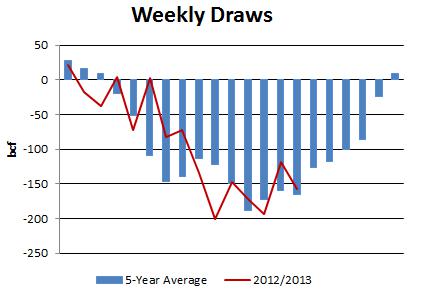 In turn, inventories now stand at 2,527 bcf, which is 234 bcf below the year-ago level and 357 bcf above the five-year average (calculated using a slightly different methodology than the EIA).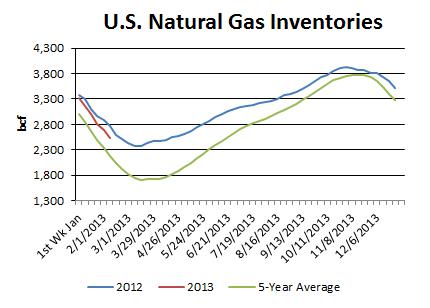 The weather last week was very close to seasonal norms, but much colder than a year ago. Looking forward, the NOAA's six- to 10-day outlook calls for seasonal temperatures across the population-dense Northeast and Midwest regions.

NOAA 6 TO 10 DAY OUTLOOK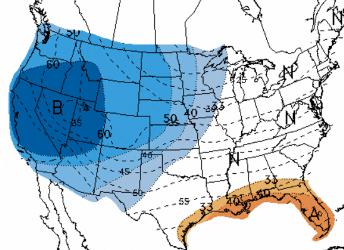 Meanwhile, the number of rigs drilling for natural gas in the U.S. fell by three last week to 425, according to Baker Hughes.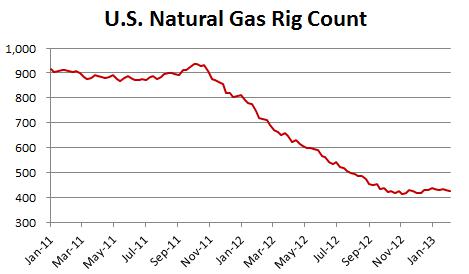 Natural Gas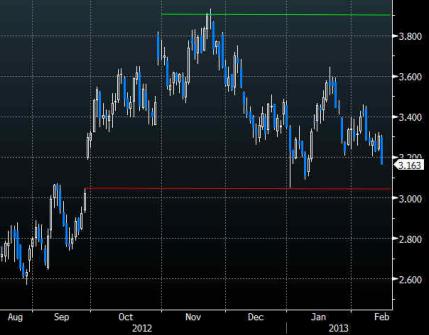 Bottom Line: The latest inventory report from the EIA was decidedly bearish. Although weather last week was close to normal, the withdrawal was 9 bcf less than the five-year average. Granted, that's not a significant deviation, but another crucial winter week has passed and the inventory surplus above the five-year average remains stubbornly high.
At 357 bcf, the storage surplus is substantial. Barring a major, sustained cold snap, inventories are likely to trough somewhere in the neighborhood of 2,000 bcf or higher -- an elevated level and only surpassed by last year's record 2,369.
As the likelihood of a 2,000-bcf-plus storage carryout grows, unsurprisingly, prices are responding to the downside. Our baseline forecast assumes that gas will tumble below $3/mmbtu over the next month and bottom out somewhere between $2 and $2.50 in March or April.