In just the past three months, many solar stocks have doubled in price, which is certainly a worthwhile reason for taking a closer look into this industry. On December 11, 2012, the Solar Energy Industries Association (SEIA) released its Solar Market Insight Report for Q3 of 2012, which was "the third largest on record for the U.S. solar industry." Among the highlights in the report were that Photovoltaics (PV) installations were up 44% over Q3 2011, with the residential market for PV installations having its largest quarter in history, and the non-residential market for PV installations growing 24% over Q2 2012. In the first three quarters of 2012, PV installations totaled 1,992 MW, more than the entire amount for 2011. The increased demand for solar power may be partly attributed to a reduction in installation costs in both residential and non-residential markets, which have generally been steadily decreasing since Q1 2011.
In the report, the SEIA forecasts that PV installations for all 3 markets (residential, non-residential and utility) will continue to increase in the years ahead. If these forecasts transpire to be reasonably accurate, we should naturally also see a substantial increase in market caps for solar-related stocks: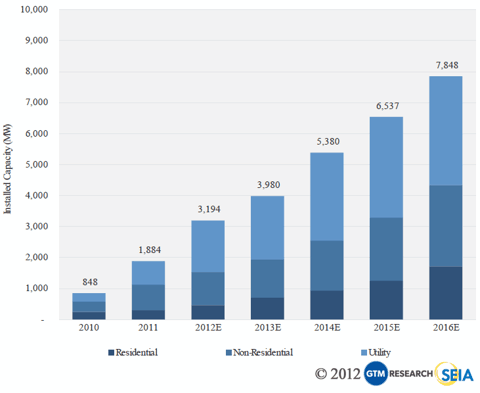 Of course, not everything about the solar industry is rosy. As the SEIA report shows, despite an increase in demand for PV units, the industry is heavily oversupplied, and solar stocks were far stronger back in 2010 and 2011 even when installations for PV modules in the U.S. were far lower.
Being that solar power and installations may still be considered a relatively new, speculative and growing industry, I believe the SEIA's reports and forecasts for the solar industry have a significant impact on the price action of solar-related stocks and investor confidence. In the past couple months since the SEIA released its report for Q3 2012, almost every major solar related stock has steadily increased, with many spiking on the December 12th, the day after SEIA's Q3 2012 report was released. I expect that SEIA's report for Q4 2012 will be released sometime in March and this will act as another catalyst for all solar related stocks.
The Top Solar Stocks In Play
Those who are bullish on the solar industry and wish to invest have numerous options to choose from. In this article I will cover the main solar product manufacturers that are publicly traded, of which all but one are based in China. I will give only a brief overview of each company; a decision to invest should be made only after doing further individual due-diligence and research. I must also stress that, in my experience, Chinese-based companies with unaudited financials represent a higher degree of risk than US-based stocks.
The most interesting solar manufacturers I have identified (in order of current market cap) are First Solar (NASDAQ:FSLR), Yingli Green Energy Holding Company (NYSE:YGE), Trina Solar Limited (NYSE:TSL), Suntech Power Holdings (NYSE:STP) and JA Solar Holdings (NASDAQ:JASO). Every one of these stocks has seriously increased in price since November 2012, and though they could easily retrace here, it's possible that they could be at just the beginning of even bigger runs.

Solar Play #1: First Solar
By far the biggest American-based manufacturer of PV systems, FSLR was founded in 1999 and now has two business segments: its components segment (designing, manufacturing and selling solar modules) and its systems segment (for the engineering and construction of PV power plants). It is involved in numerous projects around the world and has a focus on environmental, social and economic sustainability.
FSLR's Q3 2012 results were published on November 2, 2012. For the three months ended September 30, 2012, net sales were $839,147,000, gross profit was $238,716,000, and net income was $87,917,000. On September 30, 2012 it had cash and cash equivalents of $614,699,000, and total assets of $5,981,729,000 (total liabilities were just $2,523,575,000).
FSLR is perhaps the safest option for someone who wishes to invest in a solar PV manufacturer. Its financials are strong, it was profitable in its last reported quarter, and revenue has grown every year since 2007 to 2011 (annual results for 2012 will be released shortly). However, with a market cap of near $3 billion, it is valued at many times more than any Chinese-based solar stock.
FSLR's two main American-based competitors are SolarCity (SCTY) and SunPower Corporation (NASDAQ:SPWR), which also have relatively high valuations (above $1 billion). SCTY is a recent IPO (having only traded since December 2012), and turned its first profit in 2011. SPWR, meanwhile, has had a long trading history, with increasing revenue (like FSLR), but had net losses in 2011. I believe FSLR is clearly the healthiest of the three companies, with the best financials and earnings, which is why I have chosen to feature it; however, SCTY and SPWR remain strong competitors.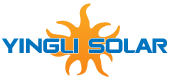 Solar Play #2: Yingli Green Energy Holding Company
YGE, with a current market cap of around half a billion dollars, is the largest Chinese-based solar company that has been brought to my attention. YGE ended trading on December 11, 2012 at just 1.81, and now trades in the 3s. It was founded in 1998 and now offers a range of products that are distributed to numerous countries. YGE operates numerous manufacturing plants in China, and on its projects page claims to have over 4.5 GW of modules installed globally.
YGE's unaudited Q3 2012 earnings were released on November 28, 2012. For Q3 2012 YGE reportedly had net revenue of RMB 2,337 million (US$355.9 million), down significantly from net revenue of RMB 4,258.6 million in Q3 of 2011 (this is attributed to a reduction in PV modules being shipped, and a decline in the average selling price of PV modules). For Q3 2012 there was a gross loss of RMB 507.8 million (US$80.8 million), compared with a gross profit of RMB 458.5 million for Q3 2011. Net loss was US$152.6 million for Q3 2012, which should be quite alarming. As of September 30, 2012, the company had US$592.0 million in cash and restricted cash.
As would be expected, YGE had a far higher price per share a year ago when it had better financials, even after its recent huge up in the past three months. I cannot say for sure whether YGE is a sensible buy at these levels, and I would not feel comfortable trading the stock when there has been so much fluctuation in its income and financial health.

Solar Play #3: Trina Solar Limited
TSL has a similar product line to YGE, its closest competitor. It was also founded at a similar time (1997), manufactures its products in China, and has up-trended substantially since mid November 2012.
TSL is currently at a higher price than YGE but has far fewer shares outstanding (78,000,000 compared with YGE's 152,630,000) and thus currently has a lower market cap (around $400 million at the time of writing). Its Q3 2012 results (announced November 20) state net revenue of $298 million, gross profit of $2.4 million, and a net loss of $57.5 million. As of September 30, 2012, it had $703.4 million in cash (mostly borrowed, just like YGE borrowed its cash, with TSL's interest costs in Q3 2012 alone being $13.8 million).
TSL's financials and earnings do seem slightly less scary than YGE's, though neither strike me as attractive investments at this point, but rather risky plays that could run up quickly upon positive developments or speculation in the solar industry. Even if large losses continue, both companies can continue to remain in business for another few years due to their large cash reserves, and these stocks have a proven history of being able to spike following news or speculation.

Solar Play #4: Suntech
STP once traded at over $80 at its highs in late 2007 before deteriorating over the years. Currently it trades in the mid 1s (up from below 1 in November 2012), and manufactures PV modules for all customer types (residential, commercial, agricultural and utility). For a period, it was at risk for being delisted from the NYSE for trading below $1 for a prolonged period of time, and even now it's debatable whether this company deserves to be trading on the NYSE. As this article explains, STP has made numerous bad decisions in its history, such as being defrauded by an Italian solar company and making failing investments in polysilicon and thin film.
STP has not filed a recent income statement that I could find (the last one on its website is for Q1 2012), which is another cause for concern. My own view, like with other Chinese solar stocks, is that this company remains dangerous, even at its current low price per share.

Solar Play #5: JA Solar Holdings
JASO is by far the lowest-valued solar stock in play, with a current market cap of under $50 million, and just 8.09 million outstanding shares. In the Q3 2012 earnings call, it is revealed that JASO not surprisingly had large net losses ($59.1 million), although like other Chinese solar stocks that have support from major banks, it continues to have large cash and cash equivalents ($543.7 million at the end of Q3). Total revenue in Q3 was $260.9 million. These are large numbers for a stock with such a small market cap, but as with other Chinese solar stocks that have huge expenses and losses, I cannot advise buying JASO stock for the long run even at its low market cap.
For more information
Feel free to contact me, either through Seeking Alpha or on my website, if you would like me to cover any other solar-related stocks that were not mentioned in this article (I am aware that there are many others) or if you have any feedback, corrections or comments.
Disclosure: I have no positions in any stocks mentioned, and no plans to initiate any positions within the next 72 hours. I wrote this article myself, and it expresses my own opinions. I am not receiving compensation for it (other than from Seeking Alpha). I have no business relationship with any company whose stock is mentioned in this article.