As usual, I am updating my opinion on natural gas (NYSEARCA:UNG). With natural gas trading at $3.135 per MMBtu, I expect that within the next few weeks a bottom and buying opportunity will form.
I base this on the combination of weather, demand, inventories and supply we should be seeing as winter draws to a close.
Weather
The weather projections for the next 15 days, as per Accuweather, are as follows: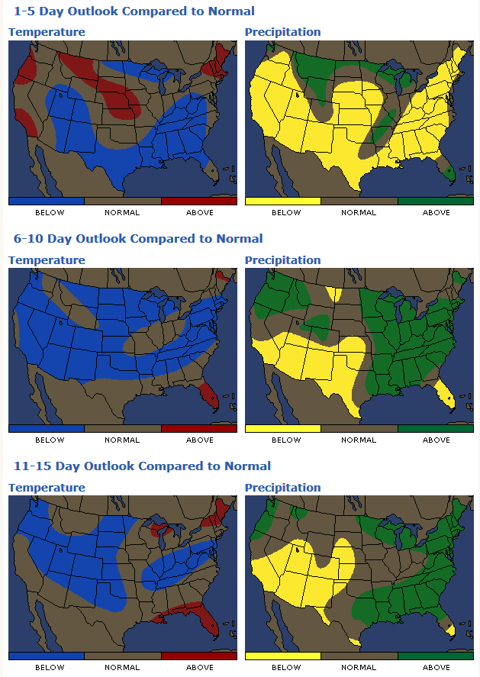 I wasn't looking for anything special here, just not some kind of hot weather which could throw the entire prediction off. That is not the case - temperatures below normal are expected across most of the U.S. This should also be contrasted with last year's weather, which starting right about now was much warmer than usual. This means that even normal weather would be enough to sustain the thesis.
Demand
As we can see below, given this year's "more normal" weather, demand for natural gas for heating is running ahead of last year. Not only that, but we have a period approaching which corresponds to the very "worst" (warmer) period of this last winter. This means that comparisons will turn even more aggressively favorable for this year's consumption pattern (Source: EIA, red ellipse highlighting favorable zone is mine).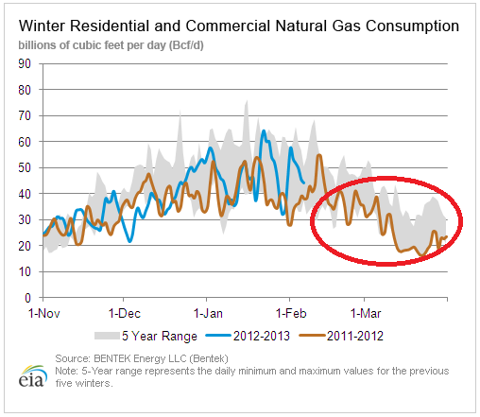 Inventories
At the same time, inventories can be called as already being within the normal range. And this is before the base turns strongly favorable for this year's cycle as described before. So it's likely that the inventory picture will turn even more favorable (Source: EIA).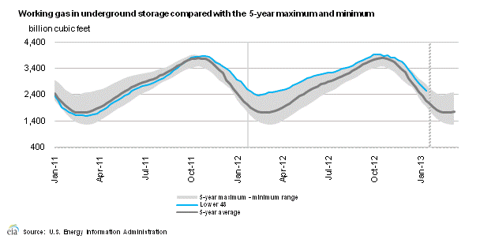 Supply
Finally the last variable, although shale gas continues to see increased production, overall production is already flattish to negative. The last four weeks show overall supply dropping versus last year, to the tune of -1.16%, -0.88%, -0.68% and -1.51% (Source: EIA).
This flattish to down trend in supply has no reason to reverse in the short term, so together with the other main variables, a good scenario exists where natural gas bottoms and heads up as the market considers the near-term evolution of the natural gas market.
Conclusion
I believe that due to a confluence of factors in weather, demand, inventories and supply in the natural gas market, we're about to see a short-term bottom in natural gas pricing and it's likely that natural gas will trade higher within the next few weeks.
Disclosure: I have no positions in any stocks mentioned, and no plans to initiate any positions within the next 72 hours. I wrote this article myself, and it expresses my own opinions. I am not receiving compensation for it (other than from Seeking Alpha). I have no business relationship with any company whose stock is mentioned in this article.