Incorporated in 1994 and headquartered in Allentown, PA, electric utility PPL Corp (NYSE:PPL) operates in four segments: Kentucky Regulated, International Regulated, Pennsylvania Regulated, and Supply. The company recently announced full year 2012 earnings, along with an increase in its dividend, the 11th in 12 years.
The Kentucky Regulated segment operates Louisville Gas and Electric Company and Kentucky Utilities, supplying regulated electrical and gas service in Kentucky, Tennessee, and Virginia. In VA, the subsidiary operates as Old Dominion Power. Total customers served in this area are about 1.2 million.
The Pennsylvania regulated segment operates as PPL Electric in eastern and central Pennsylvania. PPL Electric services about 1.4 million customers.
The International regulated segment operates four of the 15 distribution networks in the UK and services 7.8 million customers. Mainly focused in the Wales, southwest, and central regions of England, this segment also provides fiber optic cables and metering services for commercial and industrial customers.
The Supply segment operates 10,508MW of capacity in the northeast and northwest, and sells its power through the PJM Auction market in the NE and by contract in the NW. Fuel mix is a combination of nuclear, coal, and hydro, with a smattering of renewable fuels in the NE.
Ongoing earnings for 2012 were $2.42 a share, down from $2.73 in 2011. The mid-point of management's 2013 EPS estimates calls for additional declines to $2.37. The main culprit for the reduction is low power prices for the merchant power segment -- a familiar tune for merchant power producers. In addition, there are a higher number of shares outstanding due to the issuance of shares in April 2011 in conjunction with UK acquisitions, which accounts for upwards of $0.14 per share in 2012 dilution. Management expects to issue about 3% additional shares in 2013 in conjunction with its aggressive capital expenditure budgets.
Below is a table outlining actual 2011, actual 2012 and anticipated 2013 (management forecast range $2.25 to $2.50) ongoing earnings per share by operating segment:
| | | | |
| --- | --- | --- | --- |
| Earnings per share | 2013 e | 2012 | 2011 |
| Kentucky Regulated | $ 0.47 | $ 0.33 | $ 0.40 |
| Pennsylvania Regulated | $ 0.29 | $ 0.22 | $ 0.31 |
| UK Regulated | $ 1.25 | $ 1.19 | $ 0.87 |
| Supply | $ 0.40 | $ 0.68 | $ 1.15 |
| Corporate | $ (0.04) | $ - | $ - |
| Total | $ 2.37 | $ 2.42 | $ 2.73 |
Over the past few years, PPL has shifted its business profile from 75% of EBITDA from merchant power to 75% of EBITDA from regulated activities, and has increased its international exposure through the acquisition of UK transmission businesses. PPL has become the largest electric distribution company in the UK.
A flow chart of PPL's organizational structure is below: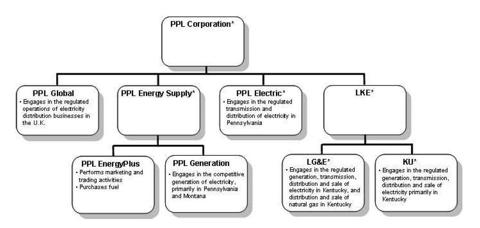 PPL continues to utilize mainly coal for its base-loaded generation with natural gas used as intermittent and peaking load requirements. Of the total 54,500MW of generating capacity, both merchant and regulated, 46.6% was coal sourced, 28.6% nuclear sourced, 16.5% oil/natural gas, and 7.2% hydro. Renewable wind and solar generating capacity amounted to just 1.1%. Currently, the nuclear plant in PA is undoing repairs after cracks in the turbine blades were found during a refueling inspection. Completion is expected this year.
The dividend was recently increased from $1.44 to $1.47 annualized per share, and represents continued dividend growth, albeit on a muted basis. PPL's 5-year dividend growth rate is 4.8%, a bit better than industry average of 4.1%.
PPL has been active on the rate increase front. Recently, the Kentucky segment received a rate increase that equates to a 10.25% allowed ROE, and the Pennsylvania segment received a transmission increase that equates to a 10.7% allowed ROE. Investors could anticipate rate requests every two years, based on the aggressive capital improvement budgets the company has proposed.
From the recent year-end conference call slides, below is a recap of proposed capital expenditures by operating segment. While there is a reduction as time progresses, the total amount of $18 billion from 2012 to 2017 is a bit aggressive. While the dividend payout ratio hovers around 62%, the majority of cap ex will be funded through higher debt levels.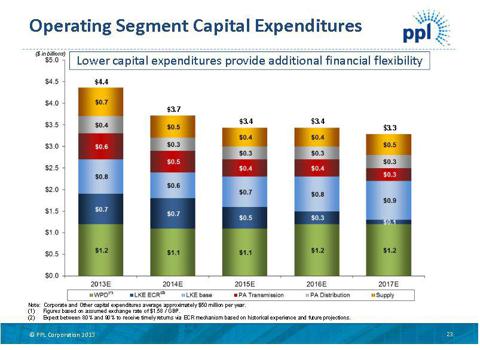 For more information, a recap of the year-end conference call slides (pdf) is here, and the latest investor presentation (pdf) is here. The earnings call transcript is found here.
5-year Chart PPL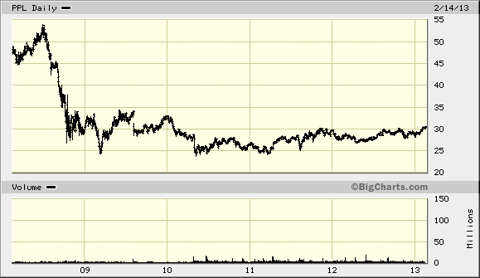 5-year PPL compared to S&P Utility Index (NYSEARCA:XLU)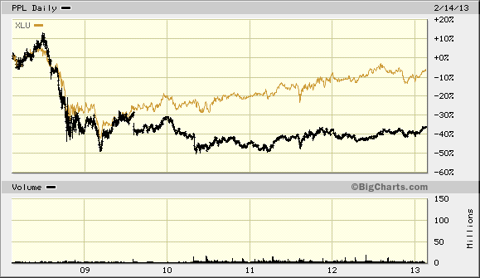 It is interesting to note that similar to other merchant power producers, PPL's share price is substantially below its peak before the financial crisis and recession. This is not a new story, as several of PPL's peers have taken the same road down the regulated highway to help offset long-term weakness in the power market. However, investor "love" has not necessarily followed the trek to a more regulated business footprint.
PPL has a very low beta of 0.38, and a nice dividend yield of 4.9%. Earnings growth will be based on a pickup in east coast JPM auction pricing, and that is dependent on higher natural gas pricing as the competitive fuel.
Management has generated consistent return on invested capital. While debt to equity is higher than the industry average (1.66 vs. 0.76), return on equity is substantially higher at trailing 12 month of 14.7% vs. 4.2%, and a 5-yr average of 14.5% vs. 8.3%. Return on invested capital for both TTM and 5-yr average stands at 5.5%, which is a bit higher than the industry's long-term average of 4.8%. PPL has earned a B+ (average) ranking for 10-year consistency in dividend and earnings growth from S&P.
Patient investors willing to take on the risk of higher exposure to coal-sourced power generation and a turnaround in the merchant power market should be amply rewarded by PPL over the long term. With long-term Treasury bond yields inching upwards, PPL's 4.9% yield, along with the potential of 5% EPS growth (after a trough year in 2014), should allow shareholders to sleep well at night.
Author's Note: Please review important disclaimer in author's profile.
Disclosure: I have no positions in any stocks mentioned, and no plans to initiate any positions within the next 72 hours. I wrote this article myself, and it expresses my own opinions. I am not receiving compensation for it (other than from Seeking Alpha). I have no business relationship with any company whose stock is mentioned in this article.