On January 31, Zions Bancorporation (NASDAQ:ZION) issued a new 6.30% Fixed-to-Floating Perpetual Preferred Stock. The new issue, Series G, raised $172 million with the sale of 6.87 million shares that will trade on the NYSE under the ticker ZB-G.
Capitalization Ratios
Zions is and has been a "well capitalized" financial institution by all three ratios for quite some time.

Relative Value
Zions has three other traditional preferreds outstanding - Floating rate ZB-A, 9.5% Fixed rate ZB-C, and 7.9% Fixed rate ZB-F.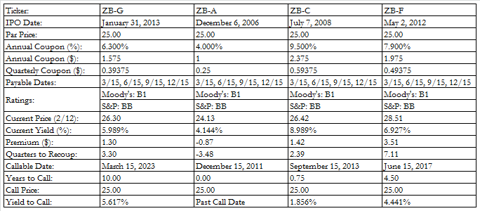 Despite the price run-up of the past few days, ZB-G is still an attractive investment when compared to Zions's other outstanding traditional preferreds. As of the close on February 2, ZB-G is trading with a current yield of 5.989%. This is higher than ZB-A but lower than ZB-C and ZB-F.
Importance of Limiting Premium
ZB-C highlights the importance of limiting premium. While it offers a current yield of 8.989%, it only has three quarters until the call date of September 15, 2013 and thus is trading with a Yield to Call (YTC) of 1.856%. YTC is very important in this case as Zions has shown that they are able to raise new preferred equity at a much lower rate than the 9.5% coupon on ZB-C. This alone should be a signal that there is a high probability that ZB-C will be called in September. If you don't believe the numbers, though, then simply take a look at what management has highlighted in their presentation at the Credit Suisse - 2013 Financial Services Forum: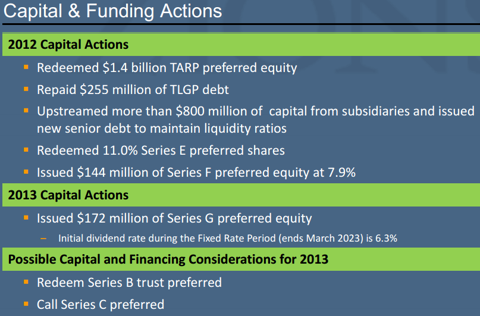 Source: Zions Bancorporation Presentation at Credit Suisse 2013 Financial Services Forum, Slide 9
In 2012, Zions redeemed a high cost preferred (ZB-E) and management has stated that in 2013 there is a chance that they will redeem ZB-B and ZB-C. With such a low YTC, purchasing ZB-C just isn't worth it at this point.
Premium Risk
ZB-F isn't callable until June 2017 and offers a current yield of 6.927% (compared to ZB-G's current yield of 5.989%). While this additional current yield may seem compelling at first glance, it should be highlighted that purchasing ZB-F will involve paying a premium of $3.51 on $25 par (14% premium). With quarterly payments just under $0.50, it will take EIGHT quarters until your premium is paid down and no longer at risk. Compare this with ZB-G, which has run-up to a $1.30 premium (5% over par) which will take half the time to recoup.
ZB-G also has a call date that is ten years out (instead of the typical five) which results in a higher Yield to Call of 5.617% when compared with ZB-F's YTC of 4.441%.
Rate Protection
One of the biggest risks when buying perpetual fixed rate preferreds is that rates will increase, the bank will have no incentive to ever call the security, and the price will decline in order to keep the yield competitive. This risk is mitigated when the perpetual preferred (meaning there is no maturity date) is fixed-to-floating or a pure floating rate security.
ZB-A is a floating rate security that pays 3-month LIBOR plus 0.520%, with a floor of 4.00%. Given where rates are today, it is safe to assume that ZB-A is going to be paying 4.0% for quite some time. 3-month LIBOR is currently at 0.29% and hasn't been near the 3.48% that would generate a higher rate for ZB-A since 2008. It is because of this that ZB-A trades at a discount with a current yield of 4.144%.
ZB-G is a fixed-to-floating rate perpetual preferred meaning that it pays a fixed coupon until a future date when it will become a floating rate security. In the case of ZB-G, it will pay a fixed coupon of 6.30% until March 2023 (the call date), after which it will pay 3-month LIBOR plus 4.24%. This means that if rates increase to the point that 6.30% is no longer competitive, ZB-G has protection because it will pay a higher floating rate. The risk is that 6.30% becomes uncompetitive prior to the call date, the price of the position trades down, and you are forced to sell prior to the security changing to a floating rate security.
Other New Issues
Zions is not the only bank to issue a new preferred recently, but it is one of the few to issue a fixed-to-floating rate preferred. Other new issues include JPMorgan's (NYSE:JPM) 5.45% Fixed-Rate Perpetual Preferred Stock, Series P (current ticker: JPMSL), FirstMerit Corp's (NASDAQ:FMER) 5.875% Fixed-Rate Perpetual Preferred Stock, Series A (ticker: FMCP), First Horizon National Corp's (NYSE:FHN) 6.20% Fixed-Rate Perpetual Preferred Stock, Series A (ticker: FHN-A), and Wells Fargo's (NYSE:WFC) 5.125% Fixed-Rate Perpetual Preferred Stock, Series O (ticker: WFC-O). Here is quick snapshot of how they compare:

Final Thoughts
ZB-G offers a solid current yield and yield to call in a bank that has been growing and making the right moves in paying off high cost capital. Coupled with the protection provided by being a fixed-to-floating rate security, ZB-G is definitely worth a closer look for investors looking for dividend yield.
Prospectus: A copy of the ZB-G prospectus is available on EDGAR and can be found by searching company filings or by following this link.
Disclosure: I am long ZION, JPM, WFC, FHN. I wrote this article myself, and it expresses my own opinions. I am not receiving compensation for it (other than from Seeking Alpha). I have no business relationship with any company whose stock is mentioned in this article.