City National (NYSE:CYN) has taken a different approach to banking than many of its regional peers. The bank's management team is among the most conservative in the industry. They do not chase growth, as evidenced by their decision to avoid subprime mortgages, just one of the reasons that the bank was able to maintain profitability through the financial crisis. And yet, City National is poised for growth, as a meticulous strategy of expansion is creating value for City National investors. If 2012 is any indication of the bank's potential, then 2013 and the years beyond should be profitable years for the bank's investors. For the record, unless otherwise noted, financial statistics and management commentary will be sourced from either City National's Q4 2012 earnings release or its Q4 2012 conference call.
Overview
City National was founded in 1954, and is based in Los Angeles. The bank's reputation for serving wealthy clientele, as well as its deep presence in Los Angeles, has earned it the nickname "the bank to the stars." Comments by CFO Chris Carey show that this nickname is well deserved. He has stated that the bank's core focus is on clients with over $1 million in investable assets, as well as annual incomes of $250,000 and above. Such a focus serves to increase the bank's resiliency against macroeconomic stress, given that affluent customers are less likely to default on their loans or withdraw deposits in a panic. City National ended 2012 with over $28.6 billion in assets, representing asset growth of 20.93% over the course of 2012. City National has had record loan growth, with $1.4 billion in originations in Q4 2012 alone, driven by a continued surge in deposits, which grew 15% in the quarter. City National's deposit base constitutes another key factor in the bullish thesis for the bank. Core deposits represents an industry-leading 97% of total deposits, and non-interest bearing deposits account for 48% of total deposits, versus just 25% for regional bank peers, according to Morningstar. City National is growing, but is doing so in a prudent and conservative way, as evidenced by its Q4 2012 results.
Q4 2012 Results: Planning Investments in 2013 for the Years Ahead
City National reported EPS of $0.87 for Q4 2012, representing growth of 6.1% year-over-year. Setting aside a provision for litigation, adjusted EPS came in at $0.92, representing growth of 12.2% year-over-year. City National, like many banks, is experiencing pressure on its net interest margin, which fell to 3.27% from 3.7% a year ago. The same forces that are affecting other banks, alongside continued growth in loans and deposits, are pressuring City National's margins. However, City National did grow overall net interest income by 7% in 2012, and the bank is well positioned to see expansion when interest rates begin to rise.
For City National, 2013 will be a year of investing in its franchise to position the bank for the years ahead. The bank is set to continue its pace of measured, but steady geographic expansion by adding 4 new branches in New York City, 2 branches in San Francisco, and expand its Palo Alto branch, which has a focus on technology banking. This will bring the bank to a total of 80 branches, when certain branch closures and consolidations are taken into account. Because City National has such a small branch footprint, and focuses on affluent depositors and their businesses, the role of relationships becomes much more prevalent than it does in traditional, mass-market banking. City National needs to be able to provide global services to their customers, and allow them to manage their finances, both personal and professional, anywhere they choose to go. And City National is working hard to ensure that this remains the case in 2013 and the years to come. 2013 marks the first full year in which City National's results will include its recent acquisitions, First American Equipment Finance and Rochdale Investment Management, which were acquired to diversify City National's financing and investment capabilities, thereby broadening the bank's ability to deliver a full range of financial services to its customers (more on the longer-term impacts of this a bit later).
California is also serving as a staging ground for City National's investments, both in California and across the country. While City National's focus on affluent customers gives it a higher level of resiliency to macroeconomic weakness, the bank still performs best when there is a strong economy, especially in California, where a majority of its branches, deposits, and assets are located. CEO Russell Goldsmith spent a good deal of time on the bank's Q4 conference call discussing the state of the Californian economy. He stated that the California housing market is recovering, with declining inventories across southern California, and that median home prices in the region have risen by 20% relative to 2011. Unemployment, while still not at acceptable rates, fell below 10% in November 2012, and is on the right trajectory. Furthermore, Goldsmith stated that the technology sector continues to be strong, and given that City National is expanding its Silicon Valley presence, this is likely to be tailwind for the bank. In Q4 2012, the bank increased its headcount by 7% to 3,472 employees, and we expect hiring to accelerate through 2013 as the bank continues its expansion plans. However, as CEO Russell Goldsmith stated on the bank's conference call, these expansion plans are pressuring earnings in 2013. But, in our view investors (both current and prospective) in City National should not look to 2013 as being representative of the bank's full potential. City National is investing in new branches, bankers, and business lines, and these investments are impacting the bank's short-term earnings. Projected EPS of $3.85 for 2013 is almost flat relative to 2012 EPS of $3.83, but consensus projections beyond 2013 highlight City National's long-term potential.
Earnings Estimates & Valuations: Valuing a Premium Franchise
In our view, investors should look beyond 2013 when assessing the longer-term growth prospects of City National, and we break down the company's longer-term forecasts below, as well as its forward earnings multiples, which are based on the bank's closing share price of $55.84 on February 14.
City National Consensus Forecasts
| | | | |
| --- | --- | --- | --- |
| Year | EPS | Growth | P/E Multiple |
| 2012 | $3.83 | +19.31% | 14.58x |
| 2013 | $3.85 | +0.52% | 14.5x |
| 2014 | $4.02 | +4.42% | 13.89x |
| 2015 | $4.91 | +22.14% | 11.37x |
| 2016 | $5.99 | +22% | 9.32x |
Through 2016, City National is projected to grow earnings at an annualized rate of 9.3568%, with growth accelerating in 2015 as the bank's continued expansion through California and select markets in other states (such as New York) begin to pay off. And while a multiple of over 14x earnings may seem high for a bank, we note that the bank's P/E ratio has fallen from nearly 17x in early 2012.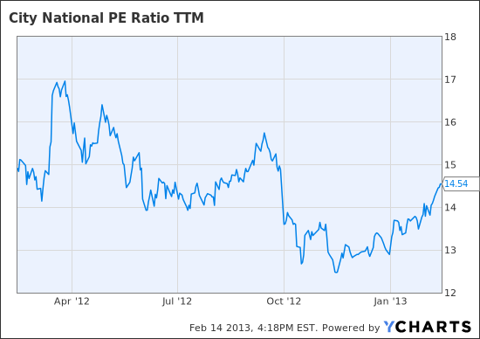 City National's longer-term growth prospects are being driven by an increasing focus on diversifying its revenue base away from traditional loan interest income. Rochdale Investment Management in particular is helping City National's diversification efforts, and anchored a 33% rise in trust & investment fee revenue in Q4 2012 to $44.026 million. For 2012 as a whole, trust & investment fees accounted for 13.06% of City National's pre-tax, pre-provision income, versus 12.62% in 2011. And by the end of Q4 2012, the ratio had risen to 14.5%. In fact, City National's trust & investment fees, brokerage fees, and international services fees, which comprise the core of the bank's non-interest income, rose by 36.85% in Q4 2012, and by 12.83% for 2012 as a whole. These 3 divisions now account for over 21% of the bank's pre-tax, pre-provision income, and continued growth in non-interest income is helping ease the industry-wide pressures on net interest margins that City National is feeling. Once again, City National's focus on affluent consumers and businesses is yielding dividends. The traditional deposit and loan (mortgage, automobile, etc…) demands that such clients differ little from those of mass-market banking customers; the key difference lies in the amounts of money involved. However, these clients have financial needs that go far beyond those of mass-market banking customers: they need investment management services, trust services, and the ability to conduct business internationally. City National's long-term growth will be driven by these dynamics, and while pressures on net interest margins are forecasted to ease by 2015 and 2016, the bank's diversification efforts are what will be driving growth in the long run.
We would like to turn to City National's book value, and its price/book multiple, which offer insight into the confidence that the markets have in this bank's potential. Many of the nation's largest banks, such as Bank of America (NYSE:BAC) or Citigroup (NYSE:C), trade below their tangible book values, due to the fact that the markets have little confidence in the true values of the assets on these banks' balance sheets. For example, it has taken a rally of over 50% in the past 12 months just to bring Bank of America's price/book ratio above 0.9, the bank has not traded above its tangible book value of $13.36 per share, a level it has not seen since early 2011. City National, on the other hand, currently trades at a price/book multiple of 1.273x (the company currently has a book value per share of $43.89). However, we do not see this as a sign of overvaluation. Rather, we see it as a sign of the market's confidence in City National and its long-term earnings potential. Many of the banks perceived by the market to be the strongest, safest, and with superior management teams trade above book value. For example, U.S. Bancorp (NYSE:USB), seen by many investors as the nation's pre-eminent regional bank (due to its conservatism and shrewd avoidance of subprime mortgages), currently trades at a price/book multiple of 1.856x (based on its closing price on February 14 and a book value per share of $18.31). And Wells Fargo (NYSE:WFC), which has supplanted JPMorgan (NYSE:JPM) in the eyes of many investors as the nation's strongest and best-run "money center" bank, currently trades at a price/book multiple of 1.274x (based on its closing price on February 14 and a book value per share of $27.64). Price/book multiples above 1x should not be seen as signs of overvaluation, but as signs of the market's confidence in the balance sheets of the banks in question. And City National, which remained profitable during the financial crisis, is a bank that we believe deserves the market's confidence. Shares of City National traded at over $62 in 2010, a year in which earnings were over 38% lower than 2012 levels, and we see no reason why the bank should trade below those levels, given its 2012 earnings, as well as its long-term trajectory.
Further value will be created by the continued restoration of the bank's dividend, which stood at 48 cents/share before the financial crisis. The dividend was cut to 10 cent/share during the financial crisis, and since then, it has been restored to 25 cents/share, with a special dividend of 25 cents/share issued in Q4 2012. Even when accounting for the impact of the bank's recent acquisitions, City National remains well capitalized, and we break down the bank's capital levels below.
City National Capital Ratios
| | | |
| --- | --- | --- |
| | Q4 2012 | Q4 2011 |
| Tier 1 Common Equity | 8.5% | 10.2% |
| Total Risk-Based Capital | 12.5% | 12.8% |
| Tier 1 Risk-Based Capital | 9.4% | 10.3% |
City National is maintaining strong capital levels, and while they have fallen in 2012, due to the bank's acquisitions, they are likely to be rebuilt in 2013 as the bank focuses on internal investments. However, that does not preclude City National's ability to raise its dividend, something that we believe is likely in 2013. City National has maintained its dividend at 25 cents/share for the past 5 quarters, whereas its dividend was maintained at 20 cents/share for 4 quarters (the last dividend increase was enacted in Q1 2012). Based on the bank's 2012 EPS of $3.83, City National's payout ratio for 2012 was just 26.11% (32.64% when the Q4 special dividend is taken into account). In our view, the bank has room to increase its payout ratio alongside its capital ratios. It should be noted that even during the peak of the housing bubble (which the bank sat out), City National has always been conservative when it comes to its payout ratios. In 2006, when the bank posted record EPS of $4.65, the bank's dividend was just 46 cents/share, for a payout ratio of 39.57%. City National maintained its financial crisis dividend of 10 cents/share for 7 quarters, electing to raise it to 20 cents/share only in Q1 2011. Given the bank's historical conservatism regarding its dividend, we believe that a dividend increase is likely to occur in the second half of 2013, in order to give the bank more time to rebuild its capital reserves.
Conclusions
In our view, City National's best days are ahead of it. The bank is investing in its business across the country, and a recovering California economy is providing it with the base to do so. City National's conservative culture, and affluent clientele provides the bank with more stability than many of its peers, while still allowing the bank to grow, but in a disciplined way. City National's balance sheet and business lines are much simpler than those of many "money center" banks, which, combined with its management team and track record of execution, allows the bank to both command and maintain a valuation premium to the broader banking sector. However, this premium is a reflection of the confidence that the markets have in City National. And we believe that City National's Q4 2012 results, and its plans for 2013 and beyond show that such confidence is warranted.
Disclosure: I am long CYN. I wrote this article myself, and it expresses my own opinions. I am not receiving compensation for it (other than from Seeking Alpha). I have no business relationship with any company whose stock is mentioned in this article.