Core Laboratories N.V (CLB) is a provider of reservoir description, production enhancement, and reservoir management services to the oil-and-gas industry. It has offices in more than 50 countries and has roughly 5,000 employees. Core provides services and products that enable its clients to evaluate reservoir performance and increase oil and gas recovery from new and existing fields.
On Jan 31, Core reported a nice beat-and-raise quarter, and management commentary remains constructive about the near and long-term opportunities for growth and strong incremental margins. This quarter's performance is representative of Core's ability to command premium pricing for its differentiated product lines, and that it is reflective of the company's leverage to strong secular tailwinds, like deepwater and unconventional developments regardless of geography.
Deployments of deepwater rigs in 2013 and beyond continue to extend the growth runway for Core Laboratories. At present, 40% of revenues come from offshore, but this percentage could rise over the next few years, as deepwater rigs continue to roll out, E&P offshore spending outstrips onshore spending, and analytical complexity increases; this may provide upside to growth estimates, unless onshore markets deteriorate from here and remain moribund. Offshore expansion should help valuation, or at least support the recent range, given the higher degree of sustainability in deepwater rig capex spending.
In addition, Asia-Pacific remains a big opportunity for the company's reservoir description segment with early signs that activity in Australian shales may be a nice tailwind, but may also require some capital expenditures to increase the facility footprint.
Field-flood diagnostics patented technologies and HTD blast products continue to drive growth and margin expansion in the production enhancement segment. Core Labs engineers are working on a new Ultra HPHT gun system for ultra-deep, high-pressure and high-temperature wells. The system performed successfully at 30,000 PSI and 407° F and will likely come to market in the second quarter of 2013.
Moreover, North American commentary about 2013 seems to be in line with current expectations. The company is using a flat rig-count scenario and seems reasonably confident in this perspective, although at this point in the year, the companies in the group have no more than modest confidence in the second-half trends.
Looking forward, Core Labs' valuation is the high-water mark in the oilfield services group, which is not surprising, given its business model, free cash flow dynamics and revenue drivers. Over the short term, the stock should continue to trade off data points that affect the broader universe. Core Labs remains a top pick for 2013 in the energy services group, because the opportunity for accelerating growth is real, as deepwater and international become a larger part of the revenue base, and Core Labs' exposure to the North American land markets will not dilute growth and margins any further this year, and could help on both accounts.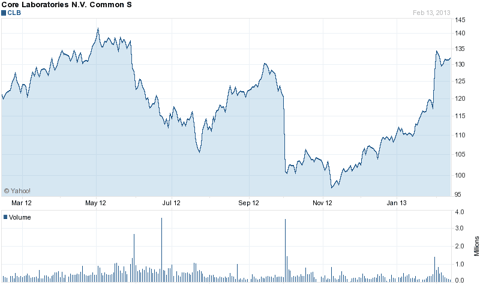 Disclosure: I have no positions in any stocks mentioned, and no plans to initiate any positions within the next 72 hours. I wrote this article myself, and it expresses my own opinions. I am not receiving compensation for it (other than from Seeking Alpha). I have no business relationship with any company whose stock is mentioned in this article.