By Sumit Roy
It was a year of many records for the gold market.
No, gold prices didn't reach an absolute record high in 2012 as some had forecast, but it was still a year of many records for the gold market, according to the World Gold Council's latest Demand Trends report. In fact, gold prices averaged $1,722 during the last three months of the year, the WGC said. That's a record quarterly price.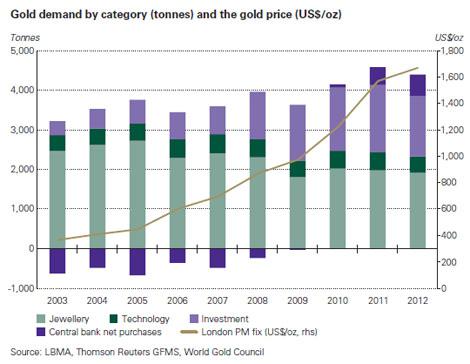 Unfortunately for bulls, gold demand on a volume basis didn't reach a record. Indeed, it fell by 4% to 4,406 metric tons. However, on a value basis, annual demand totaled a record $236 billion due to the high gold price.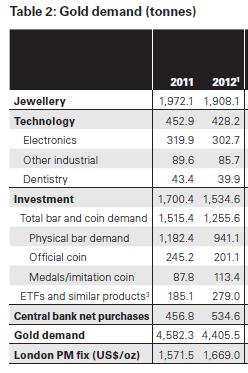 While the major jewelry and investment sectors saw their demand for gold decline, a huge spike in central bank buying offset much of that. Purchases by central banks totaled 534.6 metric tons, the highest level in close to 50 years.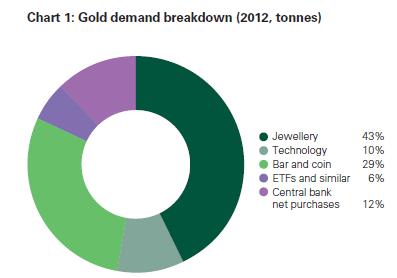 "The list of countries actively adding to their official gold holdings remains heavily concentrated in developing markets ... As the official reserves of these countries swell, with their heavy emphasis on U.S. dollar- and euro-denominated assets, the need for diversification also increases ... gold is a natural destination for a proportion of these increased reserves," wrote the WGC.
Brazil, Paraguay, and Russia are just a few of the names fueling this rapid growth in central bank gold holdings. The People's Bank of China, a central bank that has long been rumored to be a significant buyer as well, has not reported on its reserves since 2008. At that time, the PBoC held 1,054 metric tons, representing 1.7% of foreign exchange reserves.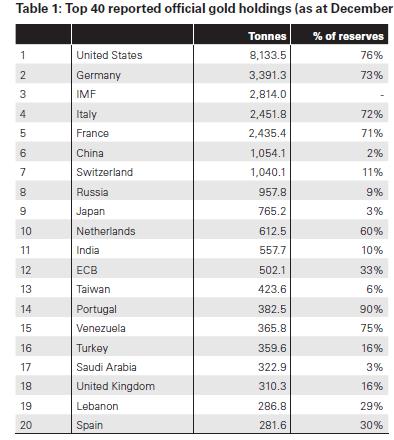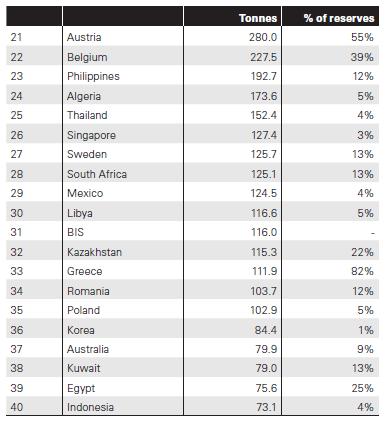 Speaking of China, the No. 2 gold consumer saw its demand for gold remain flat in 2012. This comes as a surprise to many following news earlier this month that Chinese imports of gold from Hong Kong surged almost 50% in the year.
"It's difficult to reconcile these figures," Marcus Grubb, managing director of investment for the World Gold Council, told HardAssetsInvestor in an interview to be published next week. Still, China's demand in 2012 remained strong, matching the record high set in 2011.
It was another matter in India, where demand fell by 12% on the year due to increases on import duties. Even so, the country maintained its position as world's largest gold consumer, edging out China by 88 metric tons. Finally, on the investment side, there was a dichotomy in the demand trends. Overall investment demand fell by 4% on the year, but investments into ETFs surged 51%.
"The man [on] the street was buying significantly less," explained Marcus Grubb. "[But] sophisticated investors were buying gold in large size[s]."