Since its inception in 1837, Procter & Gamble (NYSE:PG) has grown to become a major blue chip dividend payer, and owns some very recognizable brands, like Puma, Oral-b and Hugo Boss Fragrances (Full list of brands can be found here.)

Note: Pringles is no longer a PG brand, as it has been sold to Kellogg (NYSE:K).
PG is currently trading at $76.56, meaning it's at its 52-week high. I will be trying to determine whether or not PG is a buy at this time. I will be using Procter & Gamble's earning reports, which you can find here.
Dividend and EPS
I've made two graphs (using Microsoft Excel), to show the EPS and dividends for PG over the last couple of years.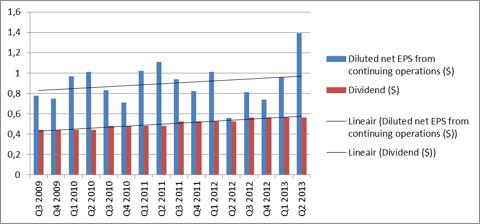 I've added linear line for EPS and dividend, and as you can see, the dividend is pretty much growing at the same rate as the EPS. Overall, the dividend has increased from $0.44 in Q3 2009 to $0.56 in Q 2013 (+27.3%). The constant rise in earnings per share show PG's growing profitability and allows PG to return more money to shareholders.
The graph below shows dividend divided by EPS: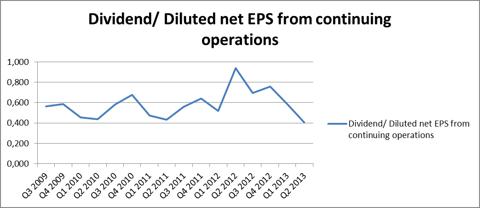 I think this graph shows more clearly how EPS and dividend are related. There are some fluctuations, in part because dividend gets changed only once a year, while EPS can change with every quarterly report.
Operating income
Procter & Gamble's operating income has been going up and down quite a bit, bouncing between 3 and 4.5 billion dollars per quarter.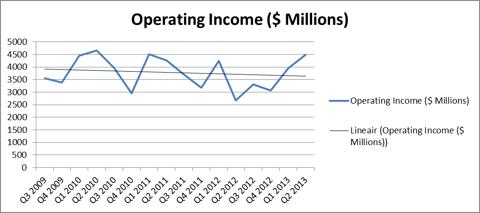 Operating margin
Operating margin is defined as operating income divided by net sales. The graph below shows this to be slowly declining. This is mostly due to the poor results in Q2, Q3 and Q4 2012. Operating margin went north of 20% in Q2 2013, signaling positive change.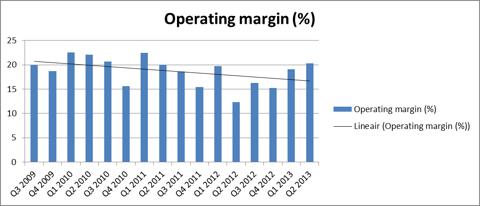 Future profits secure with strong brands and lowering of costs
In February 2012, Procter & Gamble announced a 5 year cost saving program, which should reduce costs by a total of $10 billion. This will be done by cutting non-manufacturing overhead positions by 5,700 by the end of fiscal year 2013. Annual costs of goods are planned to go down by $1.2 billion. PG plans to save $1 billion in the 5 year period by growing marketing costs at a slower rate than sales growth, while increasing consumer reach and effectiveness.
Furthermore, PG has stated it will focus more on its core business, sending resources to their biggest businesses, innovations and developing markets. PG s company strategy tells us what it is focusing on:
Top 40 Businesses: We define our core business as the top 40 country/category combinations, 20 in Household Care and 20 in Beauty & Grooming, which generate the highest level of annual sales and profit.

Top 20 Innovations: Our 20 most important innovations offer significantly higher growth potential than the balance of the innovation portfolio. Therefore, the growth of the Company depends substantially on the success of our biggest innovations.

Top 10 Developing Markets: Maintaining the strong growth momentum we have established in developing markets is critical to delivering our near- and long-term growth objectives. We are focusing resources first on the markets that offer the greatest growth opportunity. We will assess the potential for further portfolio expansions beyond the top 10 developing markets based on the top- and bottom-line growth progress of the core business.
I think this combination of a more focused approach, combined with the cost savings, should give PG some great profitability in the next 5 years.
Is Procter & Gamble fairly valued at this time?
EPS and dividend have been growing at a steady pace, and operating income and margin seem to be climbing back up again. I believe that PG's cost lowering initiative will increase the earnings growth rate. I'd say PG should be able to grow both EPS and dividend in the years to come. Having said that, I would believe a PE of around 17 to be fair value.
PG estimates its EPS in FY2013 to be somewhere between $3.61 and $3.85 (Q4 2012 earnings report). This would put my estimate of fair value between $61.37 and $65.45. I would recommend buying PG if it drops below $60. This would be just over its current 52-week low at $59.07, and would yield a 3.7% dividend (current dividend is just under 3%).

Disclosure: I have no positions in any stocks mentioned, and no plans to initiate any positions within the next 72 hours. I wrote this article myself, and it expresses my own opinions. I am not receiving compensation for it (other than from Seeking Alpha). I have no business relationship with any company whose stock is mentioned in this article.