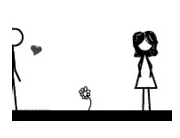 If it wasn't transparent before, it is now: the Fed and other central bank policies are propping equity markets. On Thursday, countries within the eurozone reported terrible GDP data, missing most expectations. The litany read: Germany -.6%; France -.3%; Italy -.9%; and the EU -.6%. These are warnings of recession not seen since 2009. So despite all the money printing, bailouts, cover-ups, zero interest rates and at best, misleading statements of conditions, all this hasn't prevented the inevitable -- an economic decline. Little Iceland, with comparatively larger financial problems, met the challenge head-on, letting "too big to fail" banks fail. Now, they're on the path to a real recovery unencumbered by papered-over problems.
But today, U.S. stocks rose, seemingly unaffected by poor GDP data, including our own from the previous month. Stocks opened weak, but then saw immediate dip buying. This buying coincided with another Fed POMO action, which injected $5 billion to trading desks. It's akin to steroid injections for sports teams. In other words, forget the crappy data and focus on the money boost. The Fed is getting the results intended, despite other goals they may suggest.
Eventually, these policies will either end, or markets will tire of them and force an end. In the meantime, don't waste your time raging against the machine; let me do it for you. Anyway, it's not your father's market anymore.
Jobless Claims fell (341K vs. 360K expected and prior revised higher to 368K vs. 366K), which was basically ignored overall. The bigger news was Buffett's takeover of Heinz (HNZ) in a $23 billion deal. I guess it's just a coincidence this occurred after John Kerry was approved as the new Secretary of State. Buffett no doubt kept this all under wraps, since he's not a shoot-from-the-hip guy. It's a windfall for the already uber-wealthy, limo-lib Kerry family.
The dollar (NYSEARCA:UUP) was mildly higher given weak eurozone data, while gold (NYSEARCA:GLD) continues to struggle in a trading range. Commodity (NYSEARCA:DBC) prices were flat, held up by higher energy prices. Tech sectors led the way higher, particularly in semiconductors (NASDAQ:SOXX) and Internet (NYSEARCA:FDN). Small Caps (NYSEARCA:IWM) continue to feast on QE, since this is what the area the Fed watches most to gauge impact. Bonds (NYSEARCA:TLT) were stronger on weak eurozone GDP data.
Below is a weekly chart of SOXX. You'll note a DeMark 9 count a month ago, but the ETF wasn't overbought. As such, we ignored it and are using Direxion 3x Leveraged ETF (NYSEARCA:SOXL), which is extremely aggressive.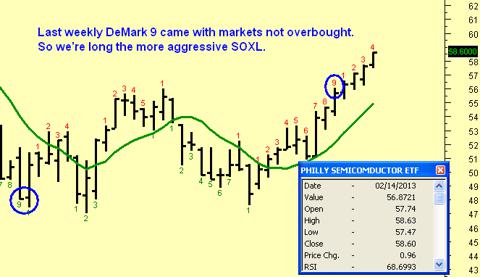 Volume fell once again, and it's getting hard to describe "light" these days. Breadth per the WSJ was neutral.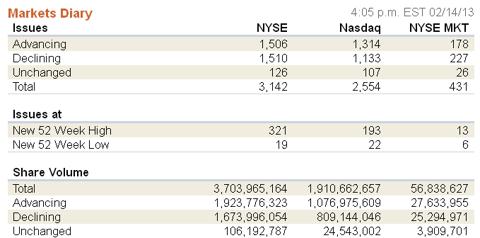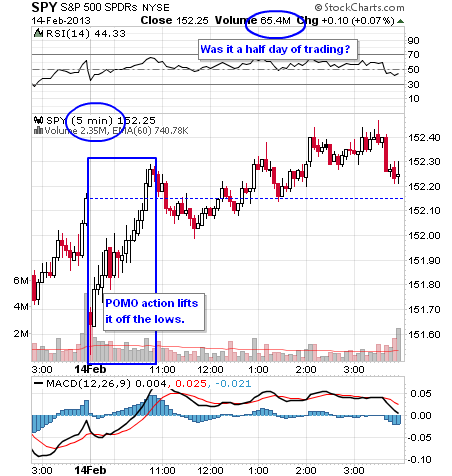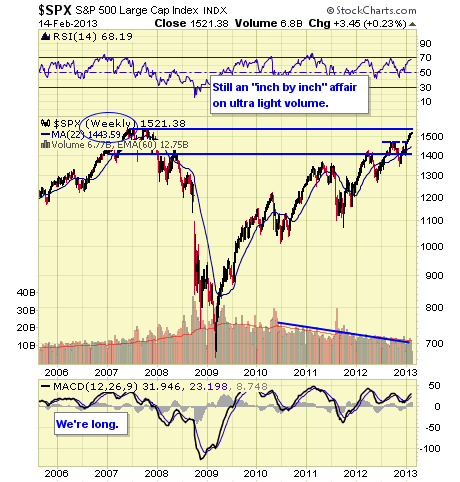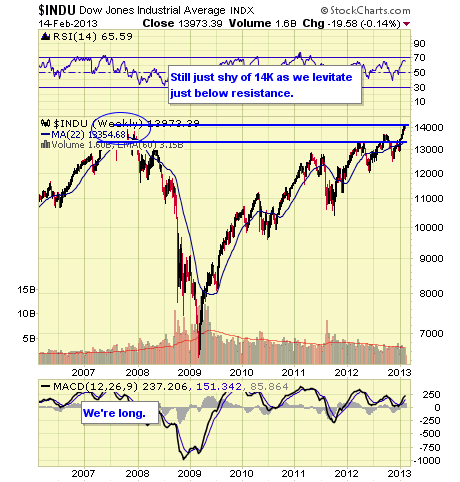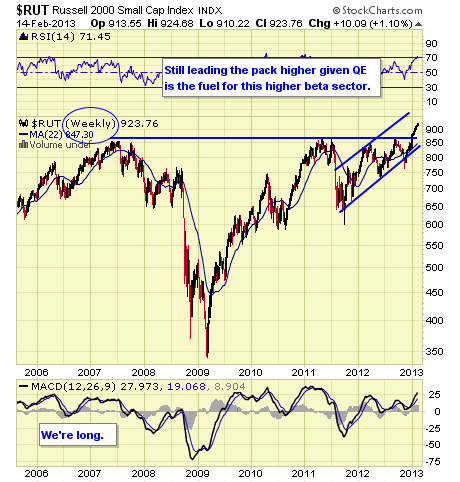 Continue to U.S. Sector, Stocks & Bond ETFs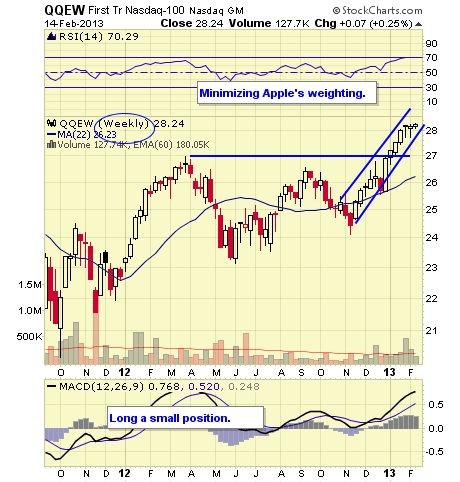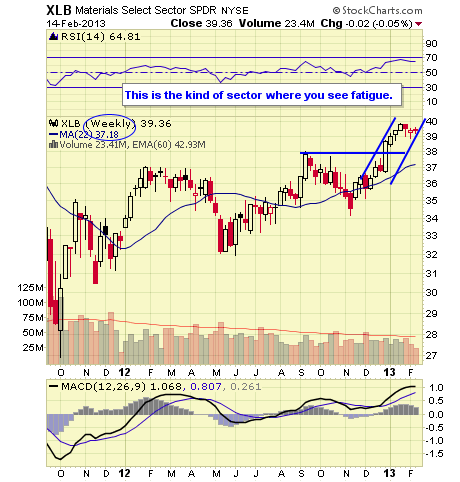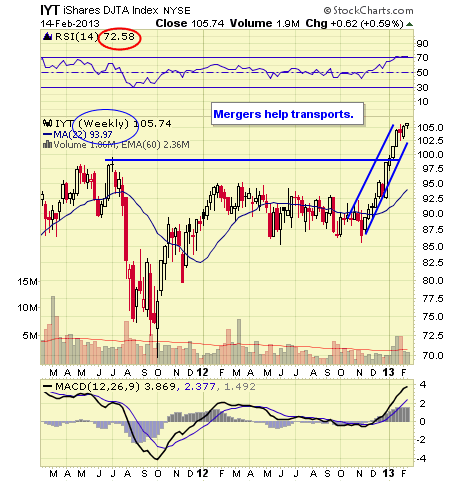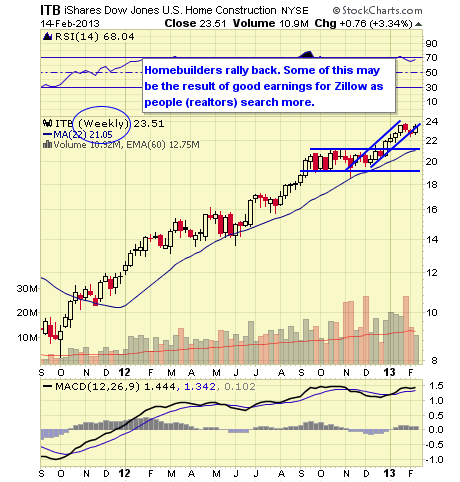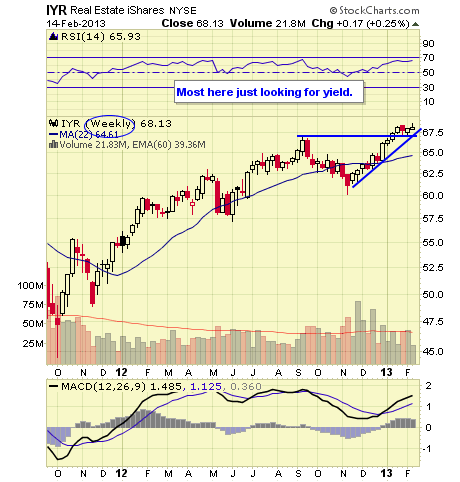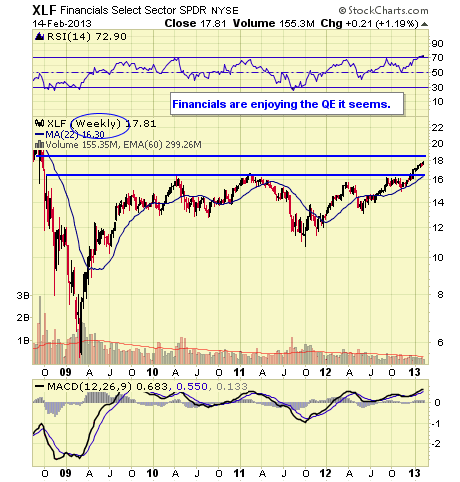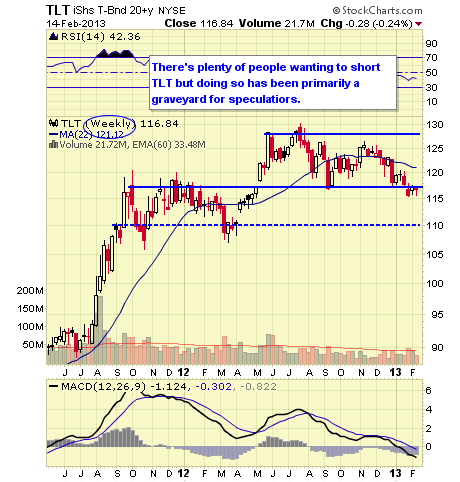 Continue to Currency & Commodity Market ETFs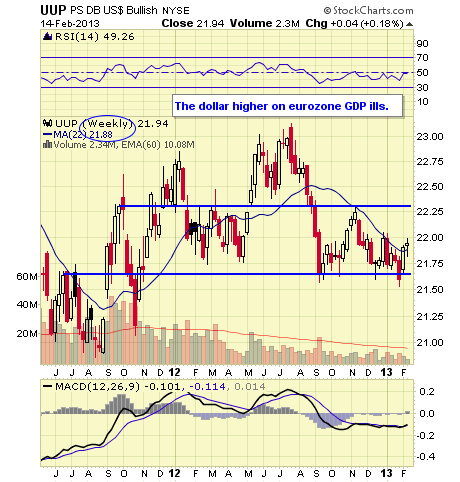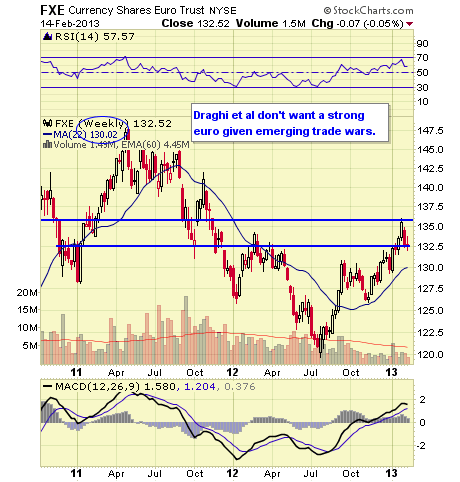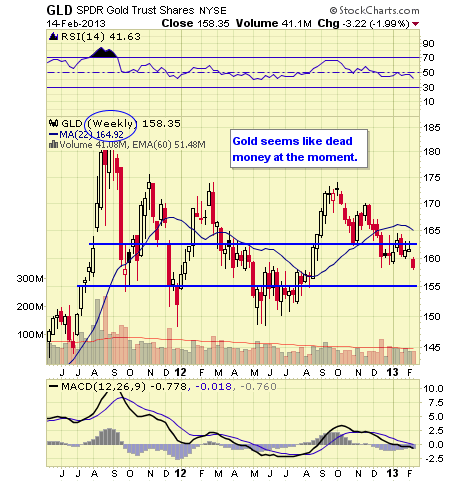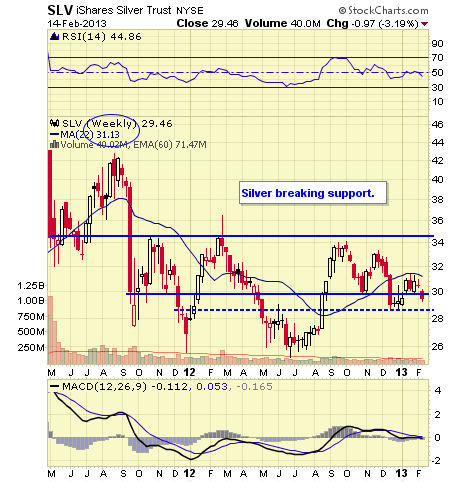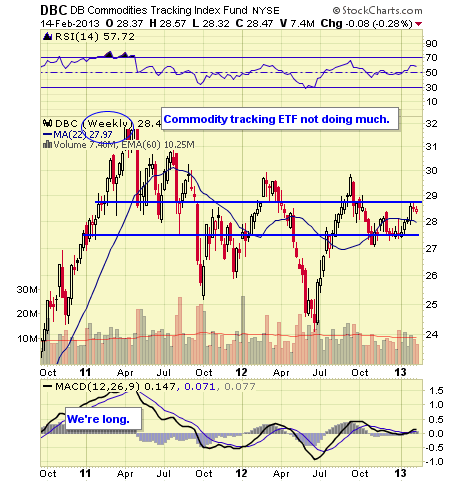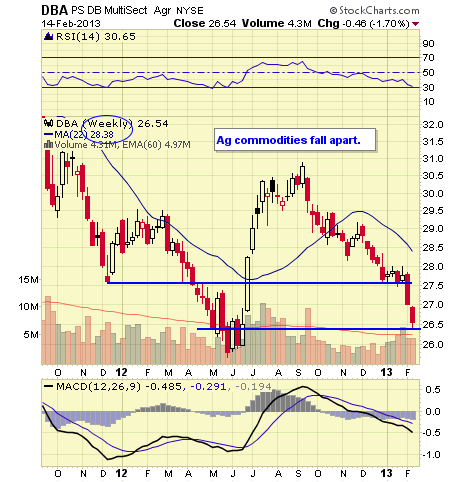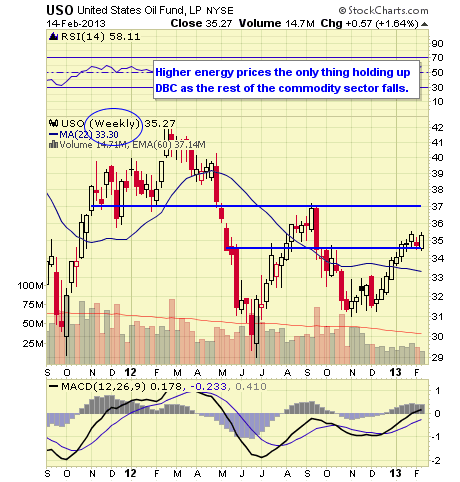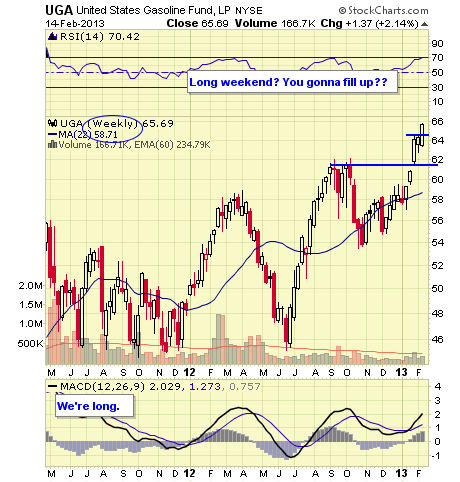 Continue to Overseas Sectors & ETFs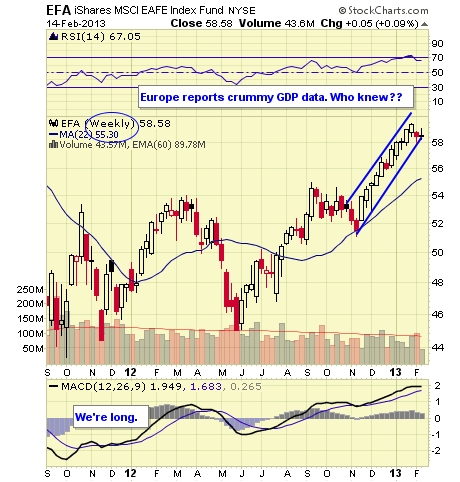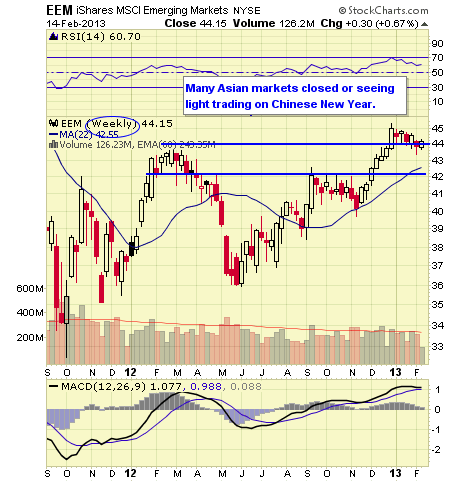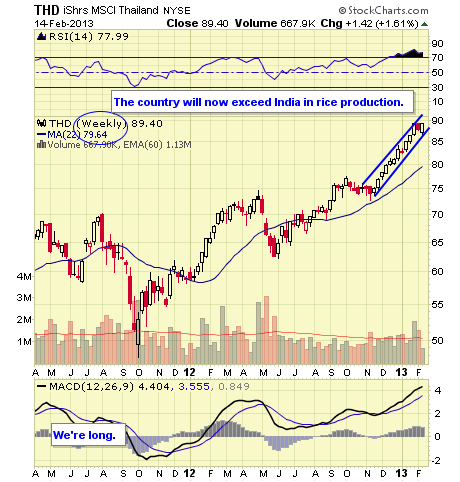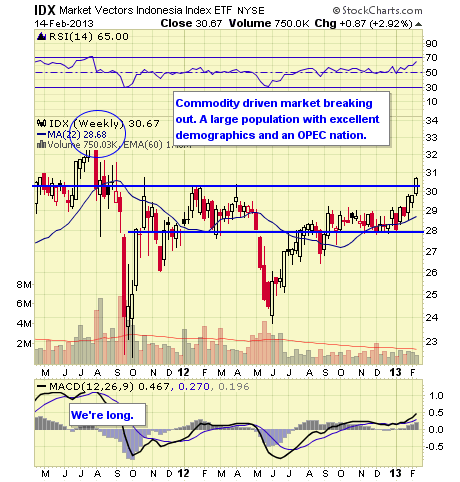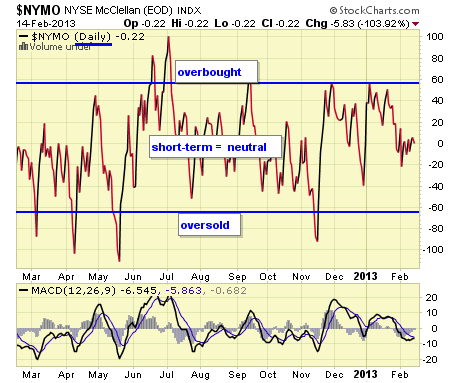 The NYMO is a market breadth indicator that is based on the difference between the number of advancing and declining issues on the NYSE. When readings are +60/-60, markets are extended short term.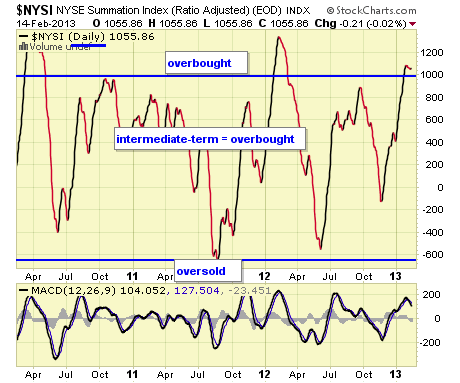 The McClellan Summation Index is a long-term version of the McClellan Oscillator. It is a market breadth indicator, and interpretation is similar to that of the McClellan Oscillator, except that it is more suited to major trends. I believe readings of +1000/-1000 reveal markets as much extended.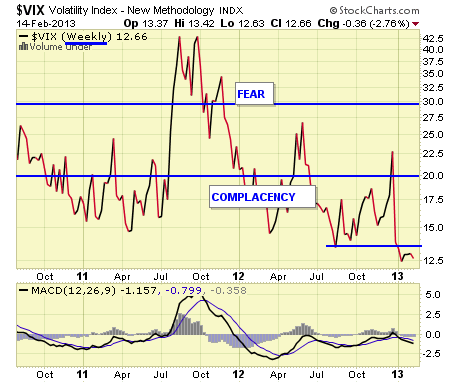 The VIX is a widely used measure of market risk, and is often referred to as the "investor fear gauge." Our own interpretation is highlighted in the chart above. The VIX measures the level of put option activity over a 30-day period. Greater buying of put options (protection) causes the index to rise.
Concluding Remarks
It appears not many people were investing much this week. Some sideways action is good from a technical view, as it can work off some overbought conditions.
Friday will see reports on Empire State Mfg Data; Industrial Production and Consumer Sentiment. With it being a 3 day weekend, I'd expect volume to fall even more, absent anything unexpected.
Disclaimer: The ETF Digest maintains an active ETF trading portfolio and a wide selection of ETFs away from portfolios in an independent listing. Current "trading" positions in active portfolios, if any, are embedded within charts: Lazy & Hedged Lazy Portfolios maintain the follow positions: VT, MGV, BND, BSV, VGT, VWO, VNO, IAU, DJCI, DJP, VMBS, VIG, ILF, EWA, IEV, EWC, EWJ, EWG, & EWU.
The charts and comments are only the author's view of market activity and aren't recommendations to buy or sell any security. Market sectors and related ETFs are selected based on his opinion as to their importance in providing the viewer a comprehensive summary of market conditions for the featured period. Chart annotations aren't predictive of any future market action rather, they only demonstrate the author's opinion as to a range of possibilities going forward.
Disclosure: I have no positions in any stocks mentioned, and no plans to initiate any positions within the next 72 hours. I wrote this article myself, and it expresses my own opinions. I am not receiving compensation for it. I have no business relationship with any company whose stock is mentioned in this article.