Mondelez International Inc. (NASDAQ:MDLZ), a spin-off of Kraft Foods Group Inc. (KRFT), consists of global snacking and food brands. MDLZ was separated from Kraft Foods to unlock a higher multiple for its faster-growing snack business. MDLZ's international portfolio includes Cadbury, Milka chocolate, Jacobs coffee, LU, Nabisco and Oreo biscuits, as well as Tang powered beverage and Trident gums. MDLZ closed at $26.57 with 4.25% drop on February 14, 2013 after reporting lower-than-expected Q4 earnings on February 13, 2013.
Q4 Earnings
Despite improvements in its business in Brazil and Russia, MDLZ reported a net profit of $534M, or 30 cents per share, which was down from $830M, or 47 cents per share a year earlier. Excluding items, earnings were 36 cents per share, which was below analysts' estimate of 38 cents per share, according to Thomson Reuters. Revenue also fell 1.9 percent to $9.50B, which was below analysts' expectation of $9.69B.
Revenue Breakdown
| | | | |
| --- | --- | --- | --- |
| | Q4 Net Revenue | Q4 Organic Net Revenue Growth | Highlight |
| Developing Markets | +2.7% | +7.6% | Double digit increases in Asia Pacific and Latin America, while Brazil and Russia improved sequentially. Power Brands grew 12.7 percent. |
| Europe | -7.1% | +0.1% | Offset by lower pricing in coffee; Power Brands grew 3.0 percent. |
| North America | -1.7% | +2.2% | Power Brands grew 5.5 percent. |
Despite net revenue decrease in Europe and North America, MDLZ achieved positive net revenue growth in all 3 markets. All markets also had positive growth for Power Brands.
Segment Income Breakdown
On a constant currency basis, Adjusted Segment Operating Income decreased 4.0 percent in the developing markets, where increase in A&C support and a trademark impairment charge were partially offset by volume/mix gains and effective input cost management. For the Europe segment, adjusted Segment Operating Income increased 5.7 percent as lower input costs and overheads, as well as the favorable impact of a one-time item, were partially offset by a significant investment in A&C and the negative impact of prior year accounting calendar changes. Lastly, Segment Adjusted Segment Operating Income for North America segment grew 3.4 percent as pricing was partially offset by the negative impact of the 53rd week of shipments in the prior year and higher A&C support.
According to Zacks' report, "Among the food categories, biscuits and chocolates performed well in the quarter while the gum and candy business was down. The company's gum business has been suffering for the last few quarters." Based on the company's expectation, the gum business may continue to suffer, and should turn around in a couple of years. The earnings call transcript for MDLZ's CEO discussion for Q4 2012 results can be accessed here at Seeking Alpha.
Outlook
MDLZ maintained its 2013 outlook for revenue growth at the low end of the 5-7 percent range. However, MDLZ raised its forecast for operating earnings to a range of $1.52-$1.57 from the previous forecast of $1.50-$1.55 due to changes in currency exchange rates.
Competition
After the announcement of $23.3B acquisition deal of H. J. Heinz Co. (HNZ) by Warren Buffett's Berkshire Hathaway (NYSE:BRK.B) and its partner, 3G Capital, food makers advanced on February 14, 2013. The transaction value includes the assumption of Heinz's debt. That represents a 20 percent premium to Heinz's closing price of $60.48 on Wednesday, according to the Associated Press. Campbell Soup Company (NYSE:CPB) closed at $38.72 with 1.41% gain and General Mills, Inc. (NYSE:GIS) advanced 3.09% and closed at $44.31. Kellogg Company (NYSE:K) also posted 0.49% gain on the day and closed at $59.58.
Key Stats And Valuation
MDLZ has an enterprise value of $75.35B and a market cap of $47.22B. MDLZ has a total cash of $3.96B with a total debt of $30.00B. MDLZ generates an operating cash flow of $5.03B with a levered free cash flow of $2.50B. By using Morningstar's data, MDLZ's key stats will be compared to its peers, including The Hershey Company (NYSE:HSY). MDLZ has higher revenue growth (3 year average) of 9.0, as compared to the industry average of 6.4. MDLZ has lower operating margin of 12.5%, ttm, and net margin of 6.2%, ttm, comparing to the averages of 13.9% and 8.4%, ttm, respectively. MDLZ's ROE of 9.1 is lower than the industry average of 36.2. MDLZ's P/E of 14.9 is lower than the industry average of 17.2, and MDLZ's 5 year average of 17.9. MDLZ's forward P/E of 13.7 is lower than the S&P 500's average of 14.0.
Technical Analysis
MDLZ had been trading in the range of $24.32-$28.48 in the past 52 weeks. MDLZ has a low beta of 0.57. The MACD (12, 26, 9) indicator is showing a bearish trend, and the MACD difference continued to diverge. The momentum indicator, RSI (14), is indicating a strong selling momentum at 34.03. MDLZ had closed below its 50-day MA of $26.87 in the last trading day. The next support is 200-day MA of $26.18, as seen from the chart below.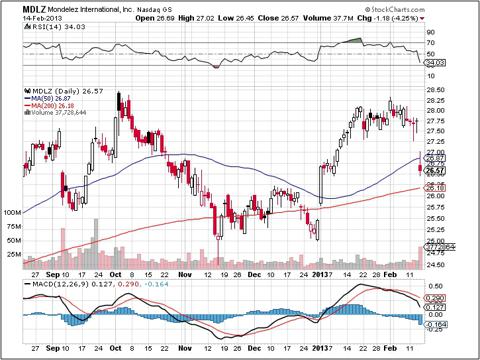 Source: StockCharts.com
Reviewing Options
For more conservative investors, it will be safer to establish a long-term position once the stock price is stabilized after the weak Q4 earnings. For more aggressive investors who intend to acquire stocks at a lower price while gaining some credit premium, a credit put spread options play will be reviewed.
Short June 22, 2013 put at the strike price of $25.00 for the credit of $0.44
Buy June 22, 2013 put at the strike price of $22.00 for the cost of $0.08
The maximum profit is $0.36, and the maximum risk/margin requirement is $2.64 ($3 loss - $0.36 credit received). If MDLZ closes above $25.00 on June 22, 2013, a 13.64% return on margin will be gained. If MDLZ falls below $25.00 upon options expiration, MDLZ stock will be acquired at $24.64, which is 7.26% below the current price of $26.57.
Note: All prices are quoted from the closing of February 14, 2013 and all calculations are before fees and expenses. Investors and traders are recommended to do their own due diligence and research before making any trading/investing decisions.
Disclosure: I have no positions in any stocks mentioned, but may initiate a long position in MDLZ over the next 72 hours. I wrote this article myself, and it expresses my own opinions. I am not receiving compensation for it (other than from Seeking Alpha). I have no business relationship with any company whose stock is mentioned in this article.