Whether you are new to dividend investing or you are a seasoned pro, it's likely that your main goal is to build a long-term portfolio that generates consistent income over time with as little volatility as possible. That said, over the next few weeks we will continue publishing our 10-part series which should help you build your own 6% DIY Dividend Portfolio for 2013.
In part 1, we highlighted the investment plan and strategy for the portfolio and parts 2-10 will highlight each sector in the S&P 500, including high-rated stocks within each sector that you should consider for your portfolio. Below is a schedule of the entire series. Please make sure to "follow" us so that you will be notified when each new article is published.
Technology
The Technology sector as a whole has performed relatively well over the past 5 years, with a total return of 40.9% (which is the 4th highest among the nine S&P 500 sectors). Of all the sectors, Technology has the highest weighting (~19%) in the index and Technology stocks tend to lead the market higher in a bull market.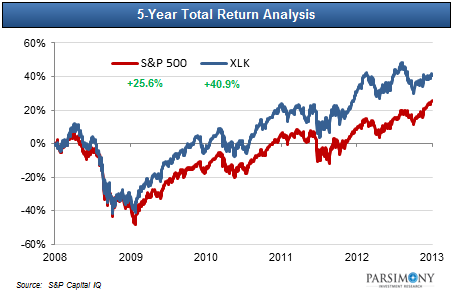 Below is a list of our top-rated dividend stocks in the Technology sector. Note that our composite rating ranges from 0 (lowest) to 99 (highest).

As you can see, this list is made up of industry veterans and each of these top-rated stocks have significantly outperformed the sector as a whole, averaging a 5-year total return of 132%!. The tables below highlight some of the key data points that we analyze when ranking our dividend stocks.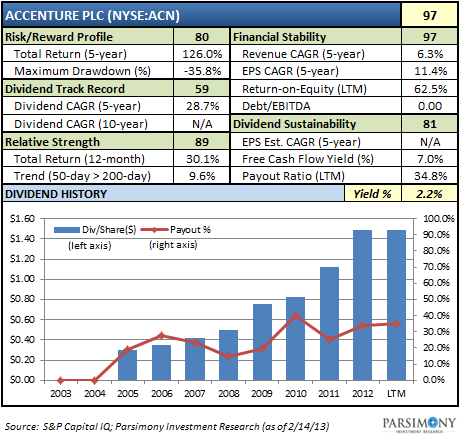 Since 2005, Accenture (NYSE:ACN) has grown its dividend to shareholders at a compound annual rate of 26%. Other than its relatively short Dividend Track Record, the company rates very well in all sub-categories (with a rating over 80 in each). Accenture has a strong balance sheet (with no debt) and a modest payout ratio (34.8%) and we believe that the company will continue to be a solid dividend payer in the future.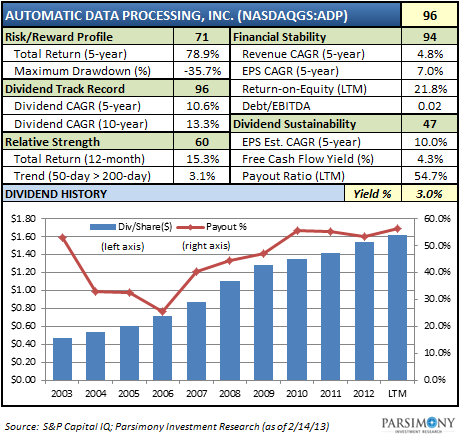 In November, Automatic Data Processing (NASDAQ:ADP) increased its annual dividend rate by 10%. This increase marks the 38th consecutive year in which the company has raised its dividend. Over the past 10 years, ADP has grown its dividend at a compound annual rate of 13.3%. In addition, the company has a very high Financial Stability rating (94) and a strong balance sheet (with very little debt on its books).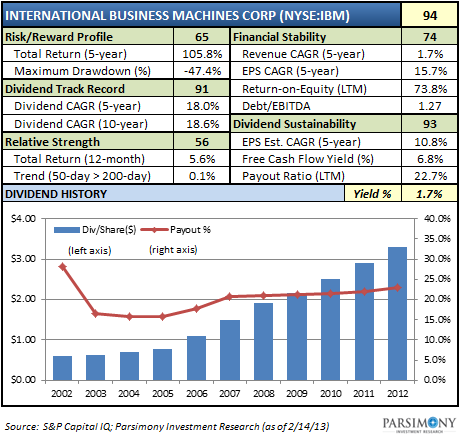 Our only knock on International Business Machines (NYSE:IBM) is its sub 2.0% dividend. The company has great ratings for Dividend Track Record (91), Financial Stability (74) and Dividend Sustainability (93). IBM has increased its dividend to shareholders at a compound annual rate of 18% over the past 5 years and delivered shareholders a total return of 106% over that same period.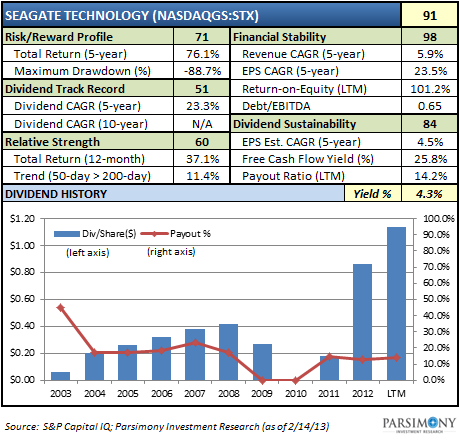 Seagate Technology (NASDAQ:STX) had some issues during the recession and the company was forced to cut its dividend. That said, the Company hired a new CEO in early 2009 and we believe that Seagate is back on track. The new management team has clearly made its dividend policy a priority. Seagate has excellent ratings for Financial Stability (98) and Dividend Sustainability (84) and the company currently has a very attractive dividend yield (4.3%). This is definitely a stock to keep on your radar.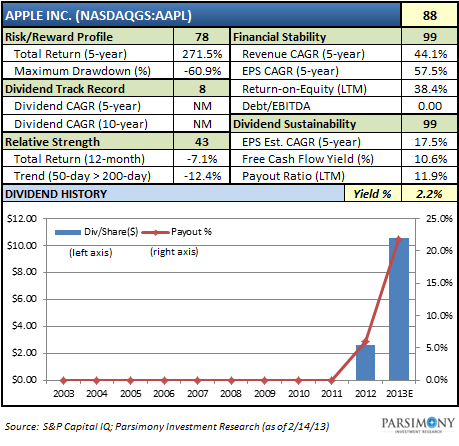 Yes, Apple Inc. (NASDAQ:AAPL) just started paying a dividend last year, but we think the company has the potential to be the greatest dividend stock of all time. Apple carries our highest possible rating (99) for Financial Stability and Dividend Sustainability (the only stock in our universe with this stellar combination). Unfortunately, Apple can't do anything about its short Dividend History, but dividend growth investors should be able to look past this short history given the Company's financial stability and future dividend potential. Also, we believe that Apple will be announcing a big dividend hike soon that could send shares much higher.
Conclusion
Any DIY Dividend Portfolio should include several stocks from the Technology sector. The key takeaway here is that many of the broader sectors have sub-industries that perform much better than the sector as a whole. This is part of the reason why we developed the Parsimony rating system. If you rank all of the stocks in a sector against their peers on a consistent basis, it becomes clear which companies are the strongest and which offer the best investment opportunities going forward.
Disclosure: I am long AAPL. I wrote this article myself, and it expresses my own opinions. I am not receiving compensation for it (other than from Seeking Alpha). I have no business relationship with any company whose stock is mentioned in this article.