What follows is a progress report on the RAIT Financial Trust (NYSE:RAS). My original article was dated November 1, 2012 and the basics stated therein need not be repeated here. New readers may want to refer to it to gain perspective on the company's recovery since its crash during the real estate bust of 2007-2008 when no less than its survival was at stake. Having got a close-up look at what hell was all about, RAIT got religion (as any sensible sinner would do) and did what it had to do to resurrect itself by becoming a true believer in virtuous business practices. I wrote then that what the new management team was doing had virtue and the recovery from those difficult days was well underway as of Q3 2012. And, further progress would be dependent upon management's ability to execute on several new initiatives. In recent months the turnaround effort gained momentum as the financial constraints on loan originations were greatly diminished.
The stock recently broke $7.00 on the upside due to a confluence of favorable developments. The Q4 report was an eye-opener. Adjusted funds from operations (AFFO) were 33 cents per share (the analysts had forecast 30 cents) versus a loss of 20 cents in the year-ago period. The estimate is that AFFO will increase about 22% this year to $1.34 per share from the $1.10 realized in 2012. The current price-earnings ratio is 5.3. The quarterly dividend rate for Q4 was increased 11% to 10 cents per share from Q3 (the fifth increase in the last two years) and it is probable that a quarterly rate of 15 cents will be achieved by year end. With the stock priced at $7.07 it sports an annualized dividend yield of 5.7% but that should escalate to 7.8% by year end.
The remainder of this update is presented in two parts: the first deals with fundamental developments and the second, with technical developments concerning the stock's price action.
Fundamentally, the progress being made shows that RAIT is no longer a rank speculation
In the November article I stated that "the company is out of the intensive care status that it was in following the real estate bust and it is now doing well in the recovery zone. The basis for a sound corporate development program has been established but much more needs to be done before the recovery is anywhere near complete."
The earnings report for Q4 shows that the heavy lifting by management was worth the effort and the company is now positioned to compete effectively and selectively going forward. Whereas the November article was a lengthy one because much needed to be explained, this follow-up report will be more succinctly presented because there is less explaining to do.
In Q4 the financial constraints on expanding loan portfolios was greatly diminished because (1) new banking agreements with financial institutions provided much needed source funding and (2) the issuance of about $57 million in common stock in December of 2012. RAIT retains for its own account about 30% of bridge loans while the other 70% accrues to the account of third party participants. Hence, additional equity capital was needed to participate in bridge loan originations and for other company purposes. At the present time, RAIT has about $500 million in lending capacity with $100 million being in cash, $250 million being available for CMBS loans, and $150 million being available for bridge loans. And, management expects to use that capacity prudently by year end.
In 2012 RAIT originated $375.5 million of loans in 2012 consisting of $119.3 million CMBS loans, $240.8 million bridge loans and $15.4 million mezzanine loans. It sold $97.9 million of CMBS loans which generated $6.2 million of fee income. RAIT sold $56.8 million of CMBS loans during Q4 which generated $3.8 million of fee income. During the CC, management stated that the portfolio of CMBS loans is ramping nicely. However, returns on bridge and mezzanine loans have become very competitive and, as a result, RAIT is being selective in order to meet their net interest margin goal (which, of course, is what it should be doing).
In multi-family housing, RAIT is doing well because both rents and occupancy are rising. Management likes this part of the business because earnings from these properties (which were acquired a few years ago at somewhat depressed prices) are a consistent and reliable source of income. In Q4 rental income increased 9% to $27.1 million Y/Y from $24.8 million. The average effective rent per unit in RAIT's multifamily portfolio increased 5% to $718 from $681.
The company continues to benefit from a decline in interest expense resulting from a burn off of hedges.But, it remains match funded because it continues to increase the number of floating rate loans in the portfolio. As a result, it doesn't need to replace interest rate hedges when they expire. Management estimates that an additional $3 million in hedge cost savings will be realized during 2013; that equates to 6 cents per share and since REITs payout most of their funds available for distribution, just about all of that will be included in dividends paid to shareholders. That alone would be sufficient to add 1.5 cents to the quarterly dividend rate.
Management is now focused on lending against cash-flowing commercial real estate properties with the goal of delivering consistent and steadily growing common dividends for shareholders. If it can continue to execute well during the balance of 2013 the foundation will have been laid for improved results in 2014 and, perhaps, beyond.
Technically, what's going right with the stock?
Let's look at the chart I constructed from data in my workbook. Its salient features are explained in the notes below it.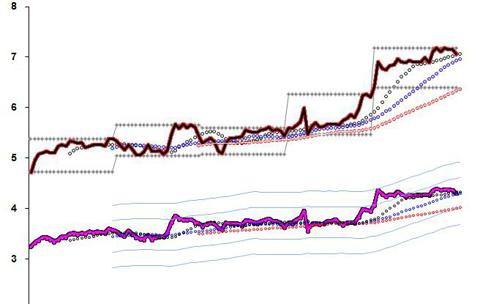 (1) The bold black line on top is price and the bold pink line below it is relative strength. (2) The dotted lines are moving averages and there is a set of those for price and a similar set for relative strength; they are used to define trends and reversals. (3) The five sets of gray parallel lines that frame the stock's price action are 22-day trading ranges and their progression shows how the trading range shifted during the 110 days charted. And (4) the four wavy blue lines that straddle relative strength are Bollinger Bands and they are used to detect overbought or oversold situations. Any one of the items listed as (2) to (4) is independent of the other two and could be considered as a valid technical indicator for making buy or sell decisions.
The price and relative strength lines were at or above their respective moving averages throughout the 110 day period charted as the stock outperformed the market. The progression of the five trading ranges was steadily upward. And whenever the price spurted upward to penetrate a Bollinger Band to indicate an overbought situation, the stock merely consolidated until it was once again positioned to trend higher. Overall, this remains a bullish chart.
I rate the stock a buy at this time because (1) earnings growth for 2013 is well defined and the stock is priced at just about 5.3 times earnings, (2) the current dividend yield is 5.7% but the run rate should increase to 7.8% by yearend, and (3) the stock's price chart is bullish. I bought shares back in November and then more subsequently. And I expect to add to my position in the days ahead.
The price of the stock at the time of my original article was $5.66 and it is now $7.07. At first blush that doesn't appear to be much of a move but it amounts to a gain of 25%. That plus two dividend payments totaling 19 cents brings the total return for the four months during which I owned the stock up to 28%. On a total return basis, I think that RAIT continues to have considerable appeal.
I have not been ordained to preach so I am not going to pound the table and tell you that RAIT is a stock that you should buy at this time. I just wrote the article on a company I think has investment appeal and tell you what I am doing with the stock. It is up to you to discount what I wrote as you see fit and make your own decision according to your personal investment criteria. I will continue to write progress reports as needed up until the time I sell my position.
Disclosure: I am long RAS. I wrote this article myself, and it expresses my own opinions. I am not receiving compensation for it (other than from Seeking Alpha). I have no business relationship with any company whose stock is mentioned in this article.