More than 40% off of its high, what once seemed like the investment of the century has transpired to some as being an old cigarette butt with one or two puffs left in it. Apple (NASDAQ:AAPL) soared tremendously over the last half decade, becoming a seven bagger over the course of five years. Like many other companies in the technology sector, innovation is vital to the protection of a moat. The iPhone in 2007 was an incredible breakthrough, and practically dominated the smartphone market.
Now, five years later, a multitude of competitors have emerged, and the big debate is whether Apple has lost its innovative edge, if sales are declining, and whether Google's (NASDAQ:GOOG) Android devices and maybe Microsoft's (NASDAQ:MSFT) Windows mobile devices will eat too much into Apple's growth opportunity. There is also the colossal question about whether or not China Mobile (NYSE:CHL) will collide with the Apple phone line, and whether the iPad-mini is eating into margins, to be exacerbated further by a possible low cost iPhone.
Although in the land of technology, competition adapts quickly and a few years from now can be viewed as the distant future, Apple represents a compelling risk-reward opportunity at these levels based on my analysis. Often, evaluating a firm through a discounted cash-flow model and re-engineering its stock price can provide a better picture of a company's investment potential on a risk-reward basis than even the most clearly written prose.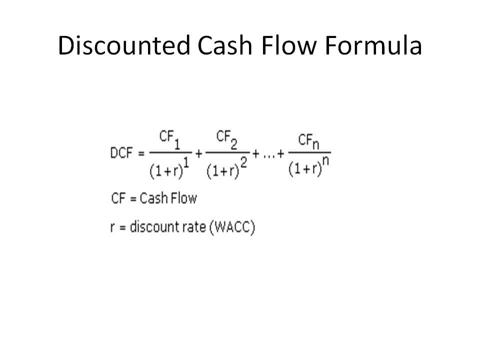 Discount Rate: For my discount rate I am using Apple's weighted average cost of capital (OTC:WACC), which is around 10%. Note that like everything else, WACC calculations can vary, and they involve a certain amount of subjectivity. WACC, for all of its flaws, is the most appropriate discount rate to use in free cash flow analysis, giving a conservative outlook.
Assumed Free Cash Flow Growth and Rationale: I assume growth of 12% for the upcoming ten years. These approximations are based on assumptions, which is required for discounted cash flow analysis. I used a 12% annualized growth rate for ten years. That is a blend designed to incorporate the idea that the five later years of this decade are likely to be much, much lower growth than the first five. Here is the thing: it is only a bit more than one-third of what Apple managed over the past two torrid years. Indeed sales as a percentage must slow over time, with the law of large numbers being the primary culprit. But for a company that is consistently outperforming both sales and earnings growth of most companies in the S&P 500 a humble multiple of 11 is a small price to pay.
Discounted Cash Flow (NYSE:DCF) Valuation: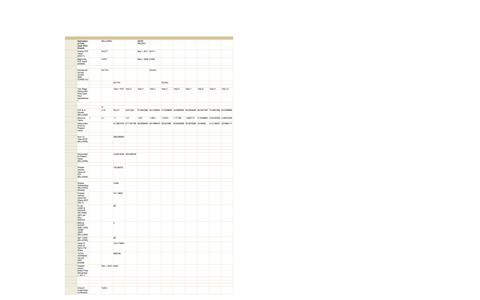 This spreadsheet shows estimated share value, assuming a diminished 12% growth estimate over the next 10 years. This shows an intrinsic value of approximately $823/share. Closing at $453 last Friday, the shares seem significantly undervalued, according to DCF valuations. Keep in mind free cash flow analysis involves many assumptions, and should be one of the many ways investors evaluate a firm. So as of today Apple is trading by more than a 60% discount to fair value.
Technical Evaluation: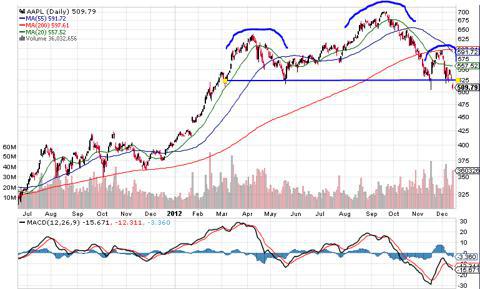 From a near term perspective, Apple's technical indicators are flashing bearish, with support shown at around $425. Traders may want to stay away for now, but value and growth investors may want to begin watching activity among the stock. Interestingly, Bernstein Research noted that fewer growth mutual funds hold Apple than before, and at a lower portfolio weight; but that more value funds own Apple than before. The Q2 earnings release will be the prominent factor in where the stock goes, in that it would essentially illustrate a pattern of slackening demand for Apple's products, in the event that unit sales continue to lower. Until then, shares are will primarily fluctuate based off of wall street noise, in addition to multitudes of short squeezes and margin calls.
Is the balance sheet overlooked?
Investors should also understand the purchasing power Apple has, having $137 billion of cash on its balance sheet. For my analysis of Apple, I typically discount cash on hand by 35%. This is conservative, and reduces Apple's valuation. Due to how so much of the cash is held abroad, roughly 60%. As current law stands, if Apple ever brings that cash back to the United States it will have to pay corporate tax of 35%. Nevertheless, with little debt as a percentage of capital, Apple is able to use cash to make incredulously large acquisitions, widening its moat through moving into new industries such as social networking and information providing, as well as old ones, focusing on the core business. These acquisitions can supplement Apple's niche, and will help in the war against Android and Windows. Additional smaller scale acquisitions, such as those of aluminum manufacturers or touch-surface providers can also aid in the ensuring that margins don't become asphyxiated. In terms of the low cost iPhone, margins may be hurt slightly, but this is offset by the massive amount of purchasing volume, especially in less penetrated international markets increasing Apple's overall smartphone market share.
Dividend:
In addition to the countless acquisitions Apple is able to make using its $137 billion war chest, a raise in its dividend yield is also on the table. Already nearing 2%, additional raises could help in Apple's transition to a value candidate. Depending on management's usage for the company's cash hoard, a large dividend boost is surely on the table.
Penetration In China:
In the event that a China Mobile deal is not reached, Apple hasn't performed too badly in China so far. Revenues from greater China, which includes mainland China, Hong Kong and Taiwan, in the September quarter grew 26% y-o-y and accounted for 15% of Apple's revenues for the fiscal year. This brought Apple's FY 2012 revenues from the region to about $24 billion, about 80% growth over FY 2011.
While Apple has managed to achieve this through iPhone deals with China (NYSE:CHU) and China Telecom (NYSE:CHA), it will need the grasp of the world's largest wireless carrier to reach a bulk of the Chinese populace. China Mobile, with close to an astronomical 700 million mobile subscribers, controls almost 65% of the Chinese wireless market.
A deal between Apple and China Mobile, seems quite probable, but will almost certainly be less profitable compared to those of which Apple has made in the past. Despite having less profitability, the deal would indeed open up opportunities for huge iPhone and iPad sales in China, allowing Apple to further Chinese mobile subscribers.
The current 3G situation in China is however not as heavily loaded in favor of China Mobile as in 2G due to most handsets' incompatibility with its proprietary 3G network. However, the carrier's huge subscriber base gives Apple an opportunity to double the iPhone's addressable market in China. Moreover, it enjoys a superior brand image among the Chinese that has helped it add more than 15 million iPhone users, as of February 2012, despite not offering a subsidized iPhone offering.
Conclusion:
Based off of several evaluation mechanisms for firms, shares of Apple currently appear quite cheap, and at a modest multiple. Despite apparent lackluster performance in the U.S, a deal with China Mobile could be a key catalyst the tech giant needs, providing a huge boom in China, with access to an additional 65% wireless networking market. Q1 earnings seem to have lost traction; slightly missing revenue estimates and general unit sales declines across the board along with an obvious decline in smartphone demand compared to last year. Near term, the stock's outlook is overcast, and is nothing more than a gamble, with potential outcome reliant on several factors. But for the long term, Apple's future looks quite sunny.
Disclosure: I am long AAPL, GOOG, MSFT. I wrote this article myself, and it expresses my own opinions. I am not receiving compensation for it (other than from Seeking Alpha). I have no business relationship with any company whose stock is mentioned in this article.