In the last seven days alone the Federal Reserve has introduced $60 billion dollars in fresh cash into the system. At an annualized pace this amounts to $3.12 trillion in new money, more than 100% of the Fed's current balance sheet sitting at about $3 trillion.
In one week alone the Fed has introduced money worth more than 136% the market capitalization of Costco(NASDAQ:COST). (FYI: Costco's market cap is $44 billion)
Gold Underperforming
Gold investors are well aware of the recent weak performance of the metal over the last year. This year alone gold is down -1.6%:

What is surprising, however, is that gold has fallen at the same time the Fed has begun an aggressive quantitative easing campaign. At the current pace, the Fed will expand their balance sheet more than $1 trillion dollars by the year end, yet gold prices remain depressed at present.
We Have Seen this Price Lag Before
It is not uncommon for gold prices to lag the Fed's actions and this is the crucial fact people need to focus on. Many forget that gold prices fell for the first couple months into QE1 only to return plentiful, expected gains consistently after.

Gold Needs Direction
The gold market lacks direction and it is very uncommon for the yellow metal to sustain a trading range as narrow as it has over the last six months. Gold volatility is at multiyear lows according the CBOE/COMEX Gold Volatility Index.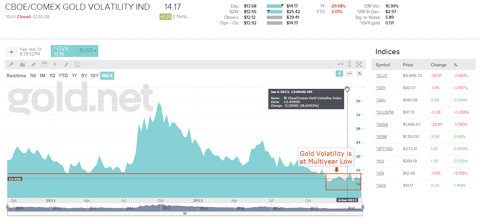 Implied volatility on options with underlying exposure to gold ETFs like (NYSEARCA:GLD) are also at low points. Volatility cannot drop much lower so the near future is likely to contain some significant movement one way or the other.
The Case for Gold Remains Strong
The fundamentals for gold could not be better. Real interest rates are deeply negative.

Negative real interest are large drivers of the gold price, as the interest earnings from fixed income investments and money markets yields returns less than the inflation rate. What is earned from lending is more than lost in purchasing power. The question is then, why not invest in an asset with no counter party risk and 16% annualized returns over the last decade like gold?
In addition, the forward outlook for interest rates is further down, which solidifies the gold case. We have seen recent ticks up in longer term US bonds, but that is precisely what action from Fed, like this week's printing, will aim at quelling. As they do, real yields will continue to fall, credit will resume expansion, and the dollar will restart its fall as higher yielding investments are sought at its expense.
The Fed is More Leveraged than Lehman
Banks were lambasted for keeping capital ratios at ultra low levels into the '08 crisis. Capital requirements have been a focus of new regulation, though they always get washed away in real terms after bank lobbying, but nonetheless the Fed is the ultimate regulator of US banks and is itself the most leveraged institution.
The Fed's balance sheet retains about $50 billion in capital in comparison to more than $3 trillion in assets. This represents a 60 to 1 leverage ratio, miles above the 20 and 30 to 1 ratios we saw from some of the biggest lenders who crashed and burned in the '07-'08 crisis. The Fed's sensitivity to interest rates is such that they cannot sustain even a 2% decline in their portfolios' bond prices without becoming technically insolvent. This guarantees that the Fed will never admit such a fate and consistent massive monetary expansion is here to stay if yields are to be artificially fixed.
The Fed Will Lead Gold to Prosperity
Fed printing is on a massively expansionary trajectory and the soon to be effects can simply not be ignored. The last two Fed efforts more than successfully revived risk markets, albeit temporarily and artificially, why should this substantive leg not accomplish the same?
The low gold prices and volatility offered in current markets are bargains given the macro environment. Exposure to gold is essential as the Fed cannot be fought when they have infinite tools at their discretion to weaken the dollar. Higher US yields have led to some upward pressure for the dollar, but if this continues it is just going to prompt more aggression from the Fed to cap yields at their historical lows.
The US, with the largest outstanding debt in the world, most of which is owned by the Fed, guarantees higher interest rates cannot be withstood. There is literally no chance of an exit from the Fed's stimulative efforts regardless what James Bullard, Richard Fisher, Charles Plosser, Jeffrey Lacker or whomever the media's favorite Fed hawks say.
When doubts are abundant amid falling prices, the best investors reap the largest rewards. After $60 billion this week, how much more will they print next week? All I know is that I wouldn't bet that this is not going to translate into gold gains sooner or later. As usual, my favored way of playing gold, given low implied vol is to purchase put options on short leveraged gold ETFs.
Disclosure:
I have no positions in any stocks mentioned, and no plans to initiate any positions within the next 72 hours. I wrote this article myself, and it expresses my own opinions. I am not receiving compensation for it. I have no business relationship with any company whose stock is mentioned in this article.