Don't Blame Tim Cook
Stop blaming Tim Cook for Apple's (NASDAQ:AAPL) stock price. While he isn't exactly the most confidence-inspiring leader that the public has ever seen (Steve Jobs was definitely up there), and while there is money to be made in the short term by shorting the stock ahead of any of his talks, it is important for investors to stop blaming Tim Cook for not doing what needs to be done. He's doing exactly what he needs to in order to keep the company performing as well as it can given the market environment.
Apple's "problems" (if you can call them that) stem primarily from a couple of different directions, the majority of which are quite frankly completely out of Apple's control. The smartphone market has other players now that are willing to take both bigger risks and lower margins, the tablet market is a mirror image of the phone market (although with Windows 8 and Android, Apple's lead time won't be quite as substantial as it was with the iPhone), and the high end PC market isn't exactly the highest growth engine on the planet.
In short, Apple's very dominant market position eventually had to begin to fade, no matter what the dedicated Apple investors wanted to believe. The barriers to entry, especially since Android is free (and good), just aren't there when it comes to phones. The margin erosion happened in the PC industry, but Apple managed to carve a profitable niche from playing only in the high end. This isn't enough to sustain a $500B company alone, nor will the same position in phones/tablets 3-5 years out sustain such a high revenue base (although with carrier subscriptions coupled with the TAM of the smartphone markets, the unit volumes and market share can be much higher). Investors are rightly worried about future growth vectors.
Tim Cook, quite frankly, isn't the problem. Apple is the best company in the world at what it does, but what it does may not be so lucrative going forward -- at least in the minds of investors.
This brings me to my next point: the cash.
The Cash Situation
Apple isn't stupid. They know that the business is at non-trivial long-term risk, and I believe that is why the company continues to stash away such a large portion of its free cash flow as cash on the balance sheet. In the 1980's and 1990's, Apple found itself in very much the same position as the bears believe Apple will be in a few years down the road, and it was the cash hoard that allowed the company to survive.
While I'm not of the opinion that Apple will need that money to stave off bankruptcy, and I certainly believe Apple will continue to be quite profitable, but if profitability contracts, then the best hope for the longs will be a massive pile of cash on the balance sheet in order to prop up the valuation. This would give Apple the power to make riskier acquisitions, invest in organic initiatives to try to restore growth, and generally keep the stock price propped up. As an investor that likes to make bets on beaten down but cash rich names, I can tell you that many people like me salivate at the notion of real, cash-backed valuation support.
That being said, I think that Apple's massive free cash flow should allow it to pay a bigger dividend than it currently does, and it is in this respect that I agree with guys like David Einhorn. This is a stock that needs to be yielding ~3-3.5% in order to become truly interesting to the dividend (growth) guys. Mark my words: if growth continues to look like it's "over", Apple will yield 3%+...but if Apple doesn't increase its dividends, it will be due to yet another leg down in the share price.
I don't like share buybacks in this scenario. The stock still has room to head lower, and any buybacks made could be viewed in the rear-view mirror as a complete waste of shareholder capital. Apple's payout ratio is so low that buying back shares in order to increase the amount of dividend paying power is not necessary.
Apple Was In A Bubble
I might not be the best market timer around, but I know a bubble when I see one. Apple's stock, unfortunately, went too far too fast as investors became giddy about the company's iPhone growth along with hype about the seemingly infinite future growth drivers. The bubble was very hard to identify because the stock's multiple was still quite modest and the earnings growth seemingly justified it. However, charts are the ultimate truth-tellers, and anybody who has been in the markets for a while recognizes this particular chart: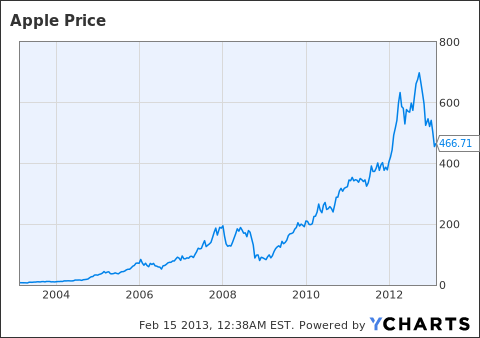 Notice how the strong, but steady uptrend from 2009 through the end of 2011 was suddenly disrupted by a major move up? This is not healthy for a stock, no matter how much earnings/sales/margins grow by. When a stock does that, it is entering bubble territory and, as soon as a whiff of any "bad news" shows up, the buyers have already bought hand over fist (probably on a lot of margin since Apple stock is expensive) and now have nobody to sell to. This buyer exhaustion, coupled with savvy short sellers who recognize this early, trigger very massive selling.
Interestingly, the stock is now back where it would be if the strong uptrend had simply continued slowly but surely. This is actually cause for optimism on the long side should no really unfavorable datapoints hit. However, there's one more thing that further contributed to the selling: Apple is quickly losing allure as a hedge fund honey.
Hedge Funds End Their Affair With Lady Apple
Despite all of these fundamental "concerns" that I have raised, another very real factor is that hedge funds simply have either left, or are in the process of leaving, Apple for the younger, sexier stocks on the block. The most recent 13G filings show that the following major funds dumped shares of Apple during the quarter:
Third Point
Farallon Capital
Jana Partners
Passport Capital
Elton Park Capital
Omega Advisors
The only bright spot for Apple longs is that David Einhorn's Greenlight Capital increased its stake in the company.
But you can all see the trend, right? Apple's no longer a hedge fund darling, and a lot of money is flowing out. The big growth is done, and there is much more risk to significantly slowing/negative growth on a longer term basis. If you're a hedge fund that's supposed to be beating the S&P 500 (NYSEARCA:SPY), then this isn't the kind of stock you want in your portfolio. You want stocks like BlackBerry (NASDAQ:BBRY), 3D Systems (NYSE:DDD), and Amazon (NASDAQ:AMZN) for high growth. For safer tech plays, it makes more sense to go with companies with higher dividend yields, safer moats, and much less risk to the whims of the consumer. For these kinds of investors, Intel (NASDAQ:INTC), Oracle (NYSE:ORCL), IBM (NYSE:IBM), and Seagate (NASDAQ:STX) (among many others) are all superior plays on a risk-adjusted.
So you can see that this places fund managers in a very tight spot when looking for the next long position to take. Without the massive growth, Apple's stock just has too high of an opportunity cost and too poor a risk/reward.
Conclusion
The stock is down because, quite frankly, the big growth just isn't there anymore for the growth stock guys, the dividend isn't there for the dividend hounds, and the opportunity cost of owning Apple when you could own another market darling gets higher and higher each day.
Tim Cook isn't the problem, and nobody seemed to complain when the stock price hit $705. It's only when the market's perception changed that people's views of the management changed. Blame the harsh competitive realities of the consumer electronics market for the pessimism: anyone can make a smartphone or a tablet these days, and there are just more exciting stocks in this space to own right now. Samsung (OTC:SSNLF) is making a killing, Lenovo (OTCPK:LNVGY) could emerge a dark horse in this race, Motorola/Google (NASDAQ:GOOG) makes solid products, BlackBerry is generating a lot of buzz, Nokia (NYSE:NOK) is back from the dead, and the world is going to try to grab more of Apple's outsized profit pie. Wall Street has accepted it.
The question is, have you?
Disclosure: I am long INTC. I wrote this article myself, and it expresses my own opinions. I am not receiving compensation for it (other than from Seeking Alpha). I have no business relationship with any company whose stock is mentioned in this article.
Additional disclosure: May buy LNVGY.PK, STX, ORCL, or NOK at any time.