Both Asia and Europe are down this morning and it appears we will have a shift in the market after the recent run-up. We had previously stated that the market would switch to a general bull market from a stock picker's market in the later months of last year which happened but it seems that after the most recent run we are undergoing another shift where stock picker's will have their day again. That does not mean to take money off of the table necessarily, however it does point out that a lot of the 'easy' money has been made and it will become a bit more difficult to find gains in the near future.
Chart of the Day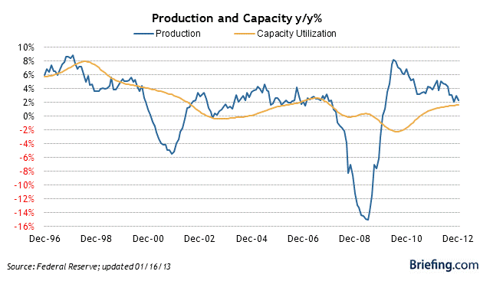 Chart courtesy of Briefing.
It would be nice to see a bump up, in times of growth we generally see a bounce off of the yellow line based off of how the economy has changed the past few years. Let's see if that trend continues or if something else develops.
We have economic news due out today, and it is as follows:
Empire Manufacturing (8:30 AM EST): 0.0
Net Long-Term TIC Flows (9:00 AM EST): N/A
Industrial Production (9:15 AM EST): 0.2%
Capacity Utilization (9:15 AM EST): 78.9%
Michigan Sentiment (9:55 AM EST): 73.5
Asian markets finished lower today:
All Ordinaries - down 0.05%
Shanghai Composite - CLOSED
Nikkei 225 - down 1.18%
NZSE 50 - down 1.00%
Seoul Composite - up 0.08%
In Europe markets are lower this morning:
CAC 40 - up 0.22%
DAX - down 0.17%
FTSE 100 - down 0.12%
OSE - down 0.01%
Technology
3D Systems (NYSE:DDD) is beginning to become the ultimate battlefield stock, although not anywhere on the level of Herbalife which is in a league of its own. We noticed yesterday that Citron Research had issued their usual scathing report on their target which they called research. They certainly put work into it, but this is one of those shorting shops which seems to issue these reports to serve their own self interests. Short sellers are usually the canaries in the coal mine of covert bubbles, however we do have doubts about the intent behind the report and depending upon whether it was written to discuss an opinion and trade or to influence that trade would alter our way of looking at the call. The stock was hit hard initially as the report said the entire industry was overvalued and drew parallels between the 3D printing business and the dot-coms, renewable energy and other recent bubbles, however shares found support just under the $60/share level and managed to finish the day at $62.75/share and only down $2.86 (4.36%).
Telecommunications
We had the second bloodbath in as many days caused by a company posting weaker than expected numbers and cutting their dividend. Dividend cuts have never been popular with investors but in a situation such as that which CenturyLink (NYSE:CTL) finds itself (shrinking legacy market and expansion into new industries) it certainly does not bode well for management's outlook on future free cash flow. The dividend was cut by 25% and investors pushed the shares down by $9.42 (22.60%) to finish the session at $32.37/share. Many hung up on the stock yesterday, pun intended, and we saw quite a few analysts downgrading the shares based off of the news. It appears that if you want to invest in telecom these days while having a safe dividend stream then one would have to focus on the big two with their triple play option and large national cellular networks.
Consumer Goods
Constellation Brands (NYSE:STZ) bounced back yesterday rising $11.37 (37.23%) to close at $43.75/share while trading 50.3 million shares in a session where investors cheered news that the company would be buying the Piedras Negros brewery from Modelo and receiving perpetual rights to the Corona and other Modelo brands in the US for $2.9 billion as part of a new deal which AB-InBev hopes will result in a settlement between the Feds and itself over its acquisition of Modelo. This is in addition to the previously agreed to $1.85 billion deal for Modelo's stake in Crown, a joint venture between Modelo and Constellation. This is a great deal for Constellation assuming everything gets approved and is far better than anyone expected.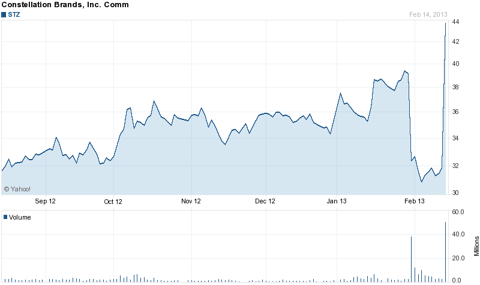 Chart courtesy of Yahoo Finance.
Talk about a volatile ride, it has been a roller coaster last few weeks for STZ investors.
Retail
We have made no secret of our ideas concerning Best Buy (NYSE:BBY) and their outlook. With or without a deal we thought that the shares were overpriced in the mid-20s and thought investors should exit when founder and ex-CEO Shulze began discussing the possibility of taking the company private via a leveraged buyout. We understood he was willing to put his shares up as equity for the deal, but could not figure out who would provide financing at a reasonable enough rate to pay for the rest of the company. It did not make sense at his initial price and it does not make sense at the current price, even though shares have essentially been halved. So were we surprised that once again Shulze missed a deadline to put a deal together? Not in the least. He has lost a lot of face with this LBO talk, but more importantly we believe that he has raised some rather important questions investors need to begin to ask themselves. If Shulze could not find financing from some of the smartest money out there to take the company private, what does that say about the company and its future? Those on margin also need to ask themselves why they own shares, if it does not make sense to own the whole thing and use those revenues to finance the 'trade' then why should an individual investor finance the trade? These are interesting times indeed.
Oil Services
The entire oil services sector rose yesterday as it appeared that Goldman Sachs became positive on the industry. Halliburton (NYSE:HAL) rose strongly, over 6%, to close at $43.32/share as investors piled into the industry after Goldman's rosy comments on Nabors. We like the oil service industry players and think that they still have a few more good years left in them as drilling continues in North America and as they move abroad to help others drill in shale plays in areas like Argentina, Europe and Asia (especially China).
Disclosure: I have no positions in any stocks mentioned, and no plans to initiate any positions within the next 72 hours. I wrote this article myself, and it expresses my own opinions. I am not receiving compensation for it (other than from Seeking Alpha). I have no business relationship with any company whose stock is mentioned in this article.