The SPDR S&P 500 ETF Trust (NYSEARCA:SPY) continues to grind higher, making new recovery highs, while sitting a mere 2% off its all time highs. Key indexes such as the iShares Russell 2000 Index (NYSEARCA:IWM), iShares Dow Jones Transport. Avg. (NYSEARCA:IYT), and Consumer Discretionary SPDR (NYSEARCA:XLY) have already exceeded all time highs. Watching these sectors is a good proxy to gauge traders' expectation of future economic conditions as they are most leveraged to growth.
As this rally continues, many shorts have capitulated and sideline money is chasing prices at these higher levels as fund managers are forced to chase for performance reasons. This is taking place in an environment where many sentiment measures are beginning to signal a market of extreme bullishness.
Of course at the top, there will be froth. However just because there is froth does not mean it is a top. I think this is a key distinction that needs to be made. In a frothy market, the corrections tend to be more severe, as the rubber band snaps back hard. However, excess bullishness, in and of itself, is not a catalyst for selling.
There are many catalysts for this rally including better-than-expected earnings, stronger economic data, the resilient consumer, and tons of sellers being taken out of the market due to fear of the fiscal cliff and European contagion in 2012. However, I think the Fed's liquidity program is the primary reason for this persistent and sustained move higher.
Bernanke's recent actions have convinced the market that the punch bowl will remain for some time. Additionally, recent economic data has hit the sweet spot of being better than expected, pointing to an economy that is growing in fits and starts. Yet the data is not so stellar that it would result in the Fed withdrawing liquidity. In this article, I will examine the short-term warning signs as well as reasons that future weakness is a buying opportunity.
Short Term Warning Signs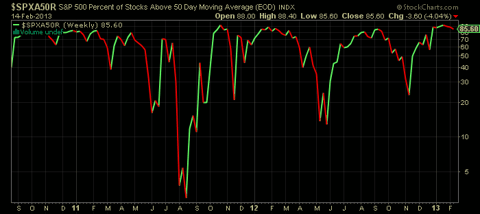 This weekly chart is one measure of how overbought the market is currently with 85% of stocks above their 50-day moving average. It is near levels where in the past, corrections have occurred. Although, it should be noted that it can stay overbought for many, many months.
Some sentiment measures are reaching absurd levels of bullishness. As mentioned previously, when everyone is on the same side of the boat, corrections tend to be brutal.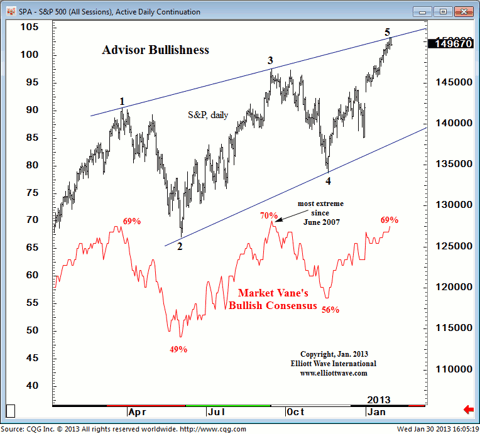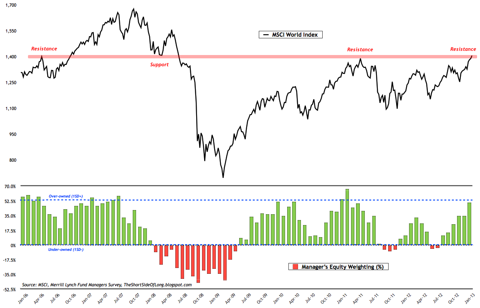 With the market getting into the stratosphere, the retail investor seems ready to jump back into the market. After years of negative equity flows, money has been pouring back into the stock market. Along with the overbought market and lofty sentiment levels, the euphoric public is another good reason to exercise caution in the short term despite the market's unyielding move higher and the favorable bullish underpinnings discussed below.
However given the 'animal spirits' unleashed by the Federal Reserve by promising cheap money indefinitely, it is certainly possible that the correction comes in from higher levels.
"Bernanke Put" Remains Well and Alive
Earlier I mentioned that the market can remain overbought for months on end. We saw this dynamic in 2009 and late 2010 with QE1 and QE2. These were similar markets with depressed volatility and the market after an initial violent push upwards out of oversold conditions continued to move higher slowly over many weeks with brief corrections.
Currently, the newest liquidity program is open ended QE tied to economic targets. I discussed in this article, the new members of the Federal Reserve being a Christmas Present for bulls given their dovish leanings. I believe that as long as QE remains in place, the "Bernanke put" will ensure that corrections remain a buying opportunity.
The economic targets tied to this round of QE are unemployment and inflation. Inflation has remained subdued and unemployment is well below the target of 6.5%. Therefore, there is no immediate threat of the liquidity inflows stopping.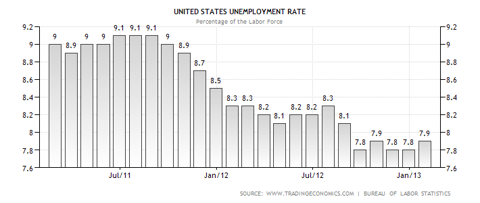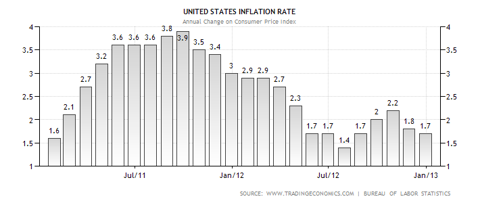 Another intermediate-term bullish factor is the impressive performance of breadth. Breadth reflects the participation of stocks and can be compared with price as a measure of accumulation or distribution in the market. Typically, they move higher and lower together. When they diverge, it can present an opportunity on the long or short side.
One of the reasons I was bullish about stocks in November was that breadth remained stable while prices were in a freefall, my stance was that stocks were under accumulation despite the scary price action. Currently, breadth continues to steadily move higher. My interpretation of breadth is that this rally remains broad based with participation all across the market, which is a sign of a robust rally in the early stages.
Conclusion
The main purpose of this article was to illustrate the many dangers of the market at these levels but that the 'animal spirits' driving this market higher have not really cared. Given that we remain well below inflation and unemployment targets, I think the continued liquidity injections will ensure that future corrections will be a buying opportunity.
Disclosure: I have no positions in any stocks mentioned, and no plans to initiate any positions within the next 72 hours. I wrote this article myself, and it expresses my own opinions. I am not receiving compensation for it (other than from Seeking Alpha). I have no business relationship with any company whose stock is mentioned in this article.