Note: This article has been updated at the author's request.
Infitialis is a research collective that exposes fraud and folly in an effort to identify bubbles before they implode and our track record of success speaks for itself. In this report, we will be exposing fraud heaped on top of folly.
Infitialis Track Record of Exposing Fraud and Folly is Unmatched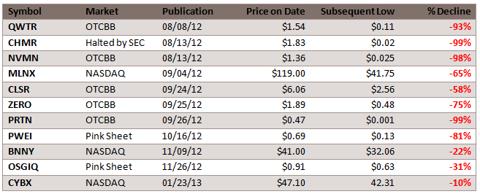 Introduction
Medical Marijuana, Inc. (OTCPK:MJNA) ("Medical Marijuana" or the "Company") is a penny stock company run by criminals and alleged fraudsters. While medical marijuana may be a growing business opportunity in selected states, there is no place for blatant stock fraud in the United States capital markets, and we strongly believe the intrinsic value of MJNA is $0.00/share due to the significant malfeasance discussed below.
In this report, we will discuss how MJNA listed on the OTC Markets (formerly known as the pink sheets) under a weird, but quasi-legal, exemption known as "Unsolicited Quotation" whereby shares only trade by appointment of retail order flow. In other words, there is no active market for the issuer's securities and on a whim all bids/offers can instantaneously vanish, leading to choppy trading and large valuation swings. Despite our extensive market experience, this is the first time we have ever run into this type of security with a >$100mm market valuation, let alone a $355mm market valuation. Moreover, based on our discussions with securities counsel, the SEC has all but done away with these types of companies save for a select few like Medical Marijuana that have somehow so far escaped the eyes of the regulators.
Adding insult to injury, because MJNA is a non-SEC reporting issuer, it has almost no real obligations to its shareholders. Here are a few examples of what MJNA can get away with that 99.9% of public companies cannot:
MJNA does not have to file financial statements with the SEC or make available any material disclosures to its shareholders.
MJNA does not have to file quarterly or annual disclosure reports with the SEC according to the laws and regulations of the 1934 Securities Act
Officers and Directors of

MJNA have no obligation to shareholders to operate within Sarbanes-Oxley or any other financial controls promulgated by the Commission following the various accounting scandals that erupted in the wake of the Enron, WorldCom, and Tyco situations following the dot-com crash.
MJNA Appears to be a Significant Stock Scam And Not a Legitimate Enterprise
MJNA has recently been able to obtain the shocking market valuation of $355.6mm making it more valuable than well-known consumer brands of Pacific Sunwear of California, Inc. (PSUN) and Jamba, Inc. (JMBA) COMBINED. These two well-known brands on a consolidated basis have >7,600 employees, >1,500 physical retail locations around the world, and generate >$1bn in annual revenue. Conversely, Medical Marijuana, Inc. is controlled by and operated by a 28 year old fraudster. In this report, we will outline several more red flags relating to MJNA and its management team with the goal of demonstrating that MJNA has no intrinsic value. Ultimately it is our opinion that the hard facts we will uncover cast serious doubt as to the accuracy or legitimacy of this company as a going concern. Bluntly, we strongly believe based on the data uncovered to date that Medical Marijuana, Inc. is "cooking the books."
We have gone over this many times when we release our exposés. Legitimate companies do not go public via OTC RTOs unless they have no other viable route to capital. Moreover, in our view legitimate companies don't choose an unsolicited pink sheet as their platform to market unless they are illegitimate. There is no advantage to such a vehicle unless one is purposely trying to circumvent the United States securities regulations explicitly designed to protect investors.
MJNA Fundamentals and Valuation

As discussed in further detail, these valuation metrics are completely preposterous and should be yet another red-flag for investors. The issue with MJNA is that we do not believe the financials and as we will demonstrate in the next sections there is little reason for anybody to believe they are real as they have been audited by an auditor who is not qualified to perform an audit and have been signed by a member of management who at the time of signing had announced a leave of absence from the company (more on this in detail in the next sections).
Moreover, because of the continuous issuance of additional shares, such an investor would continue to have their stake diluted down to even less meaningful levels.
In addition to the numerous valuation red-flags, Medical Marijuana, Inc. common share count has increased a shocking 44.7% over the last 12 month and almost 200% over the last 24 months for dubious reasons, further diluting investors. In that time period, the Company has issued in excess of 550mm common shares worth over $200mm at the current market valuation.
Management Team - Is this Who You Want Running Your Company?
As per the Medical Marijuana 2012 "Investor Fact Sheet" available on the Company website, the following individuals are key members of the MJNA team. This toxic brew of criminals and alleged fraudsters should give any investor serious concerns.
Name

Titles

Truth

Michelle L. Sides

"Chairman"

Director and Controlling Shareholder

Chief Operating Officer

Delinquent from Florida Bar

Owns ~48% of the Company with Llamas

Michael Llamas

Director and Controlling Shareholder

Former President and CEO (until 9/17/2012)

Under indictment for 19 Counts of Mail Fraud and 31 Counts of Wire Fraud in the Eastern District of California (Case 2:12-cr-00315)

Extensive history of being named a defendant in civil litigation regarding mortgage shenanigans and other fraudulent behavior

Owns ~48% of the Company with Sides

Theodore Caligiuri

Chief Executive Officer

A CEO of a $370 million dollar company that is also an active Residential Real Estate Broker for Coldwell Banker? You decide...

Babak R. Ghalili

Medical Director

Dentist in NYC

Anthony W. Imbimbo

"Independent Auditor"

Not PCAOB Registered (therefore unqualified to independently audit an SEC reporting companies)

Culinary Institute of America trained Chef (with a minor in cooking the books?)
Ms. Michelle L. Sides - "Chairman" and Chief Operating Officer
According to multiple Medical Marijuana filings, Ms. Michelle L. Sides is the Chairman of the Board, Chief Operating Officer, and also indirectly controls ~ 48% of the Company through her beneficial ownership of Hemp Deposit and Distribution Corp. In addition, she is purportedly a Member of the Florida State Bar Association and possess extensive experience in corporate and real estate law. Interestingly, the Florida Bar records for Ms. Michelle Sides indicate she was previously the "Corporate Counsel" and sole employee for "North American Companies, LLC," the same entity Mr. Michael Llamas purportedly founded and utilized to execute "in excess of ten billion dollars in transactions" for distressed debt. However, in reality, Ms. Michelle Sides has been kicked out of the Florida Bar for unspecified reasons (rendering her not eligible to practice in Florida).
Simply put, it is hard to imagine trusting Ms. Michelle Sides with a library book, let alone as the lead manager for a $355mm publicly traded company. Unfortunately, for most retail investors in MJNA this is the first they have heard about this because Ms. Sides has fraudulently omitted this material information from her official biographies and disclosures.
Michael Llamas (Age - 28) - President and Director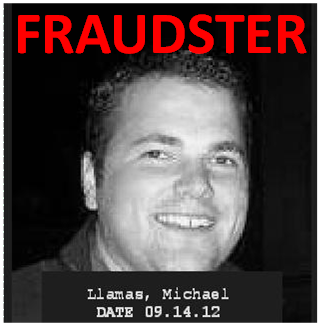 According to multiple Medical Marijuana filings, Mr. Michael Llamas (age 28) has served as President and Director of the Company and also indirectly controls ~ 48% of the Company through his beneficial ownership of Hemp Deposit and Distribution Corp. Also, according to multiple Medical Marijuana filings, Mr. Michael Llamas' sole prior business experience was founding North America Companies LLC, a real estate development and acquisitions firm specializing in distressed debt that completed "in excess of ten billion dollars in transactions." Notably absent from Medical Marijuana filings is ANY discussion of Mr. Michael Llamas prolific prior indictments for fraud and financial shenanigans.
First, on 09/14/12, Mr. Michael Llamas was indicted by the United States for the Eastern District of California along with six other individuals for a case involving for 19 counts of Mail Fraud and 31 counts of Wire Fraud related to a mortgage fraud scheme that caused more than $10mm in losses to mortgage lenders and others. According to the indictment, Mr. Michael Llamas would approach builders of new homes and developers of condominiums to purchase investment homes in bulk at substantial price discounts ranging from 30 to 50 percent off under the terms of an "option contract." Mr. Michael Llamas had no financial ability and no intention of purchasing the homes; rather, the homes were to be sold to an associate's nominee members at full price. Mr. Michael Llamas then arranged for an affiliated mortgage company, Nationwide Lending Group (NLG), to sell mortgage loans for the nominees with banks and other lenders at the full price of the homes without disclosing the large price discount. Lenders were thereby misled into advancing loans that far exceeded their lending guidelines. Also, the large option contract price discount was used to conceal the lack of required down payments by nominee buyers. Mr. Michael Llamas then split what remained of the price discount after subtraction of the fake down payments and certain fees with his cronies. In addition, Mr. Michael Llamas induced at least one home builder to record false liens in favor of one of their entities, Cobalt One LLC, for millions of dollars in bogus loans to cover up large payments from an associated firm to Cobalt One. If convicted, the Mr. Michael Llamas and the other defendants face a maximum statutory penalty for each violation of mail and wire fraud of 20 years in prison, a $250,000 fine, and a three-year term of supervised release. As of 12/11/12, Mr. Michael Llamas has been released on bail pending trial (Appendix B).
On 09/17/12, just three days after being indicted by the Eastern District of California, Mr. Michael Llamas announced a "leave of absence effective immediately" from Medical Marijuana in order to "focus his attention on personal business matters." However, Mr. Michael Llamas signed off and certified the Medical Marijuana 09/30/12 Financial and Information Disclosure Statement (Appendix C) as the Company's "President. This is one of many reasons why we believe the MJNA financials are fraudulent and most likely fabricated.
More interesting is the fact that on 09/30/12 and 12/02/12, Mr. Michael Llamas and Mr. Michael Corrigan, Esq. (MJNA's external counsel), respectively, certified that no members of the Company's management team had been subject to "a conviction in a criminal proceeding or named as a defendant in a pending criminal proceeding in the past five years" (Appendix C & D). This appears to be a blatant fabrication in regards to Mr. Michael Llamas prior court records. Moreover, THIS CLEARLY VIOLATES the OTC Pink Basic Disclosure Guidelines SECTION 8B.1
Next, on 12/05/07, Mr. Michael Llamas was sued by Mr. and Mrs. David Villar in the United States Bankruptcy Court for the Northern District of California for the Fraudulent Transfer of the couple's home in San Mateo California via a $830k purchase option agreement (Case No. 05-35167 TCLS)(Appendix E). While the matter was eventually privately settled, it appears Mr. Michael Llamas was forced to pay restitution to the Villars.
Similarly, on 12/08/06, Mr. Michael Llamas (who was 22 at the time), was arrested by the Tracy, California police department on charges of forgery, grand theft, financial elder abuse and conspiracy. Specifically, Mr. Michael Llamas was accused of hoodwinking an elderly couple into believing they had negotiated a reverse mortgage based on the $485k equity value of their home, but instead transferred the title of the property to an entity Llamas controlled for de minimis consideration.
Mr. Michael Llamas seems to have engaged in such extensive mortgage fraud schemes against so many other unsuspecting victims that there an anonymous blog was created in 2009 dedicated to tracking his activities. More information is available via: http://mikellamas.blogspot.ca/
In summary, based on Mr. Michael Llamas exhaustive history of mail, wire, and mortgage fraud, it is inconceivable he could effectively serve as a President and Director of a $370mm publicly traded company. In this case, the reality of the situation is even worst as Mr. Michael Llamas is not only the President and Director of Medical Marijuana, Inc., but also the largest and controlling shareholder. We have good reason to believe that Mr. Michael Llamas is directly involved in the liquidation of the free trading shares and will cover this in more detail the next section.
Mr. Theodore Caligiuri - Purportedly Chief Executive Officer
On 09/30/12, Medical Marijuana announced it hired Mr. Theodore Caligiuri as "Interim President and CEO." Interestingly, Mr. Theodore Caligiuri seems to be completely lacking any prior experience as a manager of any publicly traded company, has yet to sign-off on any financial statements, and still works as a residential real estate agent for Coldwell Banker. In our opinion, he is completely unqualified to be the leader of a public enterprise with a $356mm market value.
Say What?! HDDC Controls And Sells $1.5mm In Free Trading Shares On Behalf Of MJNA
In what has to be one of the oddest cases of illegal share distribution/underwriting, Medical Marijuana appears to sells its own shares to the public via a conduit (Llamas) without a registration statement. This is blatantly illegal and after speaking to several lawyers we are still unsure as to how the these two got this far without anybody else figuring this out.
Below is an excerpt from the (OTCPK:MJNA) disclosure on the otcmarkets.com website.

Essentially, Mr. Michael Llamas, the 28 year old who controls MJNA, is identified as the main party responsible for providing "working capital." In other words, Llamas is directly financing MJNA. Mr. Michael Llamas does so by liquidating free trading shares of MJNA he was awarded for almost ZERO consideration as part of the RTO. Not all of this information is clearly disclosed as the Company does not elect to do so. However, by reconciling the quarterly paid-in capital amount vs. the common shares outstanding, we strongly believe the weighted average price MJNA has been selling its common shares to Mr. Michael Llamas for less than $0.01/ while retail investors have just months later been clamoring hand over first to purchase the shares at $0.40-0.50.
Apparently Ms. Michelle Sides has a side-deal with Mr. Michael Llamas whereby Llamas holds, and most probably sells, free trading shares of MJNA on behalf of MJNA! As of 12/31/2012 disclosure date, Llamas held $1.5 million worth (or 15 million shares at the time) of MJNA free trading shares on behalf of MJNA, effectively allowing the public company to sell its own shares via a conduit. Craziest of all is that this $1.5mm is reflected on the Company's own balance sheet and "audited" by a non-PCAOB registered "independent auditor," Mr. Anthony Imbimbo.
The Auditor/Professional Cook Who Isn't PCAOB Registered
On 01/16/13 and with much fan-fare, Medical Marijuana Inc. issued a press release announcing it had for the first time completed an "audit" and that it was publishing its audited results to the investing public. On the back of this "development," retail investors bid up shares of MJNA to as high as $0.54/share for an implied valuation of nearly half a billion dollars!
It took us two seconds to figure out that the "Auditor" was in fact not licensed to audit public companies at all. A public company audit must be carried out by a PCAOB (Public Company Accounting Oversight Board) registered auditor. Otherwise, it's not a legitimate audit, period end statement.
The so called "auditor" is actually a sole-practitioner (a la Madoff) CPA/Cook (we are not making this stuff up Imbimbo has a degree from the Culinary Institute of America) named Anthony W. Imbimbo. Imbimbo is clearly not qualified to audit a public company of with a market valuation of this size and is one of the many reasons we believe the financials cannot and should not be relied upon.
Having Their Cake And Eating it Too: Insider Sales - Extensive 144 Sales
In what is yet another example that solidifies our thesis that MJNA is nothing more than a stock scam - MJNA insiders not only engage the services of Llamas to sell stock, they also use rule 144, a rule we believe is not legally available to this company.
Rule 144 sales are only those sales made by active insiders and are limited to less than 1% of the outstanding a year. Based on the 144 filings, we believe there may have been much more insider selling. In just one example we found (Appendix F) a transaction made by Coldwell Banker real estate agent/ MJNA CEO Theodore Caligiuri whereby Mr. Caligiuri is a willing seller of 461,450 shares of MJNA @ $.12 cents a share for total proceeds of $55,374 in cash.
Most Importantly, Who Owns the Public Float? All 252,000,000 Shares Appear To Have Been Sold To Clueless Retail Investors
After reviewing available public disclosures on current shareholdings, it is shockingly apparently NO legitimate investors are invested or involved in the Company. Therefore, it appears Mr. Michael Llamas and Ms. Michelle Sides have honed their prior experience in mortgage fraud and other criminal activity into a new and more lucrative pursuit: penny stock fraud. By massively increasing the public float, MJNA appears to have ensnared hundreds, if not thousands of clueless retail investors.
MJNA Reminds A lot of People of CMKM Diamonds
There is nothing new under the sun. When brought to the attention of several prominent legal counselors, the MJNA case instantaneously reminded many of them to a firm called CMKM Diamonds. CMKM Diamonds was also an unsolicited pink sheet and that firm also purported to be engaged in a very profitable business. However, CMKM Diamonds, like MJNA, also had a weird relationship between its management and controlling shareholder.
Ultimately, the collapse of CMKM Diamonds cost investors over $100mm that was eventually traced to the coffers of the management team, which had utilized the proceeds to buy gaudy real estate and fast cars [shockingly similar to Mr. Michael Llamas prior mortgage schemes].
In light of these numerous red-flags, we don't believe MJNA's financials and it is our robust opinion that over time the Company will be proven an obvious fraud.
Conclusion:
After the information we highlighted retail investors should seriously consider exiting this position immediately and speculative investors should consider a short position. We cannot imagine why any investors would sit idle and let their hard earned money be stewarded by the Sides/Llamas Duo. MJNA.PK is, in our view, yet another scheme they have concocted to steal your money.
In closing we leave you with the "Top 5 Reasons to Sell MJNA Immediately" while this stock trades at this temporary valuation:
As an unsolicited issuer MJNA has no active market for its shares meaning that bids or offers can be pulled immediately leading to a potential collapse of the shares.
The so called "Audit" and "Auditor" are in fact not qualified to Audit the company. As such, none of these purported facts and figures should be relied upon.
The company is run and controlled by a 28 year old fraudster with a terrible history of financial crimes and devilish ethics.
As uncovered by our investigation the company and its insiders have engaged in fraud by purposely omitting the background information from the disclosures made on the OTC. This alone could result in a trading halt by regulators.
Llamas owning/controlling $1.5mm worth of MJNA shares on behalf of MJNA is de-facto illegal share distribution. But it also highlights that Llamas is most probably the guy liquidating the hundreds of millions of undisclosed shares too.
New Information: In addition to all this, we discovered today that PhytoSPHERE (OTCQB:PHOT), a direct subsidiary of MJNA, paid $100K in cash to bail Michael Llamas from jail. This was never disclosed as it should have been in the 12/31/"Audit" and is yet another example of fraud perpetrated by MJNA.
Appendix A: Michael Llamas 12/11/12 Bail Agreement for 09/14/12 Indictment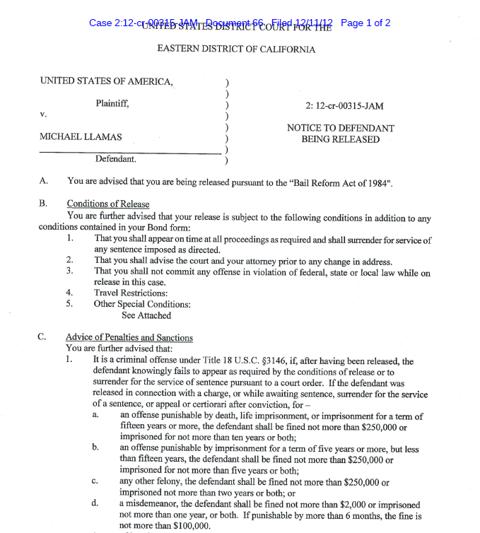 Appendix B: Michael Llamas Fraudulent 09/30/12 Certification
Appendix C: Michael Corrigan's Fraudulent 12/02/12 Certification
Appendix D: David Villar's Fraudulent Transfer Complaint Dated 10/15/07 Against Michael Llamas et al
Appendix E: Sample 144 Sale by Theodore Caligiuri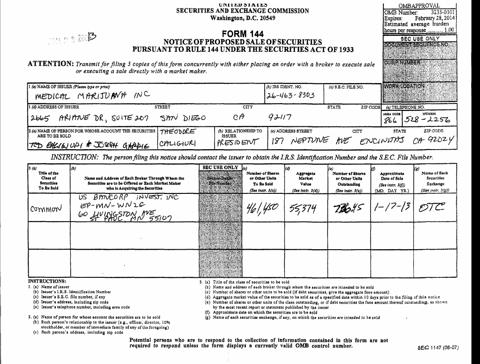 1 OTC PINK Basic Disclosure Guidelines, available via: www.otcmarkets.com/content/doc/OTCPinkGu....doc
| | |
| --- | --- |
| 14 | Infitialis Research Collective - Report on Medical Marijuana Inc. (OTCPK:MJNA) |
Disclosure: I am short OTCPK:MJNA. I wrote this article myself, and it expresses my own opinions. I am not receiving compensation for it (other than from Seeking Alpha). I have no business relationship with any company whose stock is mentioned in this article.