On February 14, 2013, the market was told Anheuser-Busch InBev (NYSE:BUD) amended the proposed acquisition of Grupo Modelo to satisfy US anti-trust concerns from the Department of Justice (DOJ). BUD said it was selling Modelo's Piedras Negras brewery to Constellation Brands (NYSE:STZ). STZ was also a recipient of "perpetual rights" to sell Corona and the other brands in the US for $2.9B.
Even IF the deal goes through, does that mean STZ is worth as much as BUD? There are five main reasons not to own STZ: 1) Market is already factoring in the growth 2) the corporate governance structure 3) poor balance sheet even prior to the deal going through 4) still a wine company and not a beer company 5) most importantly, the market is valuing STZ greater than BUD.
Growth Factored In
The Present Value of Growth Opportunities (PVGO) can show when growth is factored in already. By using a basic 11% capital charge, one can see that strong growth is factored in above the historical norm for STZ (Source: Capital IQ):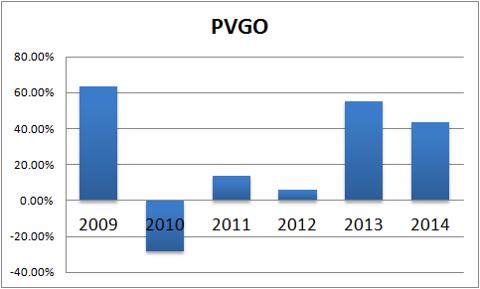 The company now does have the potential for exposure to selling the Corona and other Modelo brands in the US. This acts as a catalyst, but there are issues with this. The deal may still not happen as BUD still controls a large international share of the global market. This may not sit well with regulators. Regulators in other parts of the world have shut down deals with lower potential market shares. Another issue is that BUD can still squeeze STZ. Why would BUD insist on having STZ as its sole distributor over a company like PepsiCo (NYSE:PEP)? STZ can be squeezed more easily and profits for BUD will be stronger. Despite having perpetual rights to distribution, BUD will still determine the price to STZ. In Michael Porter's words, that is 'supplier power'.
STZ Has Poor Governance
There are six inter-related reasons that STZ has poor corporate governance. The first is the most obvious with the dual-share class structure. Class A shares receive one vote and the economic uncertainty as these shares are frequently traded. Class B shares receive super voting rights with ten votes per share. On top of this, Robert and Richard Sands, the founder's sons and executives, control more than 50% of the voting shares but a meaningless amount of the Class A shares. They do this through various shell companies as well. With the majority of the voting shares, the Sands can influence the board members more. Fourthly, the Sands have rejected proposals to make share classes equal. They also have a history of acquiring brands and divesting them just a few years later, which destroys shareholder economic value. The final reason is that compensation is highly tied to the stock performance and that they are one of the few beverages companies to not reward shareholders with a dividend. Instead, they issue huge buyback programs and in fact take out debt to buy back shares in hope of boosting their own compensation (Source: STZ Proxy Statement). Issuing debt to buy back shares is nothing new, as Intel (NASDAQ:INTC) just did the same. However, management's buybacks have been destroying value instead of helping.
Poor Financial Health
Stemming from the buyback program, management chooses to buy back shares rather than pay down debt. This has led to high debt levels and a cause of concern in regards to debt to EBITDA (Source: Capital IQ):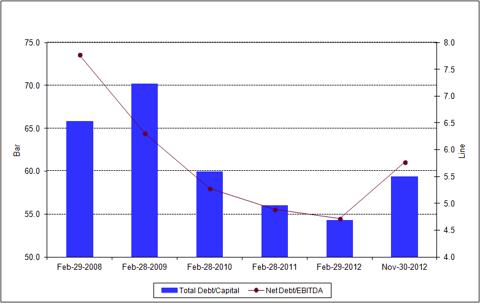 Further evidence of this is shown in the Altman Z-Score and EBIT to Net Interest Expense, as both of these figures show the weakness in STZ. In the past, the Crown Imports JV was the only reason it could pay its interest expense as it was net income positive but the wine business was net income negative (Source Capital IQ):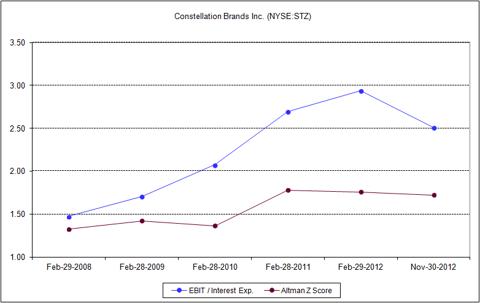 Another thing to monitor is goodwill and intangibles as a percentage of assets. With the numerous acquisitions as an attempt to grow, STZ already has a good amount of goodwill on its balance sheet prior to the potential higher amount if the deal were to go through (Source: Capital IQ):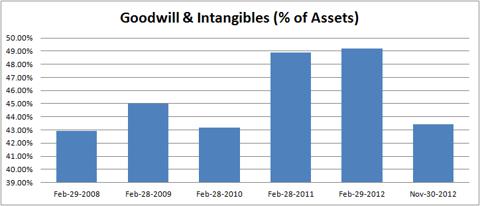 It is a Wine Company
The wine industry does not grow as fast as the beer market, despite a slowing beer trend. This deal could help STZ reverse this, but it does not mean that STZ is a pure-play beer company. STZ is the largest US importer of wine. It still comprises about half the income for STZ. With recent volatility in weather patterns and its dependence on grapes, STZ will struggle with grape supply if freezing conditions or droughts are to occur. With a lower supply, prices will increase for the wine segment. This in turn will lead to lower or no growth margins.
Valuation
According to the market, STZ will grow just as fast as BUD. That is the purpose of multiples as comparisons amongst companies. Given all of the issues presented already, it would seem that STZ should trade at a discount. With the greater wine exposure, a struggling Europe (who are the main market for wine), and a lack of exposure to China's wine distribution (where the growth is right now), STZ will not grow as fast as BUD. Grupo Modelo is not exactly growing in its exports market as well. Exports include more than just the US too, which BUD will get a part of. Grupo Modelo's revenue and net profit have been relatively flat in its exports market over the last six years (Source: Capital IQ):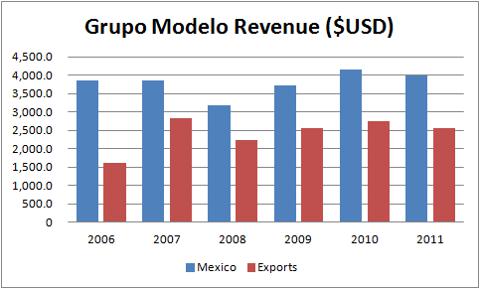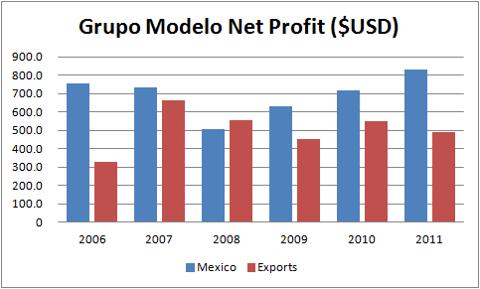 Thus, BUD is actually getting the higher profit growing (since 2008) segment and the higher growth markets. BUD has a faster growing product, more exposure to higher growth markets, and is getting the better markets in the Modelo deal. Yet, STZ is getting closely valued, and in most multiples, higher than BUD (Source: Capital IQ):

Disclosure: I have no positions in any stocks mentioned, and no plans to initiate any positions within the next 72 hours. I wrote this article myself, and it expresses my own opinions. I am not receiving compensation for it (other than from Seeking Alpha). I have no business relationship with any company whose stock is mentioned in this article.