The world is aging, where the percentage of population 65 and older is expected to increase from 15% in 2015 to 19% in 2025, as quoted from my last article, "Aging Population And Growing Demand For Low-PEG Stocks". Upon receiving feedback from Gedankonomist, an insightful Seeking Alpha reader, this article is focused on the increasing death number in the United States and will address the potential implication for investment in the death care industry.
Number of deaths, crude and age-adjusted death rates: United States 1935-2010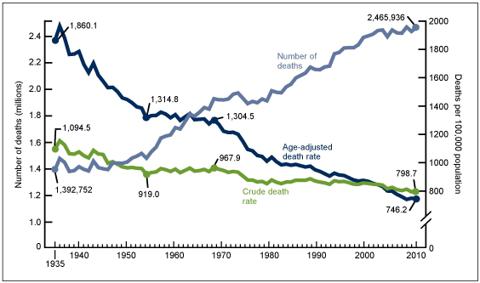 Source: CDC/NCHS, National Vital Statistics System, Mortality.
Notes: 2010 data are preliminary. Crude death rates on an annual basis are per 100,000 population; age-adjusted rates are per 100,000 U.S. standard population. Rates for 2001-2009 are revised and may differ from rates previously published.
Preliminary Data for 2011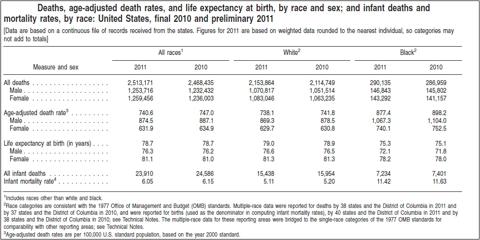 Source: National Vital Statistics Reports, Vol. 61 (pdf).
By looking at the chart above, the total number of deaths had increased near 1.1 million between 1935 and 2010. The number continued to increase, and the preliminary data indicated a total death number of 2,513,171 in 2011. The 2010 number is adjusted to 2,468,435 from 2,465,936. According to the NCHS data report, "when the effect of the aging of the population is removed by calculating an age-adjusted death rate to examine the risk if the population age distribution was like that in 2000 for all years, the risk of dying decreased by 60 percent from 1935 to 2010." In short, the risk of dying is reducing, but the number of deaths continues to increase.
Investment Implications
The increasing number of deaths leads to the increasing demand for death care products and services. Below is the list of potential investment targets in the industry of death care services.
Name (Ticker)

Closing Price (February 14, 2013)

P/E

Market Cap

EPS

Dividend Yield

Carriage Services, Inc.

(NYSE:CSV)

$15.24

37.57

276.01M

0.41

0.66%

StoneMor Partners L.P. (NYSE:STON)

$25.34

N/A

495.09M

-0.12

9.31%

Stewart Enterprises, Inc. (NASDAQ:STEI)

$8.25

19.11

699.51M

0.43

1.94%

Service Corporation International (NYSE:SCI)

$15.66

22.53

3.30B

0.70

1.53%
Below is the performance comparison for four death care services providers and the S&P 500 in the past five years. All four stocks have been outperforming the S&P 500 index.

Source: Google Finance
In short, the business of death may not be attractive to many investors. However, these death services providers have been performing strongly in the past five years with the increasing number of deaths. These companies should continue to benefit from an aging population and an increasing number of deaths.
Note: This list is only provided as the starting point for interested investors to research further. Investors and traders are recommended to do their own due diligence and research before making any trading/investing decisions.
Disclosure: I have no positions in any stocks mentioned, and no plans to initiate any positions within the next 72 hours. I wrote this article myself, and it expresses my own opinions. I am not receiving compensation for it (other than from Seeking Alpha). I have no business relationship with any company whose stock is mentioned in this article.