After pre-announcing weaker than anticipated fourth quarter results at the end of January, Hasbro (NASDAQ:HAS) updated investors with its final results. Revenues were down about 4% year-over-year to $1.28 billion, while earnings for the quarter were 13% higher year-over-year at $1.20 per share (net of restructuring charge). As a result, full-year earnings were $2.55 per share, down 10% compared to 2011. However, excluding restructuring charges and foreign exchange variations, earnings for the year were $2.91 per share - a slight increase on a year-over-year basis. Hasbro's stock performance has been very strong as of late (and such equity performance doesn't consider its hefty dividend payout).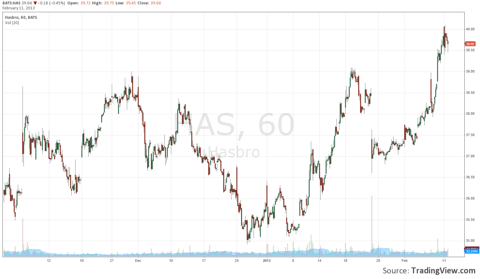 Although earnings were not amazing by any stretch, we were fairly satisfied overall with the year's developments. The firm increased its dividend 11% to $0.40 per share on a quarterly basis - meaning the annual dividend yield at current levels is 4%. In addition to raising its dividend, the firm repurchased $100 million worth of stock during 2012, well below its recent trends (shown below). The firm has been very prudent with its capital management, and it remains focused on returning cash to shareholders. We expect to update our dividend report on Hasbro soon (Image Source: Hasbro).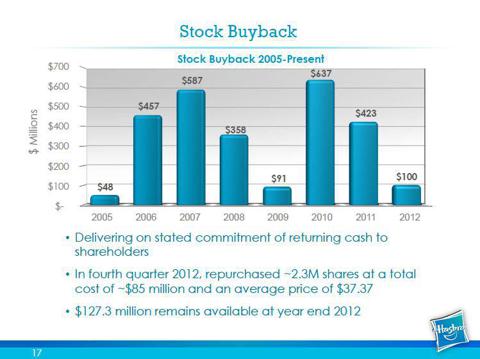 We were also very impressed by the company's free cash flow, which totaled $422 million for the year - a sizable increase over the $297 million the firm generated a year ago. With an initiative for $100 million in annual cost savings by 2015 put in place, we think free cash flow will remain strong going forward.
Still, a large percentage of shares are held short, meaning many market participants are betting on a significant stock price decline. We've seen some negative commentary with respect to Hasbro's dividend growth and its sustainability, but we're not worried. The Valuentum Dividend Cushion - which is forward-looking and focuses on free cash flow as well as the company's capital structure - suggests the firm's dividend is sustainable. In fact, we believe increases will continue in a similar fashion as we had predicted during 2012 (Image Source: HAS).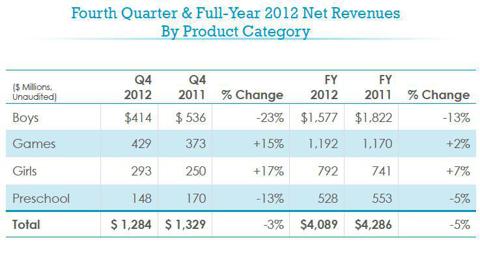 Another feature of the bear (short-seller) case is the decline in toy consumption, which was fairly prevalent if we were to look only at fourth quarter revenue. However, both fourth-quarter results and 2012 performance were highly skewed by a blockbuster year for "boys" toy sales in 2011, which resulted in an incredibly tough comparison (see image above). Action figures and other licensing agreements help drive the lion's share of revenue in this segment, and 2012 was limited to The Avengers and a rushed Spider Man film versus Transformers and Beyblade in the year-ago period. We think the "boys" segment is perhaps a little more cyclical than the market realizes, and we anticipate a strong 2013, 2014 and 2015, as movie releases improve (2013 movie releases are shown below). With Disney (NYSE:DIS) pushing the commercialization of both Marvel and Star Wars, we think the "boys" category is poised for strong growth over the intermediate term (Image Source: HAS).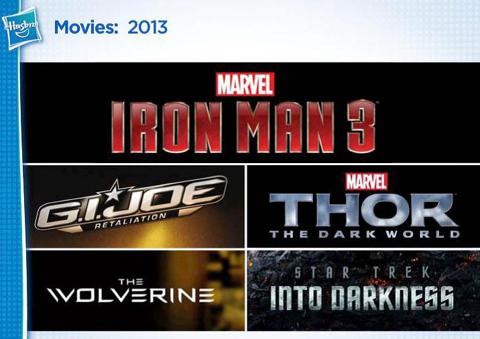 Many market participants believe the increase in competition from digital gaming will eventually erode the demand for traditional toys. This is somewhat true, but it is also why Hasbro has looked for alternative channels of distribution (including a cable TV network in Hub and increased presence in the digital world). We expect more multi-channel monetization going forward, and we think it's also important to remember that there have been digitization threats for years. In fact, traditional toys have coexisted with video games for the past twenty years without complete cannibalization.
The firm's "games" segment remains an area of strength, with revenue increasing 2% for the year thanks to a record year from Magic: The Gathering. The firm is confident the updates to its game portfolio, including a new piece in Monopoly, could help drive revenue growth in 2013. The company's "girls" segment also posted a strong year thanks to strong sales of My Little Pony and Furby. My Little Pony seems to be enjoying a strong multi-channel strategy, which leaves us confident that the firm can expand the strategy to other products. The brand has also become increasingly "culturally relevant" as it has expanded its product lines from the 0-6 age category to the 6-12 age category.
Looking ahead, the firm's gross margin will likely be slightly lower in 2013 if the firm is unable to increase prices (see image below), but we aren't too worried. And while the firm has stopped providing official guidance, Hasbro did indicate that it wants to focus on generating over $500 million in operating cash flow and keeping leverage to a manageable level (Image Source: HAS).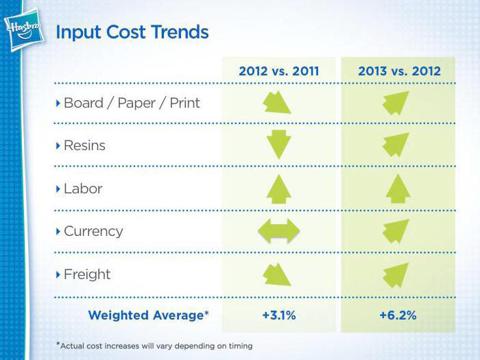 With strong growth in Hasbro studios, an increased focus on multi-channel monetization, and a strong partnership with Disney, we do not think it's particularly wise to bet against Hasbro. We continue to hold the company in the portfolio of our Dividend Growth Newsletter, and we are not planning to unload our stake at this time. Improved operating margins (its cost-savings initiatives should help offset gross margin compression), a potential buyout from Disney, and increased dividend payments are all factors that we think could drive strong share performance in 2013.
Disclosure: I have no positions in any stocks mentioned, and no plans to initiate any positions within the next 72 hours. I wrote this article myself, and it expresses my own opinions. I am not receiving compensation for it (other than from Seeking Alpha). I have no business relationship with any company whose stock is mentioned in this article.