"How could the greatest investor be that wrong?" It is the very first thing that occurred to me when I read an article about the latest acquisition (H. J. Heinz) of Berkshire Hathaway (BRK.A) (BRK.B), written by an Alpha colleague, Stephen Simpson. Simpson says that although Heinz (HNZ) is a good asset in Warren Buffett's portfolio, it is still pricey! Is it?
Here is an excerpt from the article:
"…Berkshire Hathaway and private equity group 3G Capital will acquire Heinz for $72.50 per share in cash. That is a total deal value of about $28 billion and, as the Heinz press release noted, a 19% premium to the company's all-time high share price.

At nearly 14 times trailing EBITDA, this is a pricey deal even by the elevated standards of quality-packaged food. While noted Buffett stock Coca-Cola (NYSE:KO) trades above 14 times its trailing EBTIDA, only a select group of names (including Nestle (OTCPK:NSRGY), McCormick (NYSE:MKC), Hershey (NYSE:HSY) and Kellogg (NYSE:K)) carry similar valuations."
The question is whether Warren Buffett can be so wrong in something where he is considered a "genius". Look at the investing record of accomplishment of Mr. Buffett below.
As it seems, Heinz is not a small deal at all. Will the CEO of Berkshire Hathaway be so unmindful at the age of 80? It could be, but then again, I was just not convinced. Call it my bias for him, if you will.
Doing a little research, I came across a couple of sides to the story, as listed below. Needless to say, I totally support Mr. Buffet's decision, even at this price.
Valuation
The first thing to look into is the valuation, as Simpson noted. Is the price too overvalued? Let us take a look at a couple of comparative deals below.
Date

Acquisitions

Price

Price/latest EBITDA

January, 2010

Nestle buys Kraft Food's (KRFT) pizza business

$3.7 billion

12.5

January, 2010

Kraft Food buys Cadbury

$19.6 billion

13

November, 2010

KKR (NYSE:KKR) invests in Del Monte (OTCPK:PDMXY) LBO

$5 billion

9

February, 2012

Kellogg buys Procter & Gamble's (NYSE:PG) Pringles

$2.7 billion

11

April, 2012

Nestle buys Pfizer's (NYSE:PFE) baby food business

$11.85 billion

20

March, 2012

Diamond Foods (NASDAQ:DMND) buys Kettle Chips

$615 million

8.14

November, 2012

ConAgra Foods (NYSE:CAG) buys Ralcorp (RAH)

$5 billion

11

EV/EBITDA average of the above latest deals

12.09

Last 10 years' EV/EBITDA multiple average

10.5
If you compare the (acquisition price/EBITDA) average of some of the latest transactions with this deal's price at 14 times Heinz's TTM EBITDA, it does not seem to be too far-fetched, does it?
The question is what Buffett is getting in return for that.
Historical Growth
Revenue has continually increased since 2009, and that includes the time of recession, resulting in the current slow economy, as well. It must be noted that while total sales increased all over the world, it headed south in North America.
Revenue (all values in billions)
Although operating income declined to $1.5 billion in 2012, down from $1.66 billion in 2011, the steady profitability margins are still higher than the rest. While Heinz's gross margin seems at par with Mondelez Intl. (NASDAQ:MDLZ) and much higher than the rest like Tyson Foods (NYSE:TSN), Heinz's operating margin really impresses me.
In addition, if you are worried about higher debt, it must be noted that the company has done a great job managing the debt and along with it, interest expense.
Debt (in millions)
Moreover, one of the most important factors of business, operating free cash flow (FCF) that decides the longevity and success of a company, has shown pretty strong improvement since 2006.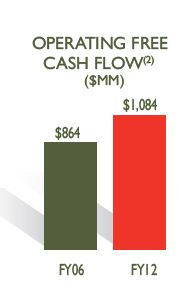 With a high return on equity of 31.47%, this company deserves to be bought at the premium Warren Buffett offered.
Future Estimates
Sales is expected to grow at a steady rate of 5-6% in the coming few years, which will have a positive impact on the profitability margins as well.
Needless to say, that will result in higher EPS and thus, increase the book value in the upcoming period. Not only will the dividend rise along with that, the stock price will also see considerable improvement.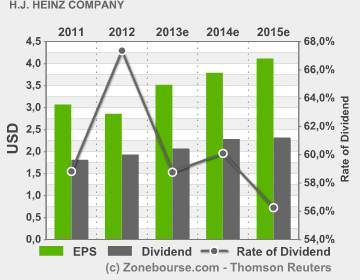 One more thing - with revenues from the emerging markets increasing 40.9% (including acquisitions and divestitures) in 2012, we should see heavy action in that segment in 2013 and onward, further spurring revenue growth.

Not to mention that the baby food segment looks pretty under-optimized at the moment, with only $1.2 billion revenue generated from that.

According to a recent press release by BCC Research, the global market for baby foods was valued at more than $27.1 billion in 2010 and $28.2 billion in 2011. It is expected to increase to $35.2 billion in 2016 for a five-year compound annual growth rate (OTCPK:CAGR) of 4.5%. Needless to say, there is a lot of potential to grow in that market for Heinz.
The bottom line is that the iconic investment legend has not made any foolish decision as it seems from the data. In Heinz, he is putting his money in a company that holds about 60% of the U.S. ketchup market and 26% of the market globally, according to Euromonitor International.
As Buffett said:
"Heinz has strong, sustainable growth potential based on high quality standards, continuous innovation, excellent management and great tasting products. Their global success is a testament to the power of investing behind strong brand equities and the strength of their management team and processes. We are very pleased to be a part of this partnership."
Disclosure: I have no positions in any stocks mentioned, and no plans to initiate any positions within the next 72 hours. I wrote this article myself, and it expresses my own opinions. I am not receiving compensation for it (other than from Seeking Alpha). I have no business relationship with any company whose stock is mentioned in this article.