When social networking companies myYearbook and Quepasa merged in 2011, they gave themselves an appropriate brand name -- MeetMe (NASDAQ:MEET). According to myYearbook's CEO Geoff Cook (now COO of MeetMe), the new company's stated goal was to "build an enduring, global brand for meeting new people." myYearbook started as a social working website for high school students, while Quepasa was in the same space for the Latin American population. The purpose of a single brand name clearly was for international expansion, and MeetMe is off to a good start.
MeetMe has grown since the merger, but is still a small company with a market cap of $112.46 million. Given its recent growth and outlook, it may be an attractive buyout target for some of the bigger players in the space, like Facebook (NASDAQ:FB) and Google (NASDAQ:GOOG). Let's understand why.
The Mobile Generation: What MeetMe Is All About
The next story in social media is being written by the mobile generation, which is increasingly inclining towards connecting to the Internet and making transactions through mobile devices and applications.
The mobile is never far away from you. It is either in your hand or in pocket or purse. With quick messaging and status messages fast replacing the primordial phone call, it is mobile advertising and mobile applications that are going to play a crucial role in determining which is going to be the next trillion dollar social media company.
MeetMe Inc. provides a fun-based platform for meeting new people through social games and applications on Apple (NASDAQ:AAPL) and Android smartphones and tablets. The company derives revenues through advertising and virtual currency, with nearly 60% of traffic coming from mobile devices. It is currently a leader in the market for social discovery in the U.S., and among the faster growing technology, media, telecommunications, life sciences and clean technology companies in North America. The company recently announced that it ranks 32 on Deloitte's "Technology Fast 500."
Why Is MeetMe An Attractive Buyout Target?
If prior performance is any indication, (in the last five years, revenue has grown 5300%), MeetMe is apparently all geared up for a launch to the next level.
Way back in April 2012, COO Cook claimed that he was more than satisfied with 2.8 billion page views per month. At the same time, Google Play ranked MeetMe's Android application as the top-grossing social application. The company has only grown since then, with revenues showing tremendous increase; 1148% over three months ended September 30, 2011 and 2012.
In two years -- 2009 through 2011 -- the company's revenues grew from just $536,000 to $11.85 million, and in the year ended December 2011, it reported an increase of almost 100% -- from $6.05 million to $11.85 million -- over the prior year. Quarterly revenues show a similar trend, with revenue jumping from $7.05 million to $11.60 million in the last four quarters.
How To Judge A Real Deal From A Scam
We know of a lot of scam companies out there with stock prices growing by a factor of hundreds overnight. The sure way to figure out a scam from the real deal is to look at the old balance sheet. If a company does not seem to have meaningful revenue, and its stock is still growing like crazy, that is a scam for you. MeetMe, on the other hand, is the real deal. It has a steady revenue stream, it is making good money, and it is growing tremendously.
MeetMe Projected Revenue
MeetMe is expected to release its fourth quarter 2012 results on or before March 7, 2013 and according to analysts, the company is likely to report an EPS of $-0.07 against $-0.12 reported in the same prior year quarter.
At $3.04 per share, the total market cap of MEET is $112.46 million against an enterprise value of $119.13 million as of February 15, 2013. With a book value of $2.35, the stock is currently trading at a low and attractive price-to-book ratio of 1.30. That is 100 million more reasons to grab the stock while the grabbing is good.
The financials of the company need to be viewed against the backdrop of the outperform rating for the stock by Northland Securities. They have a price target of $5.25, which is above its 52-week high of $4.99.
The Interesting Short Squeeze
However, what is even more crucial is that the stock is currently experiencing a short squeeze of 19.98% of its float with 25 days to cover. What I love about $100 million companies with good business models is that there's almost always a big bounce once the stocks get pushed into an oversold position. With MEET for example, back in August, the stock moved from $1.57 to $2.89 across 12 days. More recently, shares were washed out from $4.31 to $2.14, which landed it in oversold territory again. The bounce from $2.14 to $3.68 only took 10 days this time. In both situations, well over $1 per share if you were to swing trade the stock.
For the uninitiated, a short squeeze results when short sellers are covering their positions. From $3.80 on January 9, 2013, the stock dropped to $2.54 on February 5, 2013, pushing the stock once again into oversold territory. Short selling certainly happened during that period, and is likely to assist on the current bounce this time, too. It's not just short sellers driving the stock higher from oversold, though. Institutions play MEET as well, and with Northland Securities' outperform rating on the stock, it's possible MEET could move between $3.50-$3.80 ahead of what could be a promising outlook for the ensuing quarterly results.
How FaceBook Et Al Can Add To Their Value With MeetMe
Let me be clear, I do not swing trade based on takeovers; it's simply a horrible strategy. But if the technical analysis supports a swing and there are catalysts, swing trading a takeover target is an added bonus that could result in a lucky payday.
Facebook is primarily about finding friends and interacting with them, and so is Google+. MeetMe, on the other hand, is more about new relationships and social discovery. It makes an attractive acquisition for either of the two players, as they could be interested in expanding their reach to social discovery.
With a valuation in the range of only $110 million, MeetMe is an easy buyout for the likes of Google and Facebook. Another company that would possibly be interested in MeetMe could be Microsoft (NASDAQ:MSFT) if it plans to enter the social media space in a big way.
How The Competition Is Doing
Social discovery is a business model that works. Smaller companies like Tagged are making considerable profits continuously for years. Riding on good profits, Tagged has been buying startups pretty aggressively. Last April, it acquired the instant messaging client Digsby, and then followed it up with a takeover of Topicmarks to help improve suggestions for strangers to meet new people. In December 2012, it took over hi5, the social game network, to expand its reach. This tells me there is a lot of movement in the space where MeetMe works.
My Take
Personally, when I look at the 52-week chart on MEET, each time it comes out of oversold, it goes on a big run, usually bouncing over $1 per share inside a few weeks followed by a sustained run. The July to November move, for example, was $1.55 - $4.31, or a massive 178%. Given the growth potential of MEET, its recent oversold position and 25 days to cover with 20% of the float short, I like it here for a swing just below $4 in the near term. As an added bonus, I don't think it's unreasonable to think MeetMe is a target for social media giants to make an offer given the juicy market cap. Will we see Northland Securities' target of $5.25? Probably not on this swing, but anything just below $4 is a solid 30% from here, and that's exactly what I look for.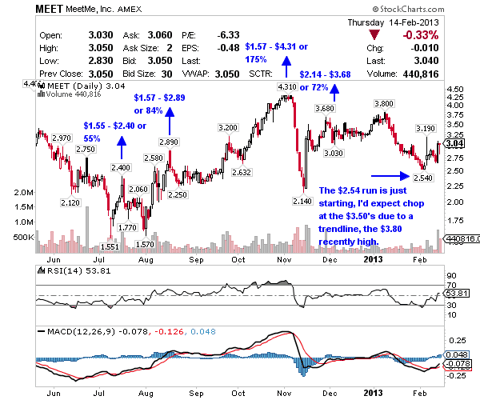 Disclosure: I am long MEET. I wrote this article myself, and it expresses my own opinions. I am not receiving compensation for it (other than from Seeking Alpha). I have no business relationship with any company whose stock is mentioned in this article.