Our recent articles have profiled several high dividend stocks with dividend yields ranging from around 7% to over 13%. This week's article deals with a turnaround stock that has recovered its earnings growth and still looks undervalued, even though it's within 3% of its 52-week high. We'll also offer 2 ways to create yields of 7% to over 9% from this stock, even though it already paid out its 2013 dividends.
D.R. Horton (DHI) is one of the top 5 U.S. homebuilders by market cap, and has risen over 80% off its 52-week lows.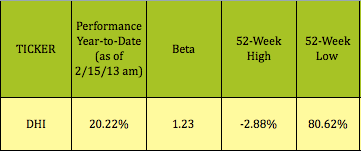 Earnings: Since DHI, like many homebuilders, has been taking advantage of tax benefits from past net operating losses, we wanted to see what its actual pre-tax EPS looked like, without these benefits, i.e., are they really earning money or not. Fortunately, DHI has rebounded back to strong growth, even without the tax writeoffs, and it still looks undervalued on a 2013 and 2014 PEG basis:

DHI also had big pre-tax EPS growth and revenue growth in its most recent quarter, ending 12/31/12. (DHI's current fiscal year ends on 9/30/13.):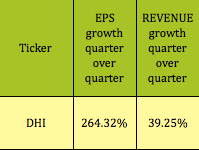 Dividends: DHI's dividend story is somewhat convoluted. When the housing crisis hit, it cut its $.15 quarterly dividend in half, to $.075 in 2008, and then chopped it again, to $.038 that year. It remained at $.038 until November 2012, when it dropped to $.037, But DHI then paid a special $.15 dividend in December 2012, in lieu of its 2013 dividends.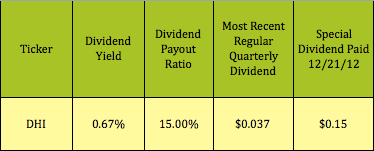 Creating a Dividend via Option Selling: Even though DHI has already paid out its 2013 dividends, you can still create good income and benefit from some potential 2013 price gains via selling covered calls.
This 6-month August call currently pays $1.79, a 7.5% nominal yield. In addition, the $25 call strike leaves the potential for $1.02 in price gains, for a total of $2.81 potential profit. The $1.79 call income gives you a break-even of $22.19. You can see more details for this and over 30 other call trades in our free Covered Calls Table.

Selling Puts: Since DHI has had such a big run up, some investors would choose to wait for a pullback before wading in. Selling cash secured puts is a way to do this, and get paid to wait.
This August 2013 put pays $2.19, a 9.1% nominal yield, and offers a $21.81 break-even. As with selling covered calls, you'll get paid the put premium within 3 days of making the trade (often the same day). The difference is that put sellers don't receive any dividends. However, since DHI has already paid its 2013 dividends, that's immaterial in this case.
You can find more info on this and over 30 other put trades in our free Cash Secured Puts Table.

Financials - DHI's Management Efficiency ratios are the best in this group, while its debt load is below the median for the top 5 homebuilders:
Disclosure: The author held no DR Horton shares at the time of this writing.
Disclaimer: This article was written for informational purposes only and isn't intended as investment advice.
Disclosure: I have no positions in any stocks mentioned, but may initiate a long position in DHI over the next 72 hours. I wrote this article myself, and it expresses my own opinions. I am not receiving compensation for it (other than from Seeking Alpha). I have no business relationship with any company whose stock is mentioned in this article.