In my first article, I covered Apache (NYSE:APA) EURs in the Permian. It has been improving, as it continues to increase lateral lengths and number of stages. I focused on Apache's Midland and Delaware Basin results in part 1, and will now provide data on the Central Basin Platform. I will also provide other operator data to show how it equates to Apache's.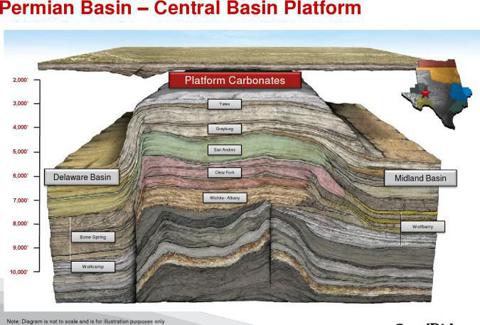 These platform carbonates are multilayered and a source of long term production. Many of these targets will continue to produce through EOR after primary production is exhausted. The Central Basin Platform has a significant number of pay zones. I have listed them below, shallowest to deepest.
Yates
Seven Rivers
Queen
Grayburg
Judkins
McKnight
Glorieta
Upper Clearfork
Tubb
Lower Clearfork
Wichita Albany
Wolfcamp Lime
Cisco
Canyon
Strawn
Atoka
Mississippian
Devonian
Silurian
Montoya
Simpson
Ellenburger
Apache has started to develop these vertical targets as horizontally. This is important, as many of these zones could continue to produce horizontally now that vertical inventories are dwindling. Listed below are four Apache horizontal wells in the Central Basin Platform.
| | | | |
| --- | --- | --- | --- |
| Well | 30-Day IP | EUR | Formation |
| CS Dean A 264h | 156 | 294 | San Andres |
| SLSAH #612H | 295 | 230 | San Andres |
| TXLSU #5118H | 406 | 259 | Clearfork |
| NMU #3231BH | 299 | 231 | Grayburg |
| Univ Lands 42 #1HR | 813 | 226 | Grayburg |
Economics of these horizontal wells seem to be as good as vertical. The table below compares the economics.
| | | |
| --- | --- | --- |
| | Vertical | Horizontal |
| D&C Costs | $1.5 Million | $4.2 Million |
| EUR (MBoe) | 83 | 196 |
| Liquids | 80% | 90% |
| ROR | 36% | 37% |
Although the EURs seem compatible with comparison to cost, the increased liquids recovery provides a slightly better return. In the northwest shelf of the CBP, the Yeso is a target. The Yeso includes the Glorieta Paddock, Blinebry, and Tubb. All three are horizontal locations and continue to be developed by Apache. The table below provides the economics of the Yeso.
| | | |
| --- | --- | --- |
| | Vertical | Horizontal |
| D&C Costs | $1.7 Million | $5.5 Million |
| EUR (MBoe) | 128 | 328 |
| Liquids | 82% | 84% |
| ROR | 59% | 56% |
Pioneer Natural Resources (NYSE:PXD) has established EURs of 140 MBoe in the vertical Spraberry. It increases EURs to a total of 240 MBoe when Pioneer drills down to the Strawn, Atoka and Mississippian. Pioneer's horizontal Wolfcamp has EURs of 575 MBoe. It is currently using 7000 to 9000 foot laterals with 32+ stages. Well costs are $7 million. It is important to note that the Wolfcamp reaches thicknesses of 2600 feet.
EOG Resources (NYSE:EOG) has acreage in both the Midland and Delaware Basins. It has begun working both the Leonard and Wolfcamp shales. EOG has EURs of the Wolfcamp in the Delaware Basin of 900 MBoe. This is a large number, but the resource breaks down into 31% oil, 33% NGL and 36% gas. Given the high gas and NGL content, economics are a not as good. Well costs are $6.5 million. It has increased EURs in the Leonard to 500 MBoe, up from 450M last year. Well costs are $5.5 million. Leonard well resource is 50% oil, 26% NGL and 24% gas. In the Wolfcamp of the Midland Basin EURs are 430 MBoe. Resource garnered is 42% oil, 30% NGL and 28% gas. It is important to remember, EOG is a historically conservative company with respect to models. It continues to have one of the best well designs, and EURs are probably better than company estimates.
Concho's (NYSE:CXO) January presentation provides information on the northern Delaware Basin. Its target zones are the Avalon, Bone Spring, Wolfcamp, Delaware and Penn source rocks. These multiple zone targets have a cost of $5 to $9 million. EURs range from 300 to 700 MBoe. Lateral lengths range from 4000 to 4500 feet with 8 to 13 frac stages. Concho has 125000 net acres in the southern Delaware Basin. It targets the Delaware Sands, Avalon, Bone Spring Sands and Wolfcamp shales. These wells average an 84% oil cut. The southern Midland Basin acreage was expanded with the acquisition of 29000 net acres. Targets are upper, middle and lower Wolfcamp. The Cline shale also offers further upside. Concho will run three horizontal and two vertical rigs in its New Mexico Shelf acreage. Of its 30 Yeso wells, EURs are modeled at 300 to 350 MBoe. Drilling and completion costs run from $3 to $4 million.
Range Resources (NYSE:RRC) has EURs in the Cline shale at 340 MBoe. Of this, 210000 barrels are oil and another 71000 barrels of natural gas liquids. This is for 3000 foot 10 stage laterals. Well costs are $4.3 million. Its vertical Wolfberry wells have EURs of 216 MBoe. Each well will produce 73000 barrels of oil and 72000 barrels of natural gas liquids. Well costs are $2.6 million.
Clayton Williams (NASDAQ:CWEI) is working the Wolfberry in Andrews County. EURs are 130 to 140 MBoe with well costs of $2.3 million. In the Delaware Basin, it is vertically drilling the Wolfbone, producing EURs of 200 to 250 MBoe. Well costs are $4 million.
Approach (NASDAQ:AREX) is working the Wolfcamp in Crockett County. These horizontal wells produce 82% oil and have an EUR of 450 MBoe. Well costs are approximately $5.5 million. It is also drilling the vertical Wolffork. Wells cost $1.2 million and are 7500 feet deep. EURs are 193 MBoe and have a cost of $1.5 million.
Laredo Petroleum (NYSE:LPI) is currently working five pay zones in the Permian. It currently plans to do five well pads that target these zones:
Vertical Wolfberry
Horizontal Upper Wolfcamp
Horizontal Middle Wolfcamp
Horizontal Lower Wolfcamp
Horizontal Cline
Wolfberry wells have costs of $2.2 million and are 65% oil. Laredo EURs are 135 to 155 MBoe. The Upper Wolfcamp has well costs of $8.5 million and are 77% oil. EURs range from 715 to 800 MBoe. Middle Wolfcamp wells cost $8.5 million. It is 63% oil and has an EUR range of 600 to 700 MBoe. The Lower Wolfcamp's costs are $9.5 million. The increased costs are due to greater depth. EURs range from 605 to 730 MBoe and are 63% oil. The Cline shale is 73% oil and has EURs of 550 to 690 MBoe. Cline well costs are $9.5 million.
In summary, differences in geology from one basin to the next can make it difficult to assign acreage value. One area may produce at a higher rate, but have significant differences in oil, NGL and gas content. Shallow conventional targets are less expensive, but produce less resource. Deeper targets may have high IP rates, but still have lower EURs. By comparing company EURs and breaking down total resource expectations, one can better understand how to assign company value with respect to stock price. In the third part of this series, I will cover additional Permian producers and compare overall data to identify companies outperforming in terms of well design and overall acreage.
Disclosure: I have no positions in any stocks mentioned, and no plans to initiate any positions within the next 72 hours. I wrote this article myself, and it expresses my own opinions. I am not receiving compensation for it (other than from Seeking Alpha). I have no business relationship with any company whose stock is mentioned in this article.
Additional disclosure: This is not a buy recommendation. The projections or other information regarding the likelihood of various investment outcomes are hypothetical in nature, are not guaranteed for accuracy or completeness, do not reflect actual investment results, do not take in consideration commissions, margin interest and other costs, and are not guarantees of future results. All investments involve risk, losses may exceed the principal invested, and the past performance of a security, industry, sector, market, or financial product does not guarantee future results or returns. For more articles like this check out my website at shaleexperts.com. Michael Filloon is a Director at Fracwater Solutions L.L.C. We engage in industrial water solutions for oil and gas companies in North Dakota. This includes constructing water depots, pipelines and disposal wells. We also provide contracting services for al types of construction at well sites. Other services include soil remediation. Please contact me via email if you are interested in working with us. For other, more of my articles check out shaleexperts.com.