Last Thursday, Barrick Gold (NYSE:ABX) released fourth quarter and year-end results in which they wrote down $4.2bn in assets but, net of such, they produced decent (non-GAAP) earnings per share of $1.11, slightly ahead of expectations. Many analysts lauded the report thinking that, with the asset writedown, the bad news has been shaken out of the stock and it will be poised for growth going forward. We are not as sanguine. In fact, we believe that, with the price of gold under significant pressure, ABX is rapidly approaching a cash flow dilemma with a significant need to raise capital. This, coupled with our previous analysis, causes us to recommend that investors continue to seek downside protection and we maintain our $25 price target.
The troubles at Barrick are well known. Higher costs at their new gold projects (Pueblo Viejo and Pascua Lama), the recent devaluation of their copper reserves at the Lumwana mine, in Zambia, as well as the complete write off of their investment in the Reko Diq project, in Pakistan. In addition, African Barrick Gold (ABG.L), which the company recently tried to sell, is plagued with cost problems and Barrick continues to feel cost pressures across the veteran asset base. We consider the recent write down of assets significant. In contrast to other companies, where an asset write-down does not necessarily reflect future cash flows, an asset writedown for miners is a direct expression that future cash flows are diminished. In the case of ABX, $4.2 bn in future cash flows, present valued to today, have been eliminated as it is no longer economical to mine. The assets remain an option on rising mineral prices but that is all.
With the recent quarterly report, ABX guided down expectations for production in 2013 as well as increased costs. We were a bit surprised by this but, to some extent, we welcome the fresh admissions. In the table below, we show key financial results for 2012 as well as for 2013 using the company's guidance. As can be seen in the table, gold production, including concentrate, resulted in revenue of $12.5bn and, after adding in copper, operating cash flow was a quite healthy $5.8 bn (note this includes a one-time $350mn impact of a monetized AUD/USD hedge). However, with the fairly large capital budget of $6.4bn and dividend payments of $750mn, the company relied on increasing debt (they issued bonds in April 2012) as well as a $600mn reduction in their cash equivalents to $2.1bn as of the end of the year. Net debt, at the end of the year, was $11.6bn, which does not look too outlandish with respect to tangible equity of about $15 bn (although we look for another $2-3 bn of impairments via ABG).
Table 1: ABX Key Financial Statistics 2012 and 2013e: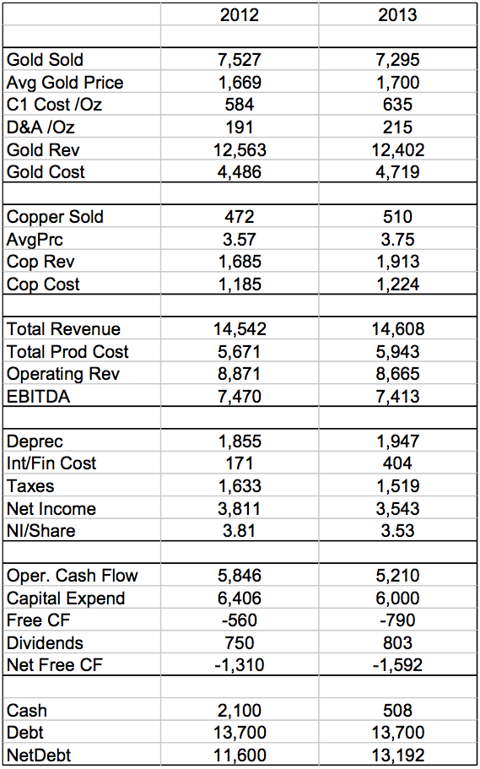 The lowest ABX has let cash and cash equivalents run down to was about $1.5bn during the crisis year of 2008. Given that their leverage to gold prices is $500mn per $100/oz change in gold, it is a prerequisite to have a significant cash balance to weather any storms. And that is one of the main concerns we have moving into 2013. According to company guidance, using a $1,700/oz gold price, 2013 will be a year of declining cash flow and earnings. As the table above shows, ABX is forecasting a gold production decline of 3% and a C1 cost increase of nearly 9%, from 584/oz last year to $635/oz. The net result will be flat revenue (including copper and other minor sources) and EBITDA. With rising depreciation and financing costs, however, net income per share should have a decent 7% decline to $3.5ish per share, including amortization of the AUD/USD hedge. We note that $3.5/share for 2013 eps is well below street estimates which, albeit declining, are still in the $4.75/share range and we expect analysts will begin guiding lower soon. Some would say that the company is merely setting low expectations, which may be true, but for lack of better we use their current guidance.
Operating cash flow, which is really the bread and butter, will decline by 11% without any one-time cash flows (e.g., $360mn in 2012) assumed. Once we net out the $6bn of expected capital expenditures and increased dividends, we are left with a drain on cash of $1.6bn. Without a capital raise, this would imply a cash balance, at the end of 2013, of $500mn, an unacceptably low level. More likely, ABX will either raise debt and/or equity, sell assets, or reduce capital expenditures (delaying mine development/production). In 2013, they will have to raise at least $1.2bn of fresh capital, which is on top of a refinancing need of $1.8bn. So in total, at least $3bn in financing will be needed. While they have an untapped $3bn credit facility, it will not be enough and they will likely approach the capital markets. We expect this to occur over the next two months as well as potential asset sales in order to raise capital.
We should note that all of the above analysis is based on the company's assumption of $1,700 gold prices for 2013. As of the time of this writing, gold futures are pointing towards an average price of closer to $1,600 for 2013. This difference will depress cash flows by $500mn and render their cash coffers empty without a capital raise. Needless to say, this only strengthens our case that some form of dilutive offering is in the cards and illustrates how vulnerable they are to declining gold prices. We've noticed that Barrick no longer includes the slide titled "Exceptional Leverage To Gold" in their presentations and now we think we know why. Investors who are long ABX are not only short a put on gold but also a knock-out option if gold was to experience a significant decline.
If things go right for ABX with, in particular, Pascua Lama, and gold prices rise then ABX could be on the road to recovery starting in 2015. They will become cash flow positive then and potentially be in a position to increase the dividend. That said, there have been many disappointments over the last few quarters and investors are in a show-me mood. Our discounted cash flow analysis, which incorporates mine depletion, a 2% gold price increase vs costs, dilution from share-based compensation, as well as residual reserve value indicates that a share price of $25 is required to produce an acceptable IRR (at least in our eyes). It is important to note that mining assets depreciate fairly rapidly and, without continued capital expenditures, cash flows are not sustainable. In other words, one cannot simply use metrics like PE or dividend yield to adequately value the equity. We continue to believe there is significant tail risk in this name, which is under appreciated by the market, and we own downside protection in the form of out of the money puts.
Disclosure: I am short ABX. I wrote this article myself, and it expresses my own opinions. I am not receiving compensation for it (other than from Seeking Alpha). I have no business relationship with any company whose stock is mentioned in this article.
Additional disclosure: We are long out of the money puts and have been trading it from the short side outright