Mohnish Pabrai's Pabrai Investment Fund is a hedge fund that is inspired by Warren Buffett's methodology. Pabrai has written books on his attempted low-risk value method of investing, and his funds have a growing record of outperforming most money managers.
Like his self-proclaimed investment strategy mentor, Pabrai is not one to over-diversify. Pabrai Investment Fund tends to hold just a handful of U.S. equities in its portfolio. On February 12, 2013, the Pabrai Investment Fund filed its 13F-HR, which details its holdings at the end of 2012. The filing listed a mere six equities.
Pabrai also listed six equities in the third quarter of 2012, and they were the same six. In the fourth quarter of 2012, the fund initiated no new stakes and exited no prior positions. Nonetheless, Pabrai did add to two of those existing positions, reduce two and keep two unchanged.
Pabrai's Increases
Pabrai Investment Fund increased its stake in Chesapeake Energy Corp (NYSE:CHK) during the last quarter. The fund initiated its position in CHK during Q2 of 2012 and has increased its stake in the domestic energy exploration and production company in both of the subsequent quarters. This investment by Pabrai has consistently appeared to be following the lead of Carl Icahn, who became CHK's second-largest investor during Q2 of 2012.
Shares of CHK have been volatile over the last several months, but spiked to the higher end of its recent trading range at the end of January, following the company's announcement that its billionaire co-founder, chief executive and president, Aubrey McClendon, has "agreed to retire" by April 1. This move up likely takes CHK to a price equal to or above Pabrai's Q4 2012 purchases. See a recent performance chart for CHK: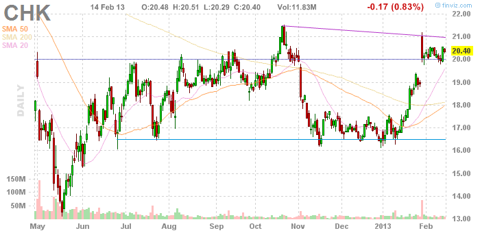 The only other position that Pabrai increased last quarter was Horsehead Holding Corporation (ZINC), a domestic Zinc-based product producer and recycler. Pabrai initiated his position in ZINC at the end of 2008, when the stock market was in a state of dramatic decline. Since then, shares in the company have been volatile, moving between around $7 and $17, and currently trading near the middle of that range. Horsehead Holding is the only small-cap stock listed on Pabrai's 13F-HR. See a recent performance chart for ZINC: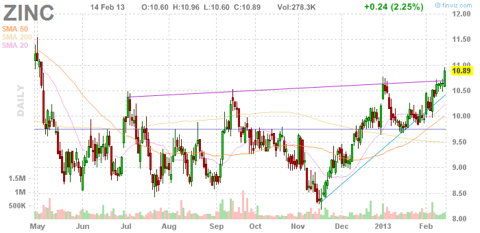 Pabrai's Decreases
Last quarter, Pabrai decreased his fund's stake in General Motors (NYSE:GM). Pabrai initiated his GM position during Q2 of 2012, and potentially following Berkshire Hathaway into the automobile manufacturer. Pabrai's position in GM decreased by 200,000 shares last quarter, but the fund still holds over two million shares. GM appreciated by about 50 percent in the second half of 2012, but declined by about 10 percent in 2013, following an earnings report that the market took as lackluster, largely due to European weakness and slightly disappointing profit for what was expected to be an exceptionally good quarter. See a recent performance chart for GM: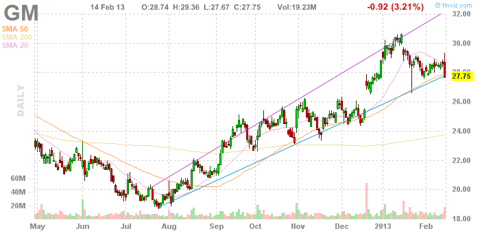 Pabrai also reduced his fund's position in Goldman Sachs (NYSE:GS) during Q4 of 2012, as it also did during Q3 of 2012. Pabrai sold over half of his position in GS in Q3 of 2012, but only sold about 1 percent of his remaining stake last quarter. Pabrai initiated his GS position in 2008 and substantially increased it in Q2 of 2012. Shares did appreciate afterwards, but they also continued to climb long after most of Pabrai's sales. See a recent performance chart for GS: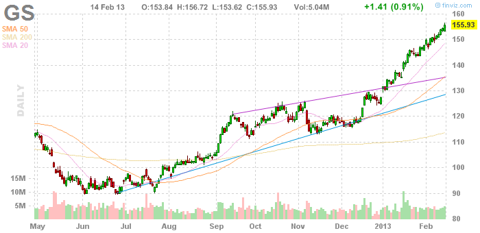 Pabrai's Unchanged Positions
Pabrai did not change his fund's position in Bank of America (NYSE:BAC) last quarter, and the large financial has continued to be Pabrai's largest position. Pabrai has held onto roughly 7.5 million shares of BAC through the last few quarters. The fund initially established the position in Q3 of 2011, but it was largely sold in Q4 of 2011 and then repurchased in Q1 of 2012. Current share valuations are well above any of the probable purchase prices by Pabrai. See a recent performance chart for BAC:
Pabrai's second-largest listed holding, Citigroup (NYSE:C), was also unchanged last quarter. Pabrai allocated into Citigroup in Q4 of 2011, possibly using proceeds from selling BAC shares purchased a quarter earlier due to relative valuation differences between these two large U.S. banks. Pabrai then purchased more shares in Citigroup during Q1 of 2012. Amongst the largest U.S. banks, these two had lagged in share performance and also restoring their dividends. Over the last year, both BAC and C have performed exceedingly well, and Pabrai has opted to maintain his investments in both. See a recent performance chart for C: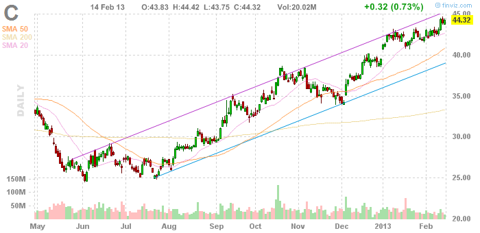 So far this year, five of the six U.S. equities in the fund are positive, with both CHK and GS up about 22 percent through the first six weeks of the year. The only one that is down within 2013 is GM, which had declined about 3.75 percent. See a 2013-to-date performance chart:

Over the last year, five of the six are positive, with the only declining stock being CHK. Nonetheless, Pabrai was not invested in CHK a year ago, and the company is up 25-45 percent since his initial allocation into the company. All in all, Pabrai's equity holdings show how capable a small portfolio of stocks can be.
Disclosure: I am long C, CHK. I wrote this article myself, and it expresses my own opinions. I am not receiving compensation for it (other than from Seeking Alpha). I have no business relationship with any company whose stock is mentioned in this article.