I have owned Canadian National Railway (NYSE:CNI) several times during my investing years the most recent transaction was buying shares in early 2007 for $43.50 and selling them in early 2011 for $67.67, a nice gain of 56%. However, if I had held those shares, I would now have a double as the stock has recently traded around $99.00. Like most stocks I own, once I sell them, I tend to continue following them to see if my decision to sell was a wise one. I have followed CNI a little more closely than other stocks I have sold as the railroad business has always fascinated me and CNI has a small yard in the Wisconsin town I grew up in. I listen to all the quarterly conference calls and recently came to the conclusion that CNI has two catalysts that will grow the business going forward.
In my opinion, CNI owns the best track system in North America as it is the only railroad that has tracks that cross the continent from east to west and north to south. CNI serves ports on the Atlantic, Pacific and Gulf of Mexico. CNI also has exclusive rights to Prince Rupert Port in British Columbia. Prince Rupert is the closest North American port to China which allows CNI to carry a great deal of Chinese imports into North America.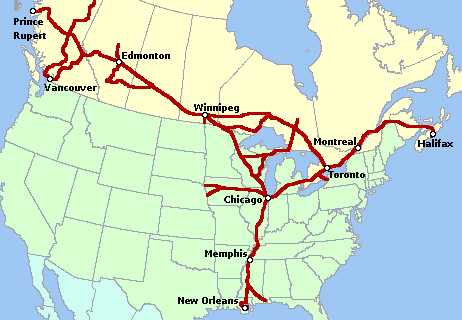 The most recent quarterly earnings report showed CNI had record volumes and earnings. Revenue and earnings increased 8% and cash flow continued to increase. Train productivity increased by 2%, yard throughput increased by 6% and car velocity increased by 4%. This continued focus on productivity led to a best in class operating ratio of 63.6%. Operating ratio measures the amount of revenue needed to run the railroad, the lower the number the better. For comparison, Union Pacific (NYSE:UNP) had a 4th quarter operating ratio of 67.1%, CSX (NYSE:CSX) had full year operating ratio of 70.6%, Norfolk Southern (NYSE:NSC) had 4th quarter operating ratio of 73.4% and Canadian Pacific (NYSE:CP) had a 4th quarter ratio of 74.8%. (CNI information can be found here).
Canadian National carries a wide range of products, most of which saw nice gains in the 4th quarter and for the full year. The chart below breaks out the products and the favorable or unfavorable revenue improvements, in constant dollars, for the quarter and full year.
| | | | | | |
| --- | --- | --- | --- | --- | --- |
| Product | 4th QTR 2012 Rev | 4th QTR 2011 Rev | 4th QTR % Change | Full Year 2012 REV | 2012 % Change |
| Petroleum | $427M | $377M | 16% | $1,640B | 15% |
| Metals % minerals | $274M | $278M | 1% | $1,133B | 12% |
| Forest | $323M | $329M | >1% | $1,331B | 4% |
| Automotive | $128M | $122M | 7% | $538M | 10% |
| Coal | $171M | $149M | 17% | $712M | 15% |
| Grains & Fertilizer | $459 | $413 | 13% | $1,590B | 4% |
| Intermodal | $498M | $464M | 8% | $1,994B | 11% |
As you can see by the above chart, CNI has a well-balanced product portfolio, which allows CNI to minimize large earnings decline when one of the categories slows down. Unlike other railroads, CNI had an improvement in their coal traffic in 2012 which is a result of the increase in metallurgical and thermal coal export. CNI's multiple port access allows CNI to benefit from the increased exporting of coal, despite the weakness in U.S. coal demand for power generation.
For 2013, CNI sees modest economic growth in North America resulting in 3 to 4% carload growth and high single digit growth in "Earnings per Share." CNI has recently hit 52 week highs and trades at just under $100.00 a share. CNI closed on January 2nd at $92.27 and trades, as I write this, at $99.67, a gain of about 8% for the year. Despite reaching a 52 week high, CNI trades a fair value P/E of 16 and has a P.E.G. (Price to Earnings Growth) of 1.41.
Canadian National pays a modest dividend of $1.72 (Canadian Dollars) which is a yield of 1.70%. Using David Fish's excellent DRiP Investing Resource Center, we see CNI is a Dividend Contender, having raised its dividend 17 consecutive years. The dividend growth rate has averaged 18% over the last 10 years and 19% over the last 3 years. With a dividend payout ratio of only 28%, CNI does have the ability to continue increasing the dividend. Amongst its railroad peers, CNI is the lowest yielding stock, with the exception of CP.
The Catalysts
Oil Sands
The Canadian Oil Sands area in Alberta helped increase CNI's petroleum car loadings in 2012, but I believe that is just scratching the surface. The oil sands area has been under production for several years, but is just starting to pick up steam as Exxon Mobil (NYSE:XOM) and other large integrated companies ramp up production. Production was 1.31 million barrels in 2008 and is expected to grow to 3 million barrels in 2018. The problem producer's face is that there is limited pipeline capacity out of the region and proposals to build new pipelines are facing delays as environmentalists and other groups try to stop the build out.
TransCanada's (NYSE:TRP) Keystone XL pipeline may never get built if President Obama does not approve it. Enbridge (NYSE:ENB) has proposed building the Northern Gateway Pipeline which would run from Bruderheim, Alberta to Kitmit, British Columbia for export to Asia. The Enbridge proposal is being fought by environmentalists and First Nations Groups. Kinder Morgan (NYSE:KMI) has proposed expending its Trans Mountain pipeline from 300,000 barrels a day of product to 850,000 barrels a day for transport of products to Vancouver ports for export. Much of the right away for the pipeline already belongs to Kinder Morgan, but it is still facing opposition from environmentalists. Even if approved in the coming years, both the Trans Mountain and Northern Gateway pipeline are years away from being built. Meaning, as production in the oil sands region grows, producers may have to rely on railroads to transport the bitumen to refiners. Canada has only two railroads, CNI and CP. CNI with its larger rail system is likely to be the preferred rail system to ship on.
For 2013, CNI hopes to double crude by rail, while also increasing frac sand, pipe and diluents to various oil fields. During the 4th quarter conference call, CNI management stated they believe crude by rail will be a big opportunity for future growth and are investing in infrastructure to take advantage of the oil sands transportation bottleneck. Additional tanker cars, rail loading facilities and tank farms are being built to improve crude by rail service. Most of the crude by rail service is long haul, the most economically advantageous for railroads, making this an even more attractive opportunity. With pipelines years away from being in-service, CNI's access to the oil sands region and a rail system that cannot be duplicated should bring years of growth to CNI.
Housing Rebound
Canadian National is the largest hauler of forestry products in Canada and the United States. As such, any change in the housing market makes a difference in CNI car loadings. Many economists believe housing starts will rebound in 2013 and 2014, with one survey forecasting a doubling in housing starts by 2014. If the housing rebound continues, as many forecast, the increased demand for forestry products and household items would improve CNI's forestry and intermodal traffic.
Action
In my opinion, Canadian National is the best run railroad in North America and is worthy of investment at the right price. Unfortunately, the right price is not around $100, that price is a little rich for a railroad. I have had CNI on the top of my watch list for several weeks now and as is usually the case for stocks I want to buy, it has been in a solid uptrend the entire time. IF CNI were to fall under $95.00 I would buy it, as I believe that is a reasonable, not cheap, price.
If the North American economy were to slow down, the downside risk for the stock is in the $70s. If the economy continues to improve, I could see CNI reaching $120.00 in two years. I wish the stock paid a better dividend, as the yield is quite a bit below what I like, but the dividend increases have been consistent and the business could see solid growth the next couple years.
If you believe the North American economy is likely to grow the next several years, a railroad investment could provide a nice return. Canadian National is the most efficient railroad and has the best track infrastructure. That is where I would want to put my money.
Disclosure: I have no positions in any stocks mentioned, but may initiate a long position in CNI over the next 72 hours. I wrote this article myself, and it expresses my own opinions. I am not receiving compensation for it (other than from Seeking Alpha). I have no business relationship with any company whose stock is mentioned in this article.