When looking at car rental companies, Avis Budget Group (NASDAQ:CAR) and Hertz (NYSE:HTZ) both look quite attractive. Both have growth prospects with their moves into hourly rentals, and both are undervalued by most metrics. Additionally, the market has been consolidating for a few years now and pricing power will reflect that. First let's look at Avis.
Avis Budget Group
Avis is essentially part of an oligopoly of car rental companies, along with Hertz and Enterprise Rent-A-Car. It has over 5000 locations throughout the United States, Europe, and Australia, amongst many others. Avis has almost finished its acquisition of Zipcar (ZIP), needing approval from Zipcar shareholders and the UK government. This will allow it to break into the hourly-rental space, which is a growing area of the rental car business. Hertz and Enterprise have already moved into hourly rentals, but rather than build its own, Avis has obtained Zipcar's "Zipsters" -- an 800,000 user base -- in one fell swoop. Avis is buying growth very effectively in my opinion. Here in Chicago you see Zipcars everywhere, and it's really a way of life for many urbanites that don't own a car and need to makes trips that public transportation or cabs don't properly accommodate. It will continue to be a growth area for the company as long as Avis keeps the Zipcar model relatively unchanged. Zacks agrees, stating that it sees the acquisition expanding both top and bottom lines.
10Q
Avis revenues for the most recent quarter came in at $1.7 billion, beating analyst expectations of $1.64 billion. Earnings for the quarter were -.07 per share, which met the average number expected by analysts. The company also noted that overall travel demand remained strong.
Valuation
Avis is cheap. The company has a current P/E ratio of 20, but has a forward P/E ratio of only 9.76. Avis is expected to grow shares over the next 5 years at 29.75% annually. The company has a PEG of .68 and a miniscule price-to-sales ratio of .35.
The only negative is the large amount of debt the company carries. The company's long-term debt-to-equity ratio is 13.60. This debt is partially due to the purchase of Avis Europe for $1 billion. The good news related to the debt is that in a recent bond offering it secured its lowest interest rate in the company's history. It should also be noted that all the major car rental companies have large debt-to-equity ratios.
Shorts
Avis has 14% short interest as of this writing, which is quite high. That fact, combined with the 10q revenue beat, creates a recipe for a short squeeze. You can see it in the last bar on the price chart below. Despite the fact that the price has risen a lot since December, a squeeze could push this even higher.
Chart Setup
The company's chart looks strong. The uptrend is clear, and the stock price is above all major moving averages. These moving averages usually help to act as support, at least initially. Additionally, that green bar on the far right is a "bullish engulfing pattern," which could be a scary site for any remaining short sellers. It is a short-term trading indicator based on Japan-originating technical analysis of candlestick charting.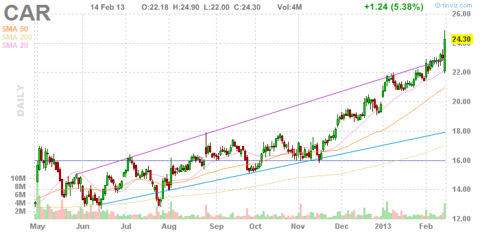 Hertz Global Holdings
Hertz Global Holdings has over 10,000 locations in North America, Europe, South America, Asia, Africa, Australia and the Middle East. This fleet is mainly composed of General Motors (NYSE:GM) cars, but also contains Ford (NYSE:F), Nissan (OTCPK:NSANY), and Tesla (NASDAQ:TSLA) to name a few. The company also rents equipment, including: air compressors, generators, earthmoving equipment, and pumps.
In the past year it has purchased Donlen & Dollar Thrifty. Analysts see this Dollar Thrifty purchase as a very beneficial move, with analyst Michael Millman of Millman Research Associates stating, "[t]he benefits to Hertz are significantly compelling in the near- and long-term. We estimate the acquisition will add roughly 25% to Hertz's earnings, before synergies (cost or revenue), while helping protect the Hertz classic brand."
Hertz has its own hourly car rental division called Hertz-on-Demand. Hertz-on-Demand competes in the space with Avis' likely Zipcar division. While Hertz doesn't require membership fees and allows one way travel, it is not as widespread as Zipcar. Both divisions make up growth areas for their brand, but due to their small size, they may take a few quarters to really add to earnings growth. That fact hasn't prevented investors from buying shares of both companies with two hands.
Valuation
Hertz, like Avis, has a reasonable current P/E, but it has a very low forward P/E ration of 11.02. It has an expected 5-year annual growth rate of 38.5%, giving it a tiny PEG ratio of .71. Hertz also has a low price-to-sales ratio of .96.
In December the company was reiterated a "buy" by MKM Partners with a $26 price target. Zacks has it ranked a "Strong Buy" and Goldman Sachs has it listed as a "buy" with a price target of $19. In total, four analysts have it listed a "strong buy" and one has it listed a "strong sell."
Shorts
While Hertz does not have the high level of shorts that Avis has, it does have short interest of 7.75%. This is enough to provide at least partial "buying fuel" if there is short covering.
Chart
The stock had been in an up-trending channel since August, and actually broke out of the channel on the topside. This is a further reflection of buyers becoming even more bullish, and is considered a buy signal.
The Play
I think both Avis and Hertz stocks can be owned here with continued upside. I would have a running mental stop (on whichever one you chose) of the bottom of the channel.
If you trade options, look at a "time bomb butterfly" for HTZ. A moderate bull could look at the Mar 19/21/23 call butterfly for .65. Max gain on that would be 207% on expiration, although you would almost certainly exit before that and for a lower return amount.
If I were more bullish, I might look into a Jun 22/24/26 call butterfly for .30. Max gain on that would be 566% at expiration, although as above, you would almost certainly exit the trade before that and for less of a return.
Disclosure: I have no positions in any stocks mentioned, and no plans to initiate any positions within the next 72 hours. I wrote this article myself, and it expresses my own opinions. I am not receiving compensation for it (other than from Seeking Alpha). I have no business relationship with any company whose stock is mentioned in this article.
Disclaimer: We do not know your personal financial situation, so the information contained in this article represents my opinion, and should not be construed as personalized investment advice. Past performance is no guarantee of future results. Do your own research on individual issues.