This is my first set of articles on Seeking Alpha and they will deal with the well-covered idea that if held for longer periods of time, the widely popular class of instruments known as daily leveraged ETFs are poor investment vehicles in general. In fact, by construction, daily leveraged ETFs can provide attractive medium to long term shorting opportunities given a clear view on the underlying asset and access to attractive short sale financing conditions.
Part 1 covers some of the main mechanisms working against the longer-term investor in leveraged ETFs, while Part 2 will be directed towards speculators comfortable with exploiting these poor longer-term dynamics by considering putting on short positions. My articles will not focus on the intended use of these instruments as short-term trading vehicles or hedges.
The SEC and operators warn against buy-and-hold investment
The prospective buyer of daily leveraged ETF instruments would need to go no further than the SEC or the ETF operators themselves (ProShares, Direxion Funds) in order to find a strong and clear message that these funds are intended for use in active trading and not as longer term passive investment holdings. Still, given the availability and general popularity of many of these instruments I find it worthwhile to focus yet another article on why uninformed investors should avoid building up medium to long term holdings of daily leveraged ETFs in a 401K-plan or similar without really understanding the complexity of the risk return-profile he/she is getting exposed to.
Recent track-record of a few major daily leveraged equity ETFs
To illustrate the recent medium- to longer-term performance of a few of the largest U.S. equity index daily leveraged ETF pairs against their underlying index, please study the following table:
Underlying index/ETF

5-year trailing annual total return

3-year trailing annual total return

1-year trailing annual total return

Total return YTD

3-year realized volatility

S&P 500*

+4.45%

+14.64%

+15.08%

+6.87%

15.24%

ProShares Ultra S&P 500 (SSO)*

+0.16%

+25.23%

+28.63%

+13.66%

31.07%

ProShares UltraShort S&P 500 (SDS)*

-25.26%

-31.58%

-28.60%

-12.64%

28.39%

Russell 2000 index*

-

+16.21%

+13.28%

+8.49%

20.44%

****

Direxion Small Cap Bull 3x (TNA)*

N/A

+26.89%

+31.48%

+26.68%

63.33%

Direxion Small Cap Bear 3x (TZA)*

N/A

-59.08%

-44.39%

-22.89%

54.24%

Russell 1000 Financial Services index**

-

+2.47%

***

+23.36%

+8.65%

N/A

Direxion Daily Financial Bull 3X (FAS)*

N/A

+11.76%

+68.01%

+26.54%

60.88%

Direxion Daily Financial Bear 3X (FAZ)*

N/A

-51.56%

-55.06%

-22.70%

53.52%
All metrics are based on USD.
* = Data source: Morningstar.com as of close 02/14/2013.
** = Data source: Google Finance as of close 02/14/2013.
*** = Approximation by author based on Bloomberg.com data.
**** = Volatility based on Morningstar.com data for the iShares Russell 2000 Index ETF (IWM).
As can be noted from the above performance table, 2x daily leveraged ETFs (SSO and SDS) and 3x daily leveraged ETFs (TNA, TZA, FAS and FAZ) can yield medium to longer term compounded returns that are not a linear function of those of the underlying asset.
To further illustrate this point observe the total return paths of the 3x Bull/Long daily leveraged ETF TNA and the 3x Bear/Short daily leveraged ETF TZA for the most recent trailing 3 year period against their underlying index, the broad U.S. equity index Russell 2000: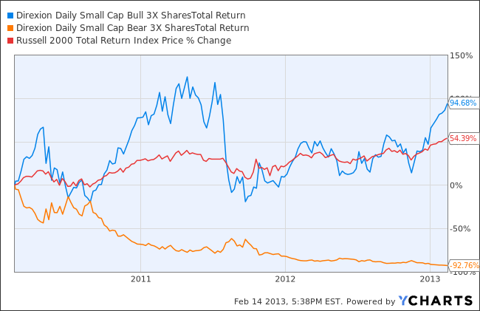 Notice the tendency of the 3x leveraged funds to suffer both when the underlying moves against them (as one would intuitively expect) as is the case e.g. for the 3x Bear ETF TZA during the second half of 2010. But also notice how their aggregate (e.g. a 50/50 portfolio of 3x Long/3x Short) is adversely affected during markets of higher volatility, such as during the third quarter of 2011, a type of episode not uncommon as the market tries to stabilize in the aftermath of a sudden and sharp sell-off. This 3 year window ended with the underlying compounding at approximately +16% per year, while the 3x Bull ETF TNA compounded at +25% annually and its 3x Bear TZA counterpart compounded at approximately -58% per year. These longer-term outcomes are the effect of both how these instruments are flawed compounding vehicles but also of how their returns are highly path-dependent in relation to the daily returns of the underlying. I will now move the discussion to the point; why should the medium to longer term investor stay away from long positions in leveraged ETFs?
Factors working against buy-and-hold in daily leveraged ETFs
Now here is a short summary of some main factors driving poor longer term performance of daily leveraged ETFs:
1) The most common retail investor misconception about these funds is to confuse their target daily leverage with a longer term constant leverage. Mathematically a 3x daily leveraged "Bull" (or simply, "Long") ETF attempts to produce a NAV return of 3x the return of its underlying asset. Basically, if the underlying asset has a 1% up day then the 3x daily Bull ETF aims at having the NAV close 3% higher for that day and then repeats this process during every trading day of the underlying asset, amplifying the daily moves of the underlying up as well as down. However, due to a simple arithmetic of compounding even the 3x daily Bull ETF operator who manages to track a sequence of daily returns perfectly with a daily leverage of 3x will for sure not return a constant 3x leverage from beyond day 1. This concept be illustrated by the simple example below where the underlying has a constant volatility and is unchanged over a 6 day horizon:
Arithmetic Example 1:
3x Compounding Daily Returns with Constant Volatility

Day

Underlying Return

3x Daily Return

3x Daily vs Underlying Return

Daily

Compounded

Daily

Compounded

Compounded difference

1

+2.00%

+2.00%

+6.00%

+6.00%

+4.00%

2

-1.96%

0.00%

-5.88%

-0.24%

-0.24%

3

+2.00%

+2.00%

+6.00%

+5.75%

+3.75%

4

-1.96%

0.00%

-5.88%

-0.47%

-0.47%

5

+2.00%

+2.00%

+6.00%

+5.50%

+3.50%

6

-1.96%

0.00%

-5.88%

-0.70%

-0.70%
As seen, a see-saw return path ending flat will create a volatility drag in a 3x daily leveraged instrument.
2) Given that one has no problem with the first fact that these funds are mathematically flawed when it comes to compounding over longer time periods than one day but one still want to employ them in medium to longer term positions to add on/hedge some risk exposure one must also be aware of the effect of volatility on the funds. The operator Direxion themselves publicly address these dynamics in their 497K-reports (for an example study Table 1 on page 4 in this 497K for FAZ). In line with the simple example above, here is the same 6 day horizon with a see-saw return path but now adding strongly increasing volatility:
Arithmetic Example 2:
3x Compounding Daily Returns with Increasing Volatility

Day

Underlying Return

3x Daily Return

3x Daily vs Underlying Return

Daily

Compounded

Daily

Compounded

Cumulative difference

1

+2.00%

+2.00%

+6.00%

+6.00%

+4.00%

2

-1.96%

0.00%

-5.88%

-0.24%

-0.24%

3

+3.00%

+3.00%

+9.00%

+8.74%

+5.74%

4

-2.91%

0.00%

-8.74%

-0.76%

-0.76%

5

+4.50%

+4.50%

+13.50%

+12.64%

+8.14%

6

-4.31%

0.00%

-12.92%

-1.91%

-1.91%
Ceteris paribus, higher volatility and a day-to-day see-saw market will create even more volatility drag on a 3x daily leveraged instrument, even if the underlying still ends the period unchanged.
3) The operational execution of the ETF operator will be another risk. The operator must manage in- and outflows, underlying asset portfolios and their leverage and keep watch of the pricing of the ETF in the market to track NAV as closely as possible.
4) Leveraged ETFs can come with hefty total expense ratios, which will of course work against a longer term holding.
5) Several leveraged ETFs have in the last years ended up having a changed their strategic objective and/or structure. And some have abruptly been shut down, exposing longer term holders to yet another risk factor concerning these instrument's longer term return paths as a longer term exposure will involuntarily be closed down one way or the other.
6) The holders of these instruments will in addition take on counter-party risk. In many cases these funds are structured around synthetic total return swaps where the ETF operator exposes the execution of the strategy and at least a substantial part of the clients' investment to the fate of individual international investment banks.
Additional compounding issues in inverse daily leveraged ETFs
The inverse daily leveraged ETFs are even harder to operate given restrictions and occasional frictions in the market for short-selling.
Given the tendency of many underlying markets to experience larger volatility spikes when declining in price compared to when rising will, ceteris paribus, lead to that these inverse funds will see a sharper increase in gamma when the market price of the underlying moves sharply downwards, in the desired direction, compared to upwards. Based on the unlikely assumption that a short-term speculator had perfect timing and entered this risky instrument on the close of the day before the move (or that the instrument is part of a more advanced hedged quantitative strategy) this gamma spike will in theory of course be extremely favorable if the market drop is quick and follows a path of continuous large daily drops in price. BUT this will also mean that the inverse daily leveraged ETFs NAV in falling markets will be more exposed to the already emphasized compounding flaw should the price path include occasional reversal days and also to a higher vega risk in the event the heightened gamma starts to leak as the volatility of the move goes down. So paradoxically changing volatility will become a serious risk exposure for the holder of inverse leveraged ETFs in a scenario where the price of the underlying is moving in the desired direction, i.e. lower. The return outcome over more than a couple of days in a sharply falling market will be return path-dependent and difficult to model for non-quantitative traders.
Volatility drag illustrated
The following empirical observation of how Direxion's 3x daily leveraged Russell 1000 Financial Services index funds, FAS and FAS, both suffered from the volatility spike associated with the price drop of late summer/autumn of 2011 illustrates the negative effect of spiking volatility on leveraged ETFs. The example is in no way all-encompassing but just an illustration of how these instruments can behave in volatile markets in a volatile real world setting (e.g. where frictions and human behavior will be issues to deal with):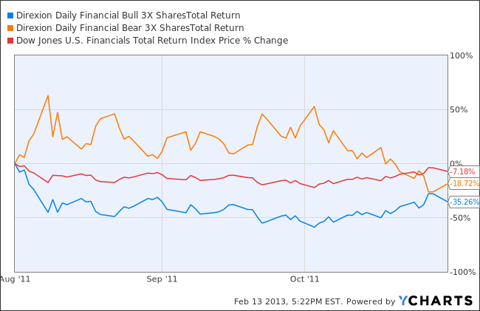 As can be noticed both FAS and FAZ grinds lower during the wild see-saw days the market experienced during this period (unfortunately I could not add the correct underlying index to the graph for comparison but the Dow Jones U.S Financials Total Return Index may serve as a proxy for illustrative purposes). In the time span of just three single months both ETFs accumulated double-digit negative returns.
Under what circumstances daily leveraged ETFs could be of use
1) For short-term traders/hedgers very confident about direction and price path of the underlying asset over an intra-day to shorter term (weeks maximum) trade.
2) And/or for quantitative traders able and confident that they can either hedge out the associated risks and/or that are able to arbitrage intraday or short term price/NAV-dislocations in the market microstructure.
3) When the underlying can be expected to trend with a non-volatile and continuous one-directional path of uninterruptedly higher or lower daily price changes. Any medium to longer term investor/speculator would know that such underlying markets are rare. If being highly confident of such a price path these instruments' risk-reward profile would, in my view, be inferior to just getting on the same leveraged exposure by piling into a pyramiding long or short margin position in the underlying asset itself, by entering a futures/forward position or by employing options.
Conclusion: Buy-and-hold in daily leveraged ETFs will yield a sub-optimal risk-return
In summary, I have difficult to see an attractive risk-reward in leveraged ETFs if used for anything other than short term or quantitative trading (activities far outside my comfort zone). The level of complexity working against a longer term position will simply tend to increase with time due to the many associated unpredictable factors. In most realistic market scenarios these instruments, Bull and Bear varieties alike, will as an aggregate asset class trend towards poor or highly negative returns (there will of course occasionally be exceptional compounded return periods in some issues).
In Part 2 of this article I will discuss why I believe shorting these instruments can create an interesting risk-reward profile for the investor comfortable and able to do so.
Disclosure: I am short FAS, FAZ, GLL. I wrote this article myself, and it expresses my own opinions. I am not receiving compensation for it (other than from Seeking Alpha). I have no business relationship with any company whose stock is mentioned in this article.