Fuel Costs Take Center Stage
The airline industry continues to get smaller as the surviving companies continue to look for cost savings on all levels. Most recently, American Airlines (AAMRQ.PK) and US Airways (LCC) announced their intention to merge in an $11 billion deal that would create the world's largest airline. The merger is expected to result in $1 billion in combined benefits as the two companies increase their revenue and expect anticipated cost savings of $150 million. Since 2005, the merger would mark the seventh as the industry continues to face rising fuel costs and stiff competition.
Seen as one of the largest culprits in the merger trend, the increasing cost of fuel has lead some airlines to take extreme measures. In April 2012, Delta Air Lines (NYSE:DAL) announced that it would buy a refinery from ConocoPhillips (NYSE:COP) in an attempt to gain control over its fuel expenses. The seemingly odd purchase was expected to provide a benefit of $300 million per year as the company took the extra step in the direction of vertical integration.
Yet the with cost-cutting on the radar for a price-sensitive industry, the direction of fuel prices has given few comforts. According to the article found here, airline companies spent $48 billion on jet fuel for domestic and international travel in 2011. These prices now amount to 35 percent of an airline's operating cost compared to 10 percent back in 2001. This fact alone has placed increasing pressure on the industry to find fuel alternatives. In turn, this has led airline companies to place their hope on the nascent biofuel industry.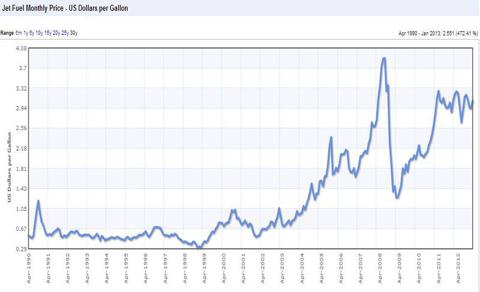 Becoming The Hope Of The Airline Industry
Amanda Peterka of E & E Publishing recently wrote a series of articles covering the current state of the renewable jet fuel industry. In her first article, found here, she points out that demand for renewable jet fuel remains inevitably high as airline companies are practically unable to consider moving to electric jets. At the same time, rising fuel and environmental costs are increasingly becoming a burden. Yet even with this increasing demand, the supply of renewable jet fuel is virtually non-existent. One intriguing factor that is contributing to this dilemma can be summarized in her statement, found here:
"Although diesel and jet fuel are essentially the same price and made from the same plant oils, fats and greases, there is always a yield loss when making jet fuel because it requires a shorter carbon chain than diesel. The diesel market is also much larger and has fewer quality controls."
One very important reason that renewable jet fuel isn't being developed at a quick enough pace is the fact that it makes more economic sense for biofuel producers to address ground vehicles first. The loss in yield to create jet fuel over diesel makes it a difficult choice for biofuel producers, who must essentially produce more in order to get the same amount of reward.
Yet this is where a renewable oils company named Solazyme (SZYM) could stand at a very important advantage, a fact that is also articulated by Amanda in her second article, found here. Because Solazyme is able to tailor its oils down to the very carbon chain length produced, it can effectively change the shape of the cost curve. In the same article, the following is a quote from Graham Ellis, Solazyme's VP of Business Development and a former Senior Business Manager at Honeywell UOP:
Through tailoring, "we can drop the chain length right down into the jet range, and all of a sudden, for the first time, the world has a perfect triglyceride oil tailor-made for making jet at high yield," Ellis said. "Theoretically, you can make jet at the same cost as diesel today by utilizing our type of technology because we can make the right oil up front and boost the yields accordingly."
It is this kind of flexibility that investors often fail to understand about Solazyme's process. The company isn't just making biofuels or renewable oils. It's making tailored oils. It's tinkering with the structure of the oil itself by genetically modifying the algae that produces it. As a result, that oil can hold significantly more value than what currently exists in its alternatives.
Back in 2011, United Continental Holdings Inc. (NYSE:UAL) announced that it intends to buy 20 million gallons of jet fuel a year from Solazyme with delivery beginning in 2014. In the time since, the airline company's optimism appears to only have been reinforced when one considers a recent quote from Jimmy Samartzis, managing director of global sustainability for United Airlines. Referring to Solazyme and its process, he states: "They've figured it out, from our perspective, how to get to commercial." Referencing the need for the biofuel producer to operate on a commercial scale, this in essence has been the issue all along.
What Makes Solazyme's Oil Unique?
The primary advantage of Solazyme's technology ultimately lies in its ability to tailor oil profiles while utilizing a cost-effective process. This is the case when contrasted against its peers in the algae space. At the time of its IPO, Solazyme stated in its S-1 filing that it would be able to manufacture oils at a cost of $3.44 per gallon if produced in a built-for-purpose commercial plant.
Unlike most algae companies that sought to utilize the "free" resource of the sun, Solazyme's management focused entirely around scaling its technology. The company pursued unique strands of algae that grew in the dark by consuming sugars, and then combined this with standard industrial fermentation technology. Throughout this development, Solazyme managed to create a very effective biological "tool kit" to control what the algae's able to output. Altogether, the company developed a technology platform to create large quantities of custom-made oils.
When we think of crude oil, we often fail to consider where the value is within the barrel. The numerous uses it's able to provide are dependent upon what is included inside the barrel. Through a refining process, each part of the barrel is broken down in order to be used according to its properties. A look at Chevron's (NYSE:CVX) website shows just what can be created from an average barrel of domestic crude.
Yet Solazyme's oil is able to be customized to maximize particular parts of the barrel. A look at the graphic below illustrates this idea of how the typical barrel of Solazyme's oil is broken down. It's therefore important to remember that the current market price of crude oil is reflective of a sum of its parts, some of which stand to be more valuable than others. In the case of Solazyme, the company is no longer competing against the price of crude oil.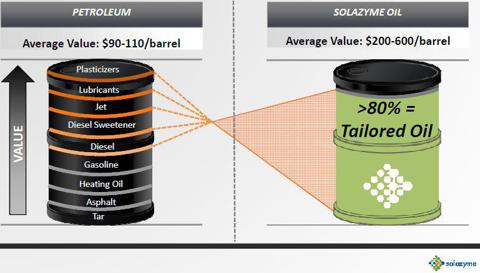 But what would be the worth of oil if it could be designed in such a way to create near full barrels of just the most valuable parts? What would the value of the process be if, within a matter of days, the same manufacturing equipment used to make one kind of oil also had the flexibility to make another oil output altogether in response to shifting market economics? For that matter, what would the implication be if one could exaggerate the properties of oil profiles in order to make them more productive than what naturally occurs?
These are the kinds of questions that are soon to be put to the test by Solazyme. The rapidly growing $540 million company has now emerged from a development phase, having refined and proven its technology platform over the past decade. Through reputable manufacturing partners such as Bunge (NYSE:BG) and Archer Daniels Midland Company (NYSE:ADM), Solazyme is now constructing the large facilities necessary to enter into full-scale commercial operations. The first of these plants is expected to come online by the end of 2013. By 2014, the company could be producing commercial scale quantities of oil to be refined into jet fuel for the airline industry.
Conclusion
The lack of viable fuel alternatives in the present continues to place a large burden on airline companies going forward. As these companies retreat into consolidation and out-of-the-box thinking, the persistent pressure on the industry remains the rising cost of fuel. Even with the ongoing development of advanced biofuels, the future producers will need several years before they can effectively operate on a commercial scale in order to meet the airline industry's demand. For this reason, it may be best to avoid airline stocks altogether as they continue to have their margins squeezed with limited alternatives.
Of the few public companies that are correlated to advanced biofuels and also continue to show promise for the airline industry's need, Solazyme stands as a name worthy of ongoing consideration. The company remains ahead of its peers when it comes to producing at a commercial scale. Most importantly, it has developed a technology platform that allows for tailored oil profiles. This allows Solazyme to address the problem of yield loss in a cost-effective manner. Such an advantage could play a pivotal role in allowing the company to excel into this future market more effectively than its peers may be able to.
Disclosure: I am long BG, SZYM. I wrote this article myself, and it expresses my own opinions. I am not receiving compensation for it (other than from Seeking Alpha). I have no business relationship with any company whose stock is mentioned in this article.