Waste Management, Inc. (NYSE:WM) reported fourth quarter and full year earnings before the bell on Thursday, February 14th, missing analyst estimates by 3 cents per share, $0.57 versus $0.60. Revenue for the final quarter of 2012 ticked up 0.8% over the same period a year ago, largely in line with expectations. The company also gave somewhat disappointing guidance for 2013, calling for EPS between $2.15 and $2.20 per share. However, 2013 will face headwinds from compensation accruals related to annual and long-term incentive plans, and without these accruals, EPS guidance would be $0.15 higher, in line with analyst estimates of $2.30. Free cash flow in 2012 was $829 million, and the company expects to be able to grow free cash flow 33% to 45% in 2013. In 2012 Waste Management returned almost 80% of free cash flow to stockholders, and the board approved a modest increase in the dividend in 2013 to $1.46 per share along with a $500 million stock buyback.
The size of the buyback would represent about 13.5 million shares at current levels, about 3% of the float. This would save the company almost $20 million in dividend payments a year. The percentage of free cash flow returned to stockholders in 2013 is likely to fall to 60% from 80% in 2012. I believe this could set the company up for sizable dividend increases going forward. This is supported by management's expectations of EPS growth to return to a normalized range of 8% to 12% in 2014. Furthermore, falling commodity prices negatively affected EPS by $0.17 per share in 2012 and the company is well positioned to see gains from increases in commodity prices. Another driver for this free cash flow growth is capex projections for 2013 of $1.3 to $1.4 billion versus $1.5 billion in 2012. The company was overly clear that capex will be managed to meet the free cash flow goals for 2013.
Waste Management's free cash flow picture appears much stronger than rival Republic Services, Inc. (NYSE:RSG). Republic Services expects free cash flow in 2013 of $675 to $700 million compared with $768 million in 2012. Waste Management's dividend yield of 3.9% compared to 3% for Republic Services is also attractive. While Waste Management has a higher payout ratio its payout ratio will be decreasing in 2013, while Republic Services' will be rising. Otherwise, Waste Management's higher forward P/E, PEG ratio and EV/EBITDA ratio are reflective of the company's strong financial position.

The waste management companies have been performing well lately on speculation that some of their assets could be spun off or converted into a REIT. This structure could make sense for Waste Management as it focuses on divesting non-core assets. Furthermore, the company's growth is aimed at finding value in other people's waste products. The company owns 211 landfills along with other real estate assets that could be spun off into a REIT and then rent those landfills back to Waste Management. It could be sometime before this happens as the company has not said it is working on going down that path and appears unwilling to commit capital to it without being sure this structure would be successful. Management stated that while the environment is more conducive to creating a REIT than it was a few years ago, they believe there are still a number of unresolved issues. One possibility is that a company like Waste Management could create a REIT and then use it to buy real estate assets from other waste management companies.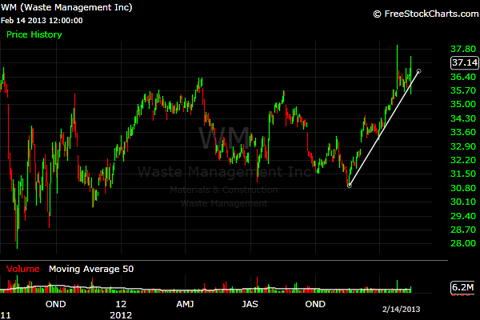 When you look at the chart, you can see how the excitement about the possibility of the REIT structure has pushed the stock up to over $37 per share from around $34 at the beginning of the year. While there are a lot of positives for the stock and it is a great dividend payer, this move higher does not appear to have pushed the stock above a larger trading range. It appears that the stock has support around $30 per share and resistance around $37 per share. I believe Waste Management is set to pullback slightly, giving you a better entry. For example, at $34 per share the dividend yield would be over 4.25%. Waste Management has a very steady business model that if bought a good price could produce strong returns along with an increasing dividend over the next few years.
Data sourced from: Company filings, and Yahoo! Finance. Chart from: Freestockcharts.com
Disclosure: I have no positions in any stocks mentioned, and no plans to initiate any positions within the next 72 hours. I wrote this article myself, and it expresses my own opinions. I am not receiving compensation for it (other than from Seeking Alpha). I have no business relationship with any company whose stock is mentioned in this article.