On 12th February, 2013, the banking index of Nasdaq (IXBK) was trading around 2024, one of the highest levels it ever had in recent years. Considering the index for a slightly longer period, it clearly shows that this upward trend is a consistent phenomenon. The banking sector seems to have bottomed out at a level since the third quarter last year.
After the 2008 crisis, growth of the US banking industry has been hindered by various regulatory and legislative bindings. Capital requirements under reforms like the Dodd-Frank Act and Basel III had been posing a challenge to the growth of banks. Besides, risk management issues, inflation and exchange rate fluctuations are some of the reasons for the shaky growth of this industry.
However, it seems that since mid-2012, these challenges have been more or less resolved, and a fundamental ground has been laid down for the banking industry to finally outperform the market. If we look into the regulatory challenges, most banks have made their capital adequacy ratio in line and greater than that of the levels required by regulations. Some examples: Bank of America Inc. (NYSE:BAC) strengthened its capital position, and its estimated Basel III Tier I common capital ratio was 9.25% at 4Q12 which is far above the 2019 8.5% requirement. Similarly, Citigroup Inc. (NYSE:C) has Tier I common ratio in the range of 11.8% to 12.7% from 4Q11 to 4Q12 and Tier I capital ratio in the range of 13.55% to 14.1% in the same period, which is again quite above the required level.
For investors closely following and willing to invest in the banking sector, there is an opportunity to outsmart the market. Now the questions are:
Which stock to pick and for which horizon?
What are the probable entry and exit points?
To come up with guidance, I have tried to analyze price movement and compare financials of some of the industry leaders in the US banking sector and came up with 5 reasons that differentiate Bank of America from other banks.
1. Above industry stock performance
Let's look at the price movement since the beginning of third quarter last year, where we believe the industry has started to bottom out.
This period saw a jump of around 22% in the NASDAQ bank index. Constituents of IXBK: Bank of America jumped 79%, American Express (NYSE:AMX) jumped 8%, Wells Fargo (NYSE:WFC) by 17%, while Citigroup was 80% up.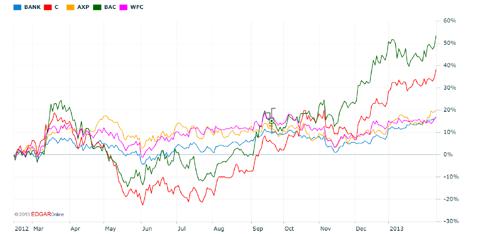 The graph above is a comparison of the price movement among different banks and the IXBK. Area of analysis is July onwards.
Source: Nasdaq.com
Though the upward movement of Bank of America is in accordance with the banking industry, but there are reasons why it outperformed the industry. One of the reasons attributed to this performance is the restructuring process that it went through. Restructuring has been mainly in terms of integrating the Home Loans and Consumer and Small Business Banking organization and employee retrenchment and shutting down of the operation of various unproductive branches.
2. Non-volatile earnings per share performance:
Analyzing the financials of these banking stocks, it seems to me that these are backed by strong company fundamentals. They don't look to me like a speculative bull run that has a quick death at the end of a short rope.
If we see earnings per share history of stocks on a longer term, we can find a consistency in that no matter how volatile the top line and how stressed the bottom-line be.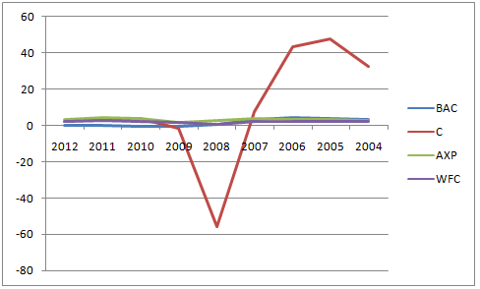 Chart showing earnings per share of different banks during the last 9 years
Data Source: Nasdaq
Bank of America has shown a consistency in its earnings per share like its competitors American Express and Wells Fargo, but Citigroup's performance has been very volatile and doesn't qualify - at face value - as a stock to put in money for a longer term. However, Citigroup is an entirely different story.
3. Upside potential: a comparison of historical high levels
Historical high values of stocks can be measures of the possible extent a stock can reach once it regains its fundamentals. Bank of America has a high of around $42 so it has an upside potential of 300%. Citigroup once traded at $400, which looks like a lot for a stock trading at $42 now. Wells Fargo is hovering near its highest possible level in 10 years; similarly American Express is also trading near its all-time high level.
4. Asset Quality
The asset quality of Bank of America is improving year on year and that can be judged by looking at the change in the non-performing assets of the company and also the change in the provisions. Gross NPAs of the company has reduced by 29% in the 4Q12 Y-o-Y and provisions have reduced by 25%.
5. Positive currency exposure
Overseas assets, especially securities held for trade and sales, are crucial in defining the currency exposure of any company's earnings. This is how a company faces translational risks. In the banking sector, this risk is very important and one of the biggest deterrents of a company's growth.
There are certain movements in that front which is supporting the banking industry in the US and offering a reason for it to outperform the market. Especially the weakening of the Japanese Yen has helped banks appreciate their unrealized gains in the investments made in Japan or in Yen.
Yen is 20 percent down since November on the back of Bank of Japan's determined move to come out of deflation and move the market.
Here, with over $466 billion of overseas total trading assets, Bank of America has one of the most significant exposure in foreign currency. That, as of now, is seemingly helping the company's bottom line, though to quantify the extent is difficult.
Recommendations
On the basis of these analyses, Bank of America has a clear edge over other banking stocks in the US, and though the most ideal time of entry has passed, it is still a good time to invest in this stock. The horizon of investment is short to medium term, ideally 1-2 years.
Disclosure: I have no positions in any stocks mentioned, and no plans to initiate any positions within the next 72 hours. I wrote this article myself, and it expresses my own opinions. I am not receiving compensation for it (other than from Seeking Alpha). I have no business relationship with any company whose stock is mentioned in this article.