With interest rates at generational lows, many investors are motivated if not desperate to find alternatives to bonds. While equities can be a great income-generation alternative, investors can take on more risk than they realize by chasing yield. When a dividend-payer slashes the dividend, it can be ugly. Witness two such examples just this past week: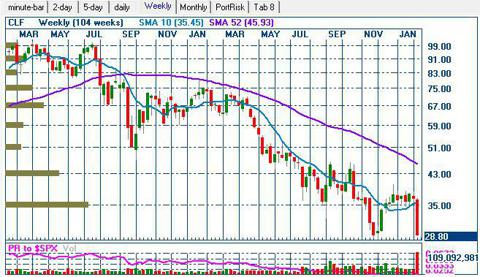 Cliffs Natural Resources (NYSE:CLF) fell off a cliff. The stock fell by 20% on Wednesday after a brutal announcement, with the company slashing the dividend by 76% and issuing a slug of stock. Clearly this was a surprise to the market, but, in my opinion, it should not have been given the weak operating metrics, especially cash flow, and the strapped balance sheet. This next one was perhaps more of a surprise: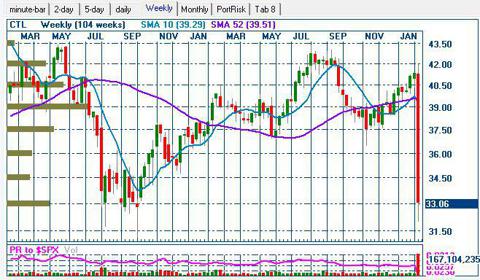 It may take a century for investors to get "whole" for CenturyLink (NYSE:CTL). Kidding aside, as it will take just a few years of income to offset the 23% Valentine's Day massacre, this one was a bit more difficult to predict. Fellow author "CorvetteKid" shared an insightful analysis comparing management's moves, which included cutting the dividend by 25% but also announcing a massive $2 billion share repurchase plan, as the equivalent of hitting into a triple-play. Here, the challenge as a dividend investor in my opinion was to know the nature of the beast. I looked at CTL a couple of years ago and felt the dividend could be at risk because the company wanted to be a growth company, as evidenced by its very large acquisitions of Qwest and then Savvis in 2011. More recently, its peer Frontier Communications (NYSE:FTR) has cut its dividend twice in the last few years. More importantly, and perhaps the real story, there continue to be rumors about CTL making an acquisition.
For a couple of years now, I have been recommending replacing bonds with dividend-paying stocks, but I have been careful in my advice, suggesting that yield-maximizing is inferior to a strategy like Dividend Growth Investing (DGI). If you are investing in high yielding stocks, you need to do so with extra care. You may remember, for instance, in August when I called out Avon Products (NYSE:AVP) as almost certain to slash its dividend. It really wasn't that hard to predict - all one had to do was read the earnings call transcript! I followed up in October with a bullish article, as the news of the pending dividend reduction had been fully absorbed, suggesting that the stock could recover to 20-22 within the year. The stock did end up declining as they cut the dividend, as I had expected, but look at it now.
So, how can one avoid dividend disasters? First and foremost, if you are going to buy above-market dividends, you have to have your hands around several issues:
What is the value of the stock, regardless of the dividend yield?
What is the payout ratio relative to earnings and cash flow?
How leveraged is the balance sheet?
What are investor expectations?
There are no simple rules. If you can't answer all of these questions, then you are possibly walking off a "cliff" and waiting a "century" to recoup your investment.
My first point is that you should NEVER buy a stock solely because of its yield. Dividend yield should be a secondary consideration. "6% sounds good" doesn't cut it, because the dividend is subject to change. A stock that has a >10% yield, like Pitney Bowes (NYSE:PBI), may be a good deal, as the valuation is low by other measures. I called this stock out recently for being off to the races and suggested that it might be sustainable. It has a sharp new CEO and the stock is very cheap at 7PE and 6X EV/EBITDA. I am not recommending the stock but saying it should be considered. The 11.2% dividend yield looks to me to be sustainable. More importantly, if the company cuts it in half but could sustain current earnings (that is the real question!), the stock would likely not decline due to its low valuation.
This leads to my second point, which is that it's important to compare the dividend to the earnings as well as free cash flow. Payout ratios are easy to find, and some industries, like Utilities, lend themselves to high payouts (high dividends relative to earnings), while more cyclical ones, like CLF, don't. More important than earnings, though, is to look at free cash flow, which is operating cash less capital spending (or non-discretionary capital spending, for you more advanced investors). It's what's left over for acquisitions, debt reduction, equity purchases or dividends. If it's too tight (dividends consume too much of free cash flow), then the company lacks flexibility. I think that is what happened to CTL.
Now, it's one thing if a company is paying a big dividend but has no debt, as this might be sustainable for quite some time. If the company has a lot of debt relative to equity or EBITDA or high interest payments, then its lenders, either banks or the capital markets, may not look favorably on dividends that exceed certain levels. If business is contracting, like it was for CLF, then covenants can be violated. The bottom-line is that big dividend payments from heavily indebted companies need to be discounted with respect to assumed sustainability.
Investor expectations are tough to figure. One can sometimes find articles on Seeking Alpha assessing the potential for a dividend hike or cut, but this is something you need to assess yourself. One place to look is the transcript. Anybody who read the CLF Q3 transcript had to be aware that the dividend could be cut. Click this link and you should see the discussions highlighted in yellow. Similarly, check out the awkward conversation on the CTL Q3 call (1st question). If the dividend is high and the stock price hasn't been acting well, this is a signal to redouble your efforts regarding sustainability. It's like that clever "gas station sushi" commercial (from Esurance) - you don't want to count on dividends from some places.
As I have been saying for a few years now, using equity income to replace paltry bond income can be smart, but you don't want to end up with expensive equity income and lots of risk. Many investors think that the higher the dividend, the better, but this is naive. Make sure you understand the nature of the dividend's sustainability. Don't count your chickens before they hatch!
As a final note, now that the cat is out of the bag on CLF and CTL, I think that investors should consider them for investment at least as trades. The stocks perhaps overreacted. In the case of CLF, like AVP, they really needed to cut it in order to reduce financial risk. CTL, which fell as much as the dividend, offers the same yield but at a much lower valuation. My hunch is that they might be about to announce a big acquisition, perhaps of TW Telecom (NASDAQ:TWTC), with the dividend cut a prelude to the M&A so that they didn't have to spring both of these on the market at once. It would explain the share repurchase authorization too - to buy back stock used in the deal. Just a hunch!
Disclosure: I have no positions in any stocks mentioned, and no plans to initiate any positions within the next 72 hours. I wrote this article myself, and it expresses my own opinions. I am not receiving compensation for it (other than from Seeking Alpha). I have no business relationship with any company whose stock is mentioned in this article.