Uranium One Inc. (OTC:SXRZF) is expected to get a nice margin boost from the recent devaluation of the Tenge, Kazakhstan's national currency.
On Wednesday, the Kazakh government changed its policy and now supports its currency at around 150 Tenge to the U.S. dollar, which represents a valuer reduction of about 20% from the governments previous FX support at 120 Tenge.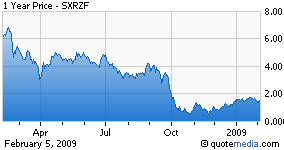 RBC Capital analyst Adam Schatzker increased his Uranium One price target from $3 to $3.50, on his estimate that the devalued Tenge will reduce operating costs by 12.5%. The analyst maintained his "buy" rating on the stock.
This change directly affects Uranium One's Kazakh operations given that 80% of its operating costs are Tenge-based," he said in a note to clients.
"We have modified our model to account for the currency devaluation and, as expected, the company's profit margin increases since its revenues are U.S. Dollar-based."
Shares in Uranium One have climbed 13% so far this week, with the bulk of the increase coming yesterday, following the Kazazh currency change.