After a recent pull back in Schweitzer-Mauduit International's (NYSE:SWM) market price per share, SWM now presents an attractive short-term buying opportunity. This article provides a brief overview to SWM's business model, highlights its recent performance, and concludes with seven reasons as to why SWM is buy at its current valuation.
SWM operates in the consumer goods industry and serves its customers as the leading producer of specialty papers for major tobacco companies worldwide. Not only is SWM responsible for the entire manufacturing process of its specialty papers, but it serves its customers as a direct distributor for its own products. Its primary customers are companies within the tobacco industry who exhibit a strong demand for high quality, cutting edge products. These products include Cigarette Paper Applications, LIP Paper, Cigar Applications, Reconstituted Tobacco Leaf (RTL), Porowrap Porous Plug Wrap, FlaxStalk, and other commercial as well as industrial products. SWM is well positioned in its industry holding over 191 patents with 88 pending applications. The patents cover a variety of different products and processes in the Unites States, Western Europe, and Asia. On an annual basis, SWM allocates approximately $8 million towards the research and development of new products. With over 2,800 employees company wide, approximately 60 are allotted for solely researching and developing new products.
Currently, SWM is trading right between $37 and $38 per share. With 31.04 million shares outstanding, its market capitalization is nearly $1.17 billion. SWM trades at a P/E ratio of about 11.61x, and is clearly undervalued by simply looking at its price versus its level of free cash flow available to investors. Right now, its price to free cash flow ratio is only 9.43, which is appealing given it is below 15. In addition, its price to earnings growth metric is only 0.72. The combination of these two metrics being below 15 and 1 respectively is an indication this stock is undervalued.
Figure 1: SWM's One Year Price Graph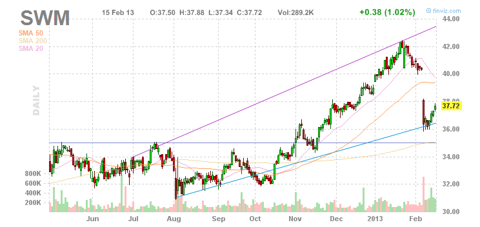 Seven reasons SWM still provides an upside at $37.72 per share:
SWM has displayed strong growth in its earnings per

share

(EPS). Its EPS

has

grown by more than 30% over the past five years.
Financially speaking, SWM is a strong company.

Its

ROA and ROE are 11.81% and 22.25% respectively. Its balance sheet is superb with only 34% debt financing and high levels of liquidity through its current assets (excluding inventory).
From a technical standpoint, SWM's thirty day relative strength indication (RSI) is 28. An RSI within the range of 20 to 30 indicates the stock has been oversold and implies there is a high probability of an upward trend in the short-term.
SWM's fourth quarter results were impressive. For FY 2012, the adjusted income per share from continuing operations was $3.55. This was nearly a 20% increase from the previous year.
In addition, SWM altered its capital allocation strategy. This consisted of increasing its quarterly cash dividend by 100%.

SWM's

current dividend yield is now 3.18%.
Seven analysts that cover the stock have a median six month price target of $44 per share. This implies a potential upside of nearly 18% for investors.
Intrinsic valuation

suggests

SWM's fair price per share is roughly $46. Note arriving at this estimate involves using the discounted free cash flow valuation as well as a modification of the Gordon Growth Model. The underlying assumptions include SWM's current free cash flow of $42 million, a conservative constant growth rate of 4%, and SWM's weighted average cost of capital.
As a firm, SWM's strong fundamentals are directly in line with what is needed for long-term growth. Dedicated management that is devoted to meet the demands of an expanding industry is nothing more than a shareholder looking to maximize wealth could ask for. Its market share in the cigarette paper industry is roughly 36%, making SWM the largest cigarette paper producer in the world. A recent decline in its market value per share makes this a perfect time to initiate a position to capture short-term gains or hold and stay long for SWM's inevitable long-term success.
Disclosure: I have no positions in any stocks mentioned, but may initiate a long position in SWM over the next 72 hours. I wrote this article myself, and it expresses my own opinions. I am not receiving compensation for it (other than from Seeking Alpha). I have no business relationship with any company whose stock is mentioned in this article.