There's a slew of earnings to pay attention to in the upcoming short trading week. Markets will be closed on Monday for Presidents' Day, so here's a list of equities to watch and potentially make a play on from Tuesday through Friday.
February 19, 2013 - Dell, Inc. (DELL) - Dell has been scattered throughout the news the past few weeks on speculation of a buyout or the company being taken private. Investors will hope that its conference call will offer up more detail in this vein, aside from the now perfunctory, routine and inevitable task of Dell reporting that it has missed revenues. This past week, T. Rowe Price joined the long list of shareholders that think Michael Dell's proposed company buyout is substantially underpriced. News on the privatization front could be potential catalyst for big stock price moves after Dell's conference call.
Dell's stock has been in a serious uptrend in the last three months and is looking to hold bullish momentum after its recent "golden cross".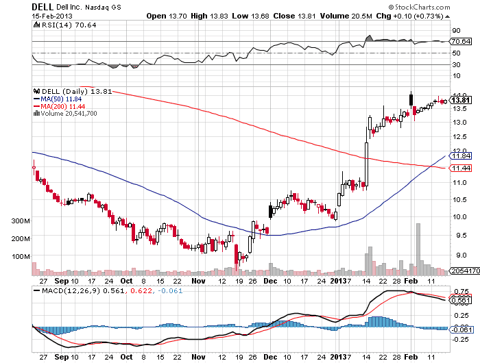 Dell has missed revenue estimates the past three quarters. The average estimate for this report in terms of revenue is $14.13 billion. The average EPS estimates are $0.39.
February 19, 2013 - Herbalife, Inc. (NYSE:HLF) - Undoubtedly, this call and report is probably going to be the biggest media event in the week forthcoming. With the recent Icahn vs. Ackman drama taking place as recently as just several days ago, all Wall Street eyes are going to be looking for more insight into business operations at Herbalife. Here's how the stock has fared since the Icahn/Ackman feud began a couple of months ago: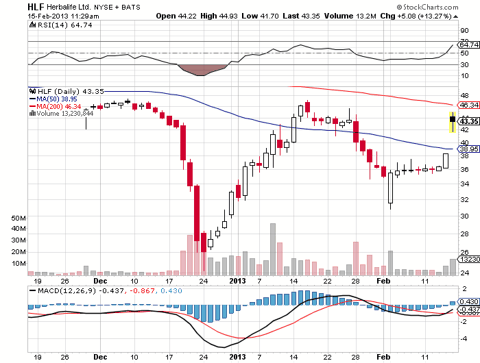 Herbalife is expected to post an earnings per share figure of $1.03 on revenue of about $1.05 billion.
February 20, 2013 - Crocs, Inc. (CROX) - The fad shoe retailer will be reporting this upcoming week. The stock has been condensing the past couple of days, looking like it's priming for a big move in either direction; likely going to be predicated on how well earnings come in. This could be a great spot to play an options straddle into earnings.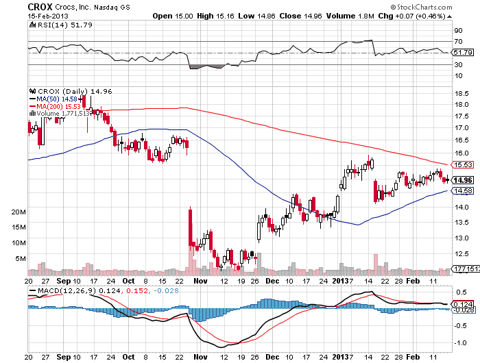 Bret Jensen offers up a no-BS analysis of Crocs heading into earnings, offering up four reasons he thinks the stock has value trading at $15/share:
4 reasons CROX has upside at $15 a share:

Analysts expect low double digit revenue growth in FY2013, just slightly above 2012's sales increase. It has a five year projected PEG near 1 (1.18).
Crocs has a solid balance sheet with over $300mm in net cash on its books (over 20% of current market capitalization at current prices).
The mean price target by the 9 analysts who cover the stock is north of $19 a share.
The stock is priced under 10x forward earnings, a substantial discount to its five year average (17.4).
Should earnings impress, Crocs could be an easy 30% gain as it'll likely head towards $20 territory. With the stock condensing, an options straddle could be a safe way to make money regardless of whether it meets or misses.
February 20, 2013 - Tesla (TSLA) - Tesla, like Herbalife, was another company spread throughout the news this past week. Tesla's CEO, Elon Musk, came out and publicly battled against a poor review of his Model S. Like Herbalife, investors are going to be looking for more than the numbers from this conference call, as Musk is going to need to reassure and calm investors that there's long-term value behind investing in Tesla. Up almost 50% since November, we're starting to get towards the point of investors focusing on commercial roll out and profitability, now that the much awaited Model S has hit the road. Eyes and ears will be on details surrounding how Musk plans to make that transition.
February 21, 2013 - Hewlett-Packard (HPQ) - HP, in order to have a successful conference call and report, is going to have to show some traction in new PC sales on the heels of Windows 8. HP is another stock that appears to have been condensing in the last couple of weeks. It is increasingly becoming "do or die" for HP in terms of its PC sales, and this could be another safe spot to play an options spread for easy money.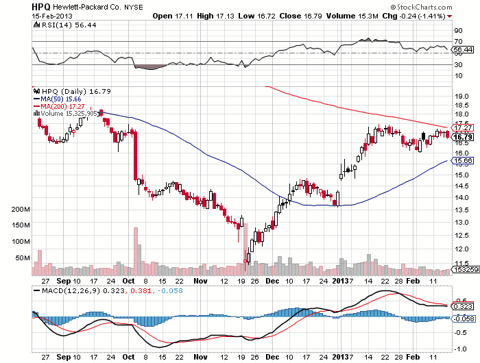 Analysts covering HP are looking for earnings of $0.71 on revenues of $27.7 billion.
February 21, 2013 - Wal-Mart (WMT) - Wal-Mart will be reporting its holiday quarter sales, which has traditionally been a rampant catalyst for its stock price. The Street is expecting earnings of $1.57 per share and revenues of $128.8 billion. It's been noted that bulls are going to be looking for continued momentum in US same-store sales, a metric that has been favourable the past four straight quarters. Potential catalysts post-earnings include the moving average technical indicators getting ready to intersect one another which could foreshadow that the way WMT heads post-earnings could be the beginning of a sustained trend in that direction.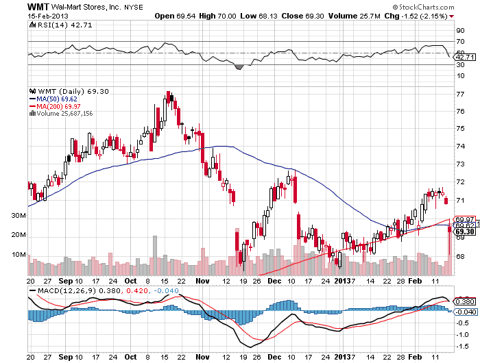 February 21, 2013 - Taser, Inc. (TASR) - Taser stock has been in a serious uptrend for the last 6 months, almost doubling in value.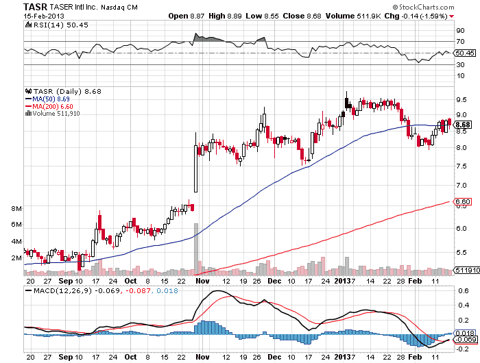 The momentum will either continue or come to a halt this week on the heels of earnings. Taser reported last week an order for 1,300 weapons to be shipped in the first half of 2013, showing sales momentum heading into the new year, so analysts will likely be expecting positive forward looking guidance from its conference call.
Disclosure: I have no positions in any stocks mentioned, and no plans to initiate any positions within the next 72 hours. I wrote this article myself, and it expresses my own opinions. I am not receiving compensation for it (other than from Seeking Alpha). I have no business relationship with any company whose stock is mentioned in this article.