Tetra Technologies (NYSE:TTI) is a company operating in the oil and gas services industry, and due to recent performance has gained the attention of many analysts as well as investors. Over the course of the past three months, TTI's security market price has augmented by nearly 60%. Under normality, performance as such is generally a strong indication to sell, however it is not the case with TTI. This article provides a brief overview of TTI's business model and concludes with four reasons as to why TTI remains cheap at under $10 per share.
TTI is focused on completion fluids and associated products and services, production testing, wellhead compression, and selected offshore services including well plugging and abandonment, decommissioning, and diving. In addition, TTI also owns an additional domestic exploration and production business. TTI is organized into five reporting segments and three operating divisions:
Fluids Division - This division is responsible for the manufacturing and marketing of certain clear brine fluids, additives, and other associated products and services to the oil and gas industry for use in well drilling, completion, and workover operations not only in the United States, but other countries including Latin America, Europe, Asia, the Middle East, and Africa. Throughout the oil and gas the products manufactured by the Fluids Division are know as the clear bring fluids (CBFs). These products include liquid calcium chloride, calcium bromide, zinc bromide, zinc calcium bromide, and sodium bromide. TTI's fluids division provides basic as well as custom-blended CBFs based on customer demand and specifications. In addition, TTI's fluid division is responsible for providing other services such as onsite fluids filtration, handling, and recycling; wellbore cleanup; fluid engineering consultation; and fluid management services; as well as high-volume water transfer and treatment services for fracturing operations. In effort towards incorporating sustainable practices in its business, repurchases used CBFs from customers. TTI is the capable of recondition and recycling these products.
Production Enhancement Division - This division consists of two operating segments including Product Testing and Compressco. The Production Testing segment provides production testing services in oil and gas basins in the United States. In addition, the Production Testing segment has operations in certain onshore basins in regions in Mexico, Brazil, North Africa, the Middle East, and other foreign markets. The Production Testing segment provides post-frac flow back and well testing services. The segment provides well flow management and evaluation services and data that enables operators to quantify reserves, optimize production, and minimize oil and gas reservoir damage. In addition to flow back and well testing, the Production Testing segment provides well control, well cleanup, and laboratory analysis services. The Production Testing segment also provides early-life production solutions designed for newly producing oil and gas wells and provides late-life production enhancement solutions designed to boost and extend the productive life of oil and gas wells. The Compressco segment, primarily through its Compressco Partners, L.P. subsidiary, provides wellhead compression-based and other production enhancement services throughout the onshore producing regions of the United States as well as certain onshore basins in Mexico, Canada, and certain countries in South America, Europe, and Asia. These production enhancement services primarily consist of wellhead compression, related liquids separation, gas metering, and vapor recovery services.
Offshore Division - This division consists of two operating segments including Offshore Services and Maritech. The Offshore Services segment provides downhole and subsea oil and gas services such as well plugging and abandonment, wireline services, decommissioning, and certain construction services utilizing heavy lift barges and various cutting technologies. TTI provides these services to offshore oil and gas operators primarily in the U.S. Gulf of Mexico. In additon, this division is responsible for providing services including individualized engineering consultation and project management services. To carry out these services, TTI's Offshore Services segment utilizes offshore rigless plugging and abandonment packages, three heavy lift vessels, several dive support vessels and other dive support assets. The Maritech segment is an oil and gas exploration, development, and production operation focused in the offshore and onshore U.S. Gulf Coast region.
Currently, TTI is trading right between $9 and $10 per share. With 78.08 million shares outstanding, its market capitalization is approximately 747.23 million. Notice the strong price increase from November to February. The thirty day relative strength indication is only 45, which is rare for such a quick increase. This is a technical indication that the stock has not yet been over bought.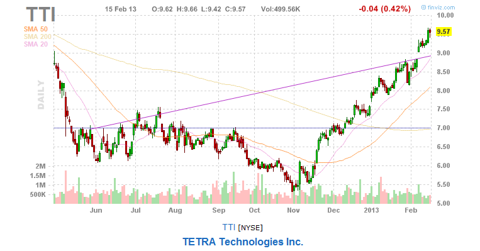 Five reasons TTI is a buy under $10 per share:
Six analysts that cover the stock have a median price target of $12.50 per share. Three of these analysts are employed at top tier investment banks, one of which is Barclays.
This stock has been a strong target for institutional investors including hedge funds. Nearly 82.98% of all its common stock outstanding is owned by institutional investors.
Its earnings per share (EPS) are projecting to increase by roughly 109.41% in FY 2013 to $0.79 per share.
TTI is cheap at only 90% of its revenues. This takes into account its market capitalization of $747.23 million with respect to its sales revenue of $835.87 million.
In conclusion, TTI is a recovering firm revealing a strong outlook for FY 2013. Even after a fair increase in its market value per share, TTI still remains a buy. The potential upside is nearly 30% for investors that purchase TTI at its current market value.
Sources: TD Ameritrade, FinViz, Google Finance, and Yahoo Finance.
Disclosure: I have no positions in any stocks mentioned, but may initiate a long position in TTI over the next 72 hours. I wrote this article myself, and it expresses my own opinions. I am not receiving compensation for it (other than from Seeking Alpha). I have no business relationship with any company whose stock is mentioned in this article.