Shares of Target Corporation (NYSE:TGT) have returned 18.0% over the past 12 months. At $61.71, the stock is trading near its 52-week high of $65.80 attained in September 2012 and offers a 2.2% dividend yield. In this article, I will elaborate on the stock valuation analysis which supports my bullish view on this solid investment.
Sell-side analysts on average predict TGT's revenue, EBITDA, and EPS to grow at CAGRs of 6.0%, 7.1%, and 14.4%, respectively, over the current and next calendar years (see chart below). The consensus estimates are generally in line with the averages of 6.4%, 7.7%, and 11.9%, respectively, for both Wal-Mart Stores (NYSE:WMT) and Costco Wholesale (NASDAQ:COST), which are Target's closest competitors. Similarly, Target's EBITDA margin is forecasted to expand by 0.2% over the same period, slightly better than the peer average at 0.1%. On the profit side, Target has demonstrated a superior performance as all of the firm's profitability margins are above the par. The company's ROE is also above the average; however, its ROIC measure is notably below the group average at 12.6%. Target is the most leveraged firm in the group as reflected by its relatively high debt to capitalization and debt to EBITDA ratios. In terms of liquidity, Target's trailing free cash flow margin is markedly above the par. Both the firm's current and quick ratios do not deviate much from the averages, reflecting a healthy balance sheet performance.

As such, given Target's in-line growth potential and its relatively stronger profitability and free cash flow performance, I believe the stock valuation should trade somewhat on par with the peer-average level. Nevertheless, Target's current valuations at 7.7x forward EBITDA, 13.6x forward EPS, and 1.1x PEG together represent an average discount of 22.1% to the peer-average trading multiples, suggesting that the shares are likely undervalued on a relative basis (see chart above).
Taking a market perspective, the same conclusion is reaffirmed. Target's forward P/E multiple of 13.6x is currently trading at a 4.7% discount to the same multiple of the S&P 500 Index (see chart below). I believe the below-market valuation implies an attractive entry point provided that 1) Target's long-term earnings growth is estimated to be 12.4%, which is considerably above the average estimate of 8.2% for the S&P 500 companies; 2) the company possesses a solid market share in the staples retailing sector with a leading profitability and cash flow performance compared to its major peers; and 3) the stock offers a 2.2% dividend yield, which is fairly comparable to the 2.2% average yield for the S&P 500 Index.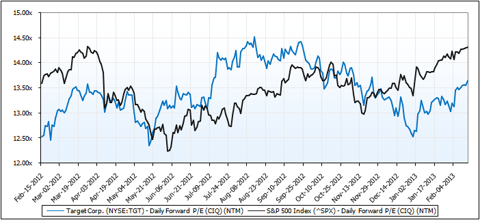 Alternatively, Target's trailing P/E ratio of 13.7x is trading at a significant 20.5% discount to its 10-year historical average at 17.2x (see chart below). This comparison indicates an attractive price level based on the following facts: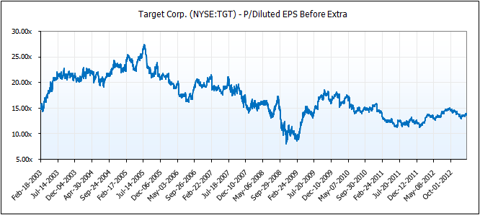 1) Target's capital return metrics including ROA, ROIC, and ROE have all experienced a steady performance over the past 10 years (see chart below);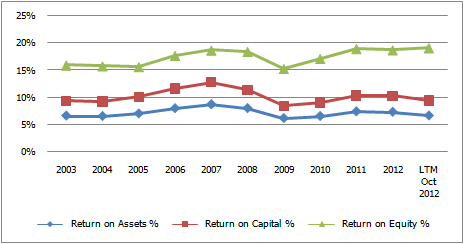 2) The company was also able to sustain stable profitability margins over the same horizon (see chart below);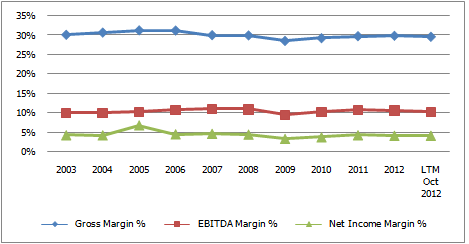 3) The market's consensus revenue, EBITDA, and EPS estimates for the current and next years indicate a recovering trajectory and the averages are not markedly below their 10-year historical averages (see chart below).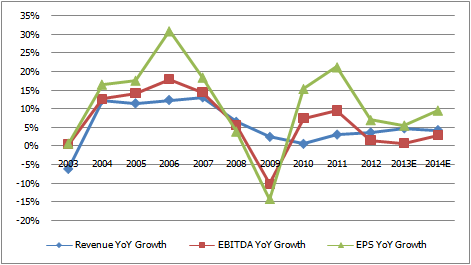 Aside from the tempting valuation level, Target's anticipated dividend growth would likely provide a solid downside support for the stock price. The company has a track history of raising dividend. Since 2010, Target has raised the dividend per share 3 times by 47.1%, 20.0%, and 20.0%, consecutively. Over the past few years, Target's annual dividend payment only represented a small portion of the free cash flow generated (the notable decrease in 2012 free cash flow was primarily related to the company's capital spending for its expansion into the Canadian market), implying that there remains an ample capacity to sustain the current pace of the dividend growth (see chart below).
Thus, assuming a target dividend yield from 2.2% to 2.8% (this is a conservative assumption as Target's dividend yield has never exceeded this level and it is also considerably above the average yield of 1.7% for both Wal-Mart and Costco), and supposing that the annualized dividend per share would be raised by just 10.0% from the current level at $1.44 to $1.58 in August 2013 payment period, this conservative scenario would suggest a target stock range from $56.57 to $72.0, or a favorable price return from -6.1% to 18.9% after considering the 2.2% dividend income.
In terms of near-term catalyst, Sean Naughton, a research analyst at Piper Jaffrey, wrote in a research note issued on January 24, 2013 (sourced from Thomson One, Equity Research):
We are reiterating our Overweight rating and $71 price on Target as we expect investors will be rewarded for owning shares through 2013 in what could be a relatively "noisy" year due to the credit sale, Canada store openings and the end of monthly sales reports. Target is expected to continue to face headwinds in e-commerce compatible hardlines categories, but 5% REDcard Rewards, P-Fresh and an improving housing market can deliver same-store sales gains in the 2-3% range in 2013. Beyond 2013 is a favorable backdrop with free cash flow and share repurchases accelerating meaningfully in 2014 as capex investments slow and Canadian stores begin to generate cash.
On February 7, 2013, Target released its January 2013 same-store sales at 3.1%, which almost doubles the Street's average expectation at just 1.7%, evidencing that Target's initiatives (i.e. 5% REDcard Rewards and P-Fresh) are paying off. Bottom line, in the light of the near-term catalysts and the compelling stock valuation, Target should deserve a buy rating and certainly worth your consideration.
All charts are created by the author and all financial data used in the article and the charts is sourced from Capital IQ unless otherwise noted.
Disclosure: I am long TGT. I wrote this article myself, and it expresses my own opinions. I am not receiving compensation for it (other than from Seeking Alpha). I have no business relationship with any company whose stock is mentioned in this article.