The chart below presents rolling 10 year returns (excluding dividends) for the S&P 500 (NYSEARCA:SPY) going back to the Great Depression era. The past ten years have been one of the worst in history—ranking in the 1st percentile! The silver lining in this data is that 10 years of negative annual stock market returns has invariably produced attractive returns over the subsequent ten years.
[ charts]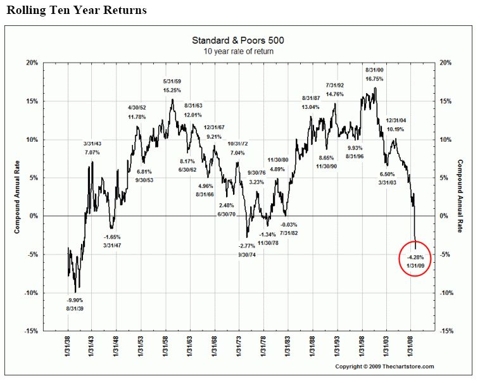 It is hard to be a contrarian, long-term value oriented investor at times like this, but if history is any guide, we will look back at this period as having been an attractive time to accumulate stocks.
The loss of value in the stock market this decade is even more dramatic when adjusted for inflation. The unfortunate reality is that a unit of the S&P 500 buys less in aggregate goods and services in our economy, thanks to inflation, than it did at the start of the decade. When inflation (measured by the CPI) is applied to historical stock values, which is what is done in the chart below, the S&P 500 is 10% lower than the trough of the last bear market six years ago and 58% below the inflation-adjusted stock market peak in March 2000.