Having been so intrigued by James Altucher's pick Cynosure (NASDAQ:CYNO), I decided to listen to his longer individual presentation on the demographic investing opportunities explored in his new book. Altucher is a manager of a fund of hedge funds called Formula Capital and, like myself, has a background in computer science. One of the organizers of the World Money Show said that Altucher would be willing to be interviewed, but since my e-mails went unresponded, apparently, not interviewed by someone writing for SeekingAlpha. Oh well, I suppose RealMoney and TheStreet.com are fighting hard for web traffic these days. Regardless, I find Altucher's ideas interesting and thought it would be worthwhile to examine some of the themes that he sees driving profits and high equity returns through the next few years (aside from tattoo removal).
Obesity
It's pretty clear that obesity is an enormous problem in the U.S., but apparently the old favorites NutriSystem (NTSI) and Weight Watchers (NYSE:WTW) may not be the best way to play this unfortunate trend. While drug makers search for new obesity treatments to find a quicker fix, Altucher found an interesting corollary play related to sleep apnea in the form of ResMed (NYSE:RMD). According to SleepEducation.com, there is a strong relationship between weight and obstructive sleep apnea (OSA), with OSA being most common in obese, middle-aged men. ResMed makes diagnostic and treatment equipment for sleep-disordered breathing. At 27x trailing/16x forward EPS, there is a lot of growth priced in to RMD shares. His other obesity related idea is small cap Synovis Life Technologies (NASDAQ:SYNO) which makes biomaterial surgical staples and related products that are used in, among other procedures, gastric bypass surgery. I wonder how New York Governor Patterson's proposed soda tax fits into this thesis!
Auto Safety
As automakers focus on fuel efficiency and produce even lighter cars, safety is a more paramount concern than ever before. Altucher's way to play this is through AutoLiv (NYSE:ALV). A large holder in ALV is Renaissance Technologies, an exceptional hedge fund that is known primarily for its quantitative strategies. Altucher is a pretty big fan of RenTec. It seems, however, that auto parts manufacturers are facing some serious headwinds. Despite AutoLiv's safety patent portfolio and 4.7% dividend yield, I've been told by auto analyst, who knows that business far better than I ever will, that Borg Warner (NYSE:BWA) is one of the few names to own in that space.
Clean Water
According to Altucher, the world's population has doubled since 1950 but water consumption has increased three fold. His pick to capitalize on this trend is IDEXX Laboratories (NASDAQ:IDXX) which offers water testing services. The company is not really known for that business. 82% of its 2007 revenue came from its veterinary division compared to 7% for water. I suppose that increased pet ownership is also a demographic trend and pets do need clean water! I don't have an alternative clean water investment on hand, but our industrial analyst is going to keep an eye out for some.
Baby Boomers
Another well known trend, but he focuses on Alzheimer's and likes some of the large cap pharma that have promising treatments for the degenerative brain disease. This is such a well known trend that it's difficult to find an untapped investment idea in the area. Aside from healthcare, it's tough to throw all boomers into a category of consumption. Some will travel and others will play golf. I think a better way to play this trend is through Zimmer Holdings (ZMH), one of the leaders in joint reconstruction. The baby boomers have been an active generation and will require many knee and hip replacements in the coming years. ZMH has been halved since September and hasn't been available at a single digit earnings multiple for many years.
Identity Theft
He really skipped over this trend, but I caught a glimpse of his small cap pick, Intersections (NASDAQ:INTX). Intersections is a Virginia based company that also offers background check services for employers. This is a name that I have been examining for coverage over at SmicroCaps. INTX's 30%+ top line growth is impressive, but it's sub-$100M market cap and lack of liquidity suggests limited institutional interest.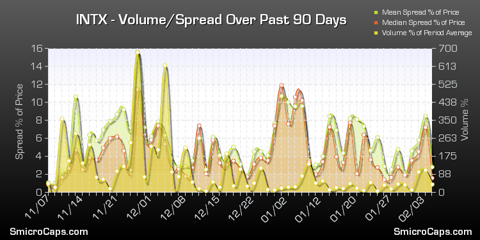 The stock trades roughly $80,000 average daily dollar volume - that's thin for retail. Combine that with bid-ask spreads that can often exceed 6% of trading prices for sustained periods (see the above chart - how about a 12% round trip haircut!) and the illiquidity is pretty clear. Like pretty much everyone else, INTX's management acknowledges a tough environment, and Q4 results will be interesting. The company has a large fixed cost structure that could leave it vulnerable to a revenue shortfall.
Pawn Shops
The idea that cash strapped consumers will line up to sell goods like gold at bargain basement prices is not new. That's why this is probably his worst, late to the game theme for which he recommends with Cash America International (NYSE:CSH). Many pawn shop related stocks have handily outperformed the S&P 500 over the past year and CSH, which, after a recent dive, has performed no better than the index's dismal return. Meanwhile, its peers EZPW (low single digit return) and FCFS (~80% 1-year return) have done very well.
Altucher jokes that the best part of his book is a crossword puzzle that he created and I'm not sure if that's his unique brand of humor or some weird marketing ploy. He is; however, one of the better analysts from that other financial site. I still have a hard time believing that their dividend and value analyst recommended MON. No matter what you think of the company's business, 8x tangible book could hardly be considered a value investment in this market (unless growth style has completely disappeared). Plus, how can a paltry 1.5% yield be the compelling factor to go long when the S&P 500 is yielding 2.9%? Simply put, MON is a growth stock.
Disclosure: The author does not have a position in any of the mentioned companies.