The other day, Primus Guaranty released its earnings – I still own both the holding company's debt (NYSE:PRD) and the stock (PRS).
As background, Primus Guaranty is a holding company with a subsidiary (Primus Financial Products, or PFP) that was formerly an AAA/Aaa-rated counterparty selling credit default swaps (CDS). To increase acronym density, PFP is a Credit Derivative Products Company (CDPC), and as such does not need to post collateral should a CDS contract move against them. This, along with the long-dated maturities of the company's debt (first maturity in 2021), means that liquidity risk is minimal.
In the last several months, PFP has been downgraded by the ratings agencies – a formal nail in the coffin, as PFP had written little new business in 2008 – and suffered a handful of credit events due to CDS reference entities defaulting. Last quarter, management of the existing swap portfolio switched to amortization or run-off mode, with the goal being to preserve as much of the existing value of PFP as possible in order to dividend up to the holding company in the future.
What value lies in Primus Guaranty, and how will that value be delivered? Key to this discussion is an understanding of the corporate structure; PFP holds the majority of cash, but also unknown liabilities from potential CDS losses. There is currently $687 million in cash held by PFP, against notional CDS outstanding of $22.5 billion (leverage of 32.75x). Two implications: should CDS losses be in excess of that amount, they are not recourse to the holding company, and there is $76.8 million in cash outside of PFP – i.e., at the holding company – currently available to bondholders. Adjusting for completed bond repurchases, that leaves approximately $17.50/note, relative to a $25 par value and a current market price of $10.30. Based off the market price, the notes yield 17% right now.
In October 2008, Primus announced it would be repurchasing its debt; later the repurchase authorization was extended to its common stock as well. My calculations of trading volume in the debt since the announcement relative to the amount Primus repurchased at the end of December implies that the company is behind 33% of trading volume in the debt. The average price paid for repurchases of $8.28 is just over 33 cents per dollar of face value.
In November 2008, Primus raised its repurchase authorization and extended the policy to include the stock. One large block trade of 3.2 million shares was executed, as well as open market purchases of another 1.3 million shares; in all, this comprises 42% of the total trading volume in the stock. Excluding the large block trade, Primus' repurchases equate to 17% of trading volume, and in all, the company retired more than 10% of its common shares in under two months. The average repurchase price of 73 cents compares to the $1.75/share the stock closed at following Wednesday's earnings.
Primus management believes they may be able to make opportunistic advances in the structured credit asset management business, and indicated a willingness to make acquisitions. Given the high internal rate of return to be had from repurchasing their own debt (I calculate a current yield-to-maturity of 34.4%), potential projects need to compare to this steep hurdle rate. This will be an area to watch as the CDS portfolio amortizes.
As for the CDS portfolio itself, most of Primus' terminal value is levered to the huge variable of credit losses. As part of updating my model, I have increased the loss reserves by 50% for the near-term "stress test" scenario (which runs through the middle of 2010) as well increasing the longer-term loss reserves by 100% to reflect the ratings deterioration of Primus' portfolio. Below is a graph showing Primus' swap portfolio broken down by percentage allocation to various credit ratings.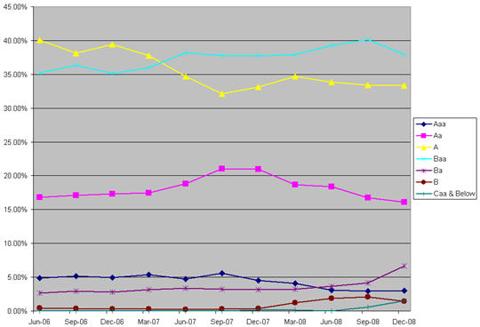 I have also lowered the expected interest income assumptions in an effort to be conservative, although management indicated on the conference call they expected to become more aggressive in investing their capital and potentially purchase corporate debt. Increasing the yield on their cash balance could drive incremental value, as could reducing operating expenses through lowering headcount.
My estimate of the value of Primus' common stock under this stress test is roughly $2.60/share, or 50% above the most recent close. For this reason, I continue to hold a much larger amount of the debt, and would be willing to sell PRS if the right price was presented. Because of the senior position the debt has, as well as the already-large discount it trades at to cash-on-hand-per-note, this will be a much more solid core holding.
If you would like a copy of my model for Primus (or already have the model, but would like the updated version), just drop me an email – jcullen@collegeanalysts.com.
Chart, Primus debt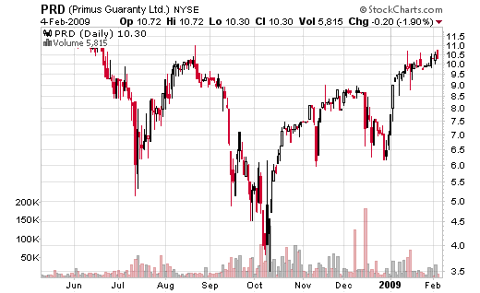 Chart, Primus stock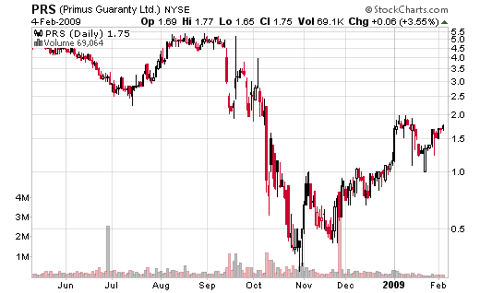 Primus' Q4 2008 conference call transcript.
Disclosure: I am long both Primus stock and Primus debt.