Usually, for any given company, there are very fair and logical bearish and bullish arguments surrounding the company's prospects and future share price movements. But, rarely, prospects seem to be very one-sided. Lately, I can't understand not wanting to own BlackBerry (BBRY) at its current share price ($14). I think that it's an incredibly attractive and relatively safe investment, given its current valuation, stable emerging-markets and enterprise business, and significant upside potential from BB10.
On February 15th, BlackBerry closed at a market cap of $7.29 billion (Yahoo! Finance). The table below (financial data sourced from BlackBerry's investor website) demonstrates how shares currently trade at virtually no premium to the value of BlackBerry's tangible assets.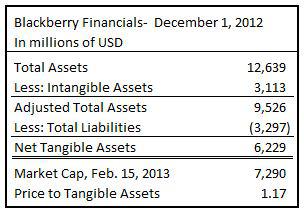 Not very many businesses trade for 1.17 times tangible assets. Financial companies or utilities might, but technology companies don't. By my calculation, Apple (NASDAQ:AAPL) had net tangible assets of approximately $121.5 billion at December 28, 2012 and a market cap of $432.1 billion on February 15th, yielding a price to net tangible asset ratio of 3.56. Salesforce.com (NYSE:CRM) appears to have had $393 million of net tangible assets at October 30, 2012, compared to a market cap of $24.9 billion on February 15, 2013 - an unbelievable ratio of 63.
Some may argue that BlackBerry deserves to be priced as if it's about to liquidate, because it really is a dying company - but I disagree with that. In its most recent fiscal quarter (ended December 1, 2012), BlackBerry reported cash flow from operations of $950 million, GAAP net income, and a subscriber base of 79 million (very loyal) users. Those business results are from BlackBerry's current line of phones (running BB7) which are clearly no longer top-notch in the western world, but still adored by physical-keyboard fanatics, users with high-security requirements, and emerging-market consumers. Additionally, these results were negatively impacted by the company's efforts to develop and market its new BlackBerry 10 devices, the Z10 and Q10.
Valuation and current business performance alone would be enough to rationalize investing in BlackBerry. It wouldn't be an extremely exciting business, but it would provide an investor with a predictable, stable business with emerging-market growth potential - something similar to Philip Morris before it split into Altria (NYSE:MO) and Philip Morris International (PMI).
But BlackBerry isn't just a boring business - it has explosive growth potential in its new BlackBerry 10 (BB10) operating system and the phones that run it. The Z10 has already been released in the United Kingdom, Canada, and the UAE. BlackBerry itself announced that sales were off to a great start, with initial purchasing surpassing previous launches. Reports across the internet, on everything from Reddit to comments on other Seeking Alpha articles, confirmed that demand was strong and that retailers (from notes I read, specifically in Canada) were selling out and re-stocking multiples times, much more quickly than expected. More officially, it appears that the Z10 has officially sold out in the UAE, which is a very powerful demonstration of the demand in that part of the world. The Q10, a device that will feature a physical keyboard that is even likelier to be popular with current BlackBerry users (or converts currently cursing at their iPhone), is not even available yet, and is expected to go on sale during the middle of 2013.
Because the Z10 has been sold unlocked in the geographies where it is available, it has of course made its way onto secondary markets in the USA. On Amazon, the white Z10 is currently selling for about $1,000 and the black Z10 fetches about $900, significantly higher than the $650 unlocked price that it is selling for in Canada. On eBay, a white Z10 sold for over $2,000 on February 5th. Of course, some people are always willing to pay a premium simply to have the newest gadget, but this strong demand in the USA for a BlackBerry device is an unusual, positive and reassuring sign, with official launch still far away.
In modeling upside potential, I think it is reasonable (and very conservative) to assume that BlackBerry will make $200 in contribution margin (variable profit) per BB10 device sold during the initial sale and first year of operation, plus an additional $40 during the second year of use (as carriers or users pay reoccurring fees for use of the BlackBerry network, or users buy accessories, etc). I believe that these estimates are reasonable, considering that component cost of the Z10 has been estimated at $154.
The following table demonstrates the incremental contribution margin potential from sales of BB10 devices.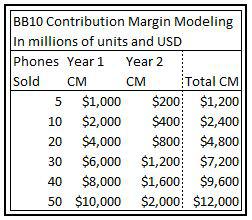 I certainly have no crystal ball and even professional estimates are not yet estimating potential BB10 sales, but the chart provides sensitivity analysis for different sales scenarios. Five million units sold seems extremely conservative, as it would be below the level of BlackBerry's 80 million current users simply updating their devices on a normal 2 (or so) year cycle. If the Z10 continues to be well-received as it launches in new markets and the Q10 gives loyal BlackBerry users what they're desperately yearning for, 20 million devices should be very achievable, which is above the 18 million unit level that a Raymond James analyst estimated as the level required for BlackBerry as a whole to turn a profit in its FY14. And while I don't think that 50 million units is a reasonable sales expectation for calendar 2013/BlackBerry's FY2014, it may be a realistic future run-rate if the BB10 ecosystem thrives and devices continue to impress. Considering Apple sold almost 50 million iPhones in its most recent quarter, BlackBerry could certainly sell 50 million devices per year under the right circumstances.
Such a level of sales would result in net income in the billions of dollars, and share prices doubling or tripling from current levels. BlackBerry's market cap of $7.3 billion is clearly not aligned with this (admittedly far from guaranteed) future potential. In its most profitable year, BlackBerry made $3.4 billion on $20 billion in revenue - which would translate into a PE ratio of 2 based on today's market cap. If BlackBerry can claw its way back to achieving similar profit levels in today's world of much higher smartphone penetration, shares seem ready to explode.
In the short term, shares are likely to continue to fluctuate as each piece of news or rumor moves prices. Volatility has been extremely high thus far in 2013: (source: Stockcharts.com)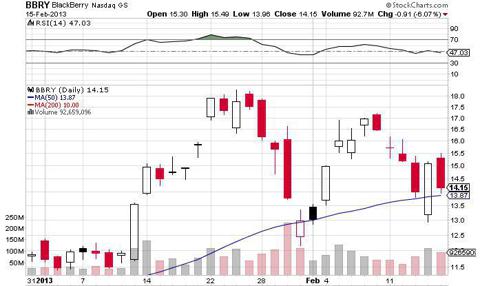 Investors (or speculators) who went long prior to the BB10 launch in late January were surely disappointed to see shares lose a third of their value in the next few trading sessions. It was baffling to watch shares open down 7% on February 14th (after it was released that BlackBerry's former CEO completely liquidated his shares - in 2012), and equally baffling to watch shares rally $2 during the trading session to close above $15. BlackBerry is currently a trading stock that professionals and market makers are having fun with - but for a long with conviction, it doesn't matter much. I have utilized the dips to buy shares, buying more at $13.10 on 2/14 and $14.05 on 2/15.
At $14, I believe that buying BlackBerry shares is the rare "sure thing" that seems too good to be true - but isn't. At current prices, it trades around liquidation value, despite having a reliable business and valuable assets (its enterprise/security business, patents and other IP) that could will preserve shareholder value even in a worst-case scenario. Longs basically get a free call option on the potential for BB10, which is no longer just a promise, as it was prior to mid-January; we now know that the BB10 operating system is innovative and critically acclaimed, and that its devices are on-par with iPhones and top-end Android devices, and are selling well in the geographies where available.
It's time to bet on BlackBerry.
Disclosure: I am long BBRY. I wrote this article myself, and it expresses my own opinions. I am not receiving compensation for it (other than from Seeking Alpha). I have no business relationship with any company whose stock is mentioned in this article.