The continuing equity rally thus far in 2013 has been impressive to say the least. We have seen the major indexes hit multi-year highs, the Dow push through 14,000 and surging inflows of new cash into mutual funds. Investor appetite for high yield bonds remains robust also.
The advance in equities can be credited in part to a protracted low-interest rate environment. Unfortunately, the demand for riskier high-yield securities is also reflective of near-zero Fed fund interest rates.
On one hand cheap capital creates an impression that asset and equity prices may appear "undervalued". To a fixed income investor, however, low interest rates force them to assume additional risk in order to make up for meager returns on cash, CDs, Treasuries and T-bills.
We have always maintained that a diversified portfolio of equities and fixed income securities is the best way to balance risk/reward, grow wealth and preserve capital. That said we are seeing signs of distress in both markets (equity/bonds) which raise our level of concern somewhat. Below are some of the primary risks we see and several strategies being considered to position our portfolios going forward.
Political Risk: Never in our twenty plus years as active investors have we ever seen such political lethargy or lack of political will from our elected officials as seen now. The US faces very serious financial issues, our economy is grudgingly slow to expand, and we are still facing legacy issues from of one of the worse credit crisis in our lifetime.
A game of political chicken is being played by both sides of the aisle and the Obama administration seemingly cannot advance his agenda beyond rhetorical attempts to unite the disparity between Democrats and Republicans. Sadly for politicians, the notion of being proactive is not constructive to getting re-elected.
It would be folly to assume that deferring debt ceilings, sequesters and fiscal budgets are at best a temporary postponement. An excellent interactive presentation on the fiscal cliff and budget issues can be viewed here. Meanwhile, the Sequestration clock is ticking closer to March 1, 2013 when these cuts are due to take effect. Although replacement plans to the sequester cuts are being put forth by both the Senate and House, the risk of filibuster is possible.
Signs of Weakening Earnings Quality: Stocks have been further buoyed by what appears to be a healthy earnings season. According to Thomson Reuters, 70 percent of the 353 S&P 500 companies to report earnings beat expectations, slightly better than the 65 percent average in the last four quarters and well above the long-term average of 62 percent. At first glance this looks quite bullish.
Yet, the ratio of downward revision-to-upward revisions in earnings guidance (for Q1 2013) is currently 6:1. More to the point, a recent report put out by Yardeni Research also indicates a disparity in forward consensus estimates across a broad swath of S&P 500 sectors.
Still another concern observed in our dual cash-flow and accruals research is an increased level of deteriorating quality-of-earnings being reported. Although our view is not representative of the entire S&P 500 or the market as a whole, we are noticing divergences in dual cash-flow ratio trends across diverse industry and sector groups we follow.
Our particular focus is on the cash-flow participation and the sources of cash-flow supporting earnings construction. The key takeaway from our observation is that earnings management may be playing a larger role in reported results.
While top-line revenue growth, margins and net income are influential components of any earnings story, we view the cash-flow generated by actual operations to be a better barometer of overall earnings quality. Simply, how much of the earnings are supported by paying customers and what portion of earnings is supported with balance sheet maneuvering?
To illustrate our earnings quality concerns consider Q1 2013 EPS revisions for Netflix (NASDAQ:NFLX). According to FactSet forecasts, NFLX has the highest upward EPS revision (yellow circle) of top ten companies in the S&P 500.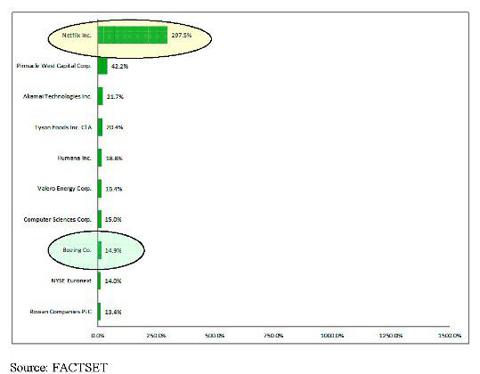 The problem here is that net income for the most recent quarter was $7.8 million on $19.6 million of operating income. Yet, reported revenues for the period were $945 million! Investors have to ask themselves, do the rosy upside EPS estimates for NFLX justify a trailing P/E multiple of 673.41? Forward P/E expectations (fye Dec. 2014) are also a lofty 68 times earnings.
NFLX earnings expectations are pricing in flawless execution and assume that subscriber growth will be parabolic going forward. Yet, operating margins (TTM) were a puny 1.39%.
NFLX stock has been on a tear in recent weeks, quite impressive really. But awarding such a lofty multiple in light of the company's significant content liabilities and history of anemic cash-flow, this is downright scary!
Even if you were to net out perceived competitive risks, growth in streaming media and the effects of short-covering, NFLX has not much wiggle room for error. On top of that, NFLX management has been unwilling to offer forward guidance on cash-flow and the company no longer reports churn rates.
Quite frankly, a stock like Boeing (NYSE:BA) holds more appeal. As you can see in the graph above (green circle), expectations for BA's forward earnings pale by comparison to NFLX. However, Boeing's valuation (currently 14.5x earnings) won't make your nose bleed.
Granted, BA faces headline risk with the lithium battery predicament, but their history of profitability and cash-flow generation is far more dependable than NFLX. BA also pays a 2.5% yield while you wait for their issues to be resolved.
The point here is equity investors who focus on the cash-flow "source(s)" presented in a company's earnings report stand a better chance to profit and/or limit risk than investors who follow the "herd". There is ample empirical and applied research to validate the significance of true cash-flow with earnings quality and future price movements of the underlying security.
Our goal is not to steal the thunder of NFLX fans that have been aboard the train (up 134% in three months; 102% Y-T-D). Yet, we have seen this rise-and-fall story before. We won't speculate whether NFLX's valuation indicates irrational exuberance, but any company sporting a triple-digit multiple of earnings should be viewed cautiously.
Credit Market Risks: Currency markets are one participant in the capital market function. Forex markets are liquid and trade according to perceptions of a host country's central bank policy, fiscal situation, trade balances, etc. Of the major traded forex exchanges, Japanese yen, US dollars and Euros constitute a majority of cross-market and currency hedge activity. The Aussie dollar and Swiss franc play major supporting roles, while the Mexican peso, Swedish Krone and other foreign currencies are also active.
The main risk to currency markets in our view is the potential for currency "wars". This is a topic of wide discussion in the news of late. In addition, speculators and carry-trade currency arbitrage adds to the volatility. G-20 rhetoric has been loud to play down such fears in recent days, but the fact they are being so vocal indicates sensitivity to the situation.
On the debt side of the credit markets are sovereign obligations, agency paper, corporate bonds and leveraged plays on mortgage backed assets. Also, there are numerous structured investment products
The primary concern we have with credit "risk" is that in a low interest rate environment, good fishing holes become crowded ones. The stampede for higher yield puts a strain on the available supply and eventually some holes get fished out. As a result, yield spreads between investment grade and non-investment grade bonds tighten.
Narrowing spreads between investment grade and junk yields mean high-yield investors will pay a premium to hold the bond, but they likely won't be adequately compensated for the credit risk taken relative to investment grade yields.
Bond investors also face the prospect of not being paid (sufficiently) to own the long-end of yield-curves. At the same time, a fixed income investor might be exposed to coupon risk with short and intermediate term paper. The question then becomes, how do you not lose or how do you protect principal?
The short answer would be to avoid Treasuries, but premium risk would be a major consideration for all bond investors. Fortunately, there are steps that can be taken to mitigate these risks. Here are some examples of changes we are considering with our income allocations.
In addition to individual corporate and municipal bonds, our portfolios hold a significant portion of fixed income exposure via closed-end funds (CEFs). We have written extensively on the virtues of CEF investments (I, II, III), but there are times when it is necessary to consider taking profits and/or swapping out of a position.
One CEF candidate that we expect to sell in the near future is Templeton Emerging Markets Income (NYSE:TEI). TEI has been a long-time bread-winner for us and a gem of consistency over the years. The fund's exposure to sovereign and sovereign related holdings of emerging market income securities offers broad diversification to non-dollar denominated debt issues.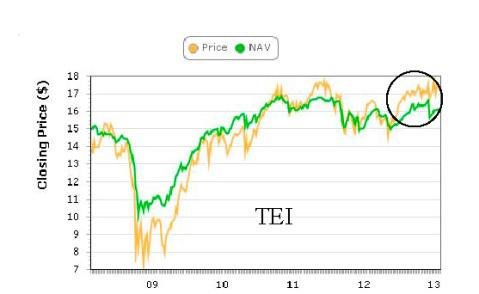 Unfortunately, TEI currently trades at a rich 8.76% premium to its net asset value. Although yields and distributions have remained relatively stable, the NAV premium has been in place for more than a year (circled area). TEI has traded at a premium on several occasions during the previous five years, but the protracted and widening "spread" in this recent one-year trend makes us a little nervous.
Also, the 1.15% expense ratio adds to the premium and carrying costs, which increases the potential risk to our total return scenario. Our disposition rationale is a valuation call. However, we would not hesitate to revisit TEI should a discount opportunity present itself in the future.
An alternate candidate to swap into or replace TEI might be Western Assets Emerging Markets Inc. (NYSE:EMD). The modest -1.98% discount to NAV is not sensational, but it more than covers the 1.23% expense ratio. EMD pays a current distribution rate of 6.62% (paid quarterly). EMD's top portfolio holdings are a bit different than TEI, but the allocation weightings to government and corporate bonds are quite similar.
Another possible replacement for TEI might be Western Asset Worldwide Income (NYSE:SBW). We own SBW and due to our current allocation, it is not likely we will be adding to positions in the near future. However, the -4.73% discount to NAV is appealing.
Current distribution rate is 6.65% (paid monthly). The discount easily covers SBW's 1.29% annualized expense ratio and the fund does not employ leverage. The fund's portfolio characteristics are similar to EMD and TEI, but top holdings and country exposure varies. SBW would be suitable for income investors looking to hedge their bets against the US dollar with exposure to emerging market income opportunities.
Keep in mind that there is risk to investing in emerging market debt. Exposure to countries such as Argentina, Venezuela, Iraq, Turkey and even Russia, all have their unique sovereign related credit issues.
Senior loan CEFs are another category of income funds with widening premiums to NAV. We hold shares in First Trust Senior FR Inc II (NYSE:FCT). We are attracted to the floating rate and senior loan bundles for a variety of reasons. Distributions typically increase as interest rates rise and "senior" loan pools offer creditor preference above bondholders, preferred shares and common stock equity in the event of liquidation or default.
The downside to senior loan pools is that most if not all funds in this category employ significant structural leverage. Also, credit quality of the fund's holdings tend to be lower in the non-investment grade spectrum.
FCT's 7.11% premium to NAV and almost 2% annual expense ratio do not scream value, but prospects of rising distributions and income streams keep us in FCT. We prefer first-lien and term loan pools over hybrid loan baskets containing bonds, derivatives and other fixed income instruments.
Unfortunately, the selection of mainly senior loan CEF alternatives is limited and most are also trading at a premium. However, LMP Corporate Loan Fund (NYSE:TLI) might be one replacement/swap idea to consider. Bank loans and collateralized or variable-floating rate senior loans constitute 91% of holdings. TLI trades at a modest 1.39% premium to NAV and current distribution rate is 6.67% (pays monthly).
The only concern we might have with TLI is the fund's 26.1% (of total assets) concentration in Consumer Non Cyclical holdings. There are defensive aspects of the consumer non-cyclical sector which are appealing when considering businesses that might be minimally affected by the flow of the markets and the economy.
From a risk/reward perspective, concentration in consumer non-cyclical industries might likely be more favorable to an equity investor. To a fixed income investor, the fear of a liquidity squeeze or a company's inability to service its loan obligations presents the risk of potential default.
While risk of default is unlikely from larger consumer product companies such as Coca-Cola (NYSE:KO) or Procter & Gamble (NYSE:PG), smaller companies with non-investment grade credit ratings or poor liquidity profiles might be vulnerable to deteriorating operating fundamentals if the economy were to slip back into recession.
Over exposure to consumer non-cyclicals would not be a deal-breaker to owning TLI solely because of the sector exposure. However, understanding the allocation risk allows an investor to balance capital risk (of the investment) to the weighting more appropriately.
Another consideration for senior loan CEF investors is distribution sustainability. Fellow Seeking Alpha author George Spritzer wrote an interesting article which discusses the impact of Libor floors and effects of leverage on distributions. It can be read here.
More information on the CEFs mentioned in this article is available at CEFConnect.
Disclosure: I am long TEI, SBW, FCT. I wrote this article myself, and it expresses my own opinions. I am not receiving compensation for it (other than from Seeking Alpha). I have no business relationship with any company whose stock is mentioned in this article.