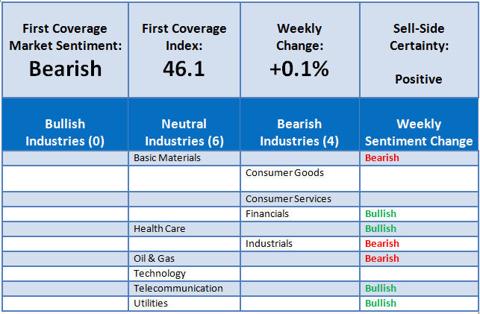 Based on what the sell-side is telling their clients, this remains a tale of two markets, and neither has much conviction right now.
Last week, the sell-side correctly informed their buy-side client base to be long in the market for the first time since the calendar turned over to 2009. A very strong week saw the three major indices rise anywhere from 3.5% to almost 8%. Needless to say, this turned out to be timely and profitable advice by the aggregated sell-side.
However, like in life and golf, it's the follow through that matters most to our analysis of market sentiment, and during the last week, we haven't seen anything that indicates this bullish run is anything but a short-term rally. That doesn't mean this couldn't become a full-blown systemic shift in perceptions about the market direction for 2009. It just means we haven't seen the necessary follow through in what the sell-side has been telling their clients.
To be more specific, there was no change in the overall sentiment this week vs. last week, which reflects the lack of follow through discussed above. However, like a duck in a pond, sell-side sentiment appeared calm on the surface, while furiously moving to stay afloat beneath the water line. Utilities, Health Care, Financials and Telecommunications all saw the sell-side get more bullish week over week, while Industrials continued to weaken for the fourth week in a row. Basic Materials and Oil & Gas also ended up on the short end of the sentiment stick.
As we head into the rest of earnings season, we remind our readers that the weekly sentiment indicator is useful not only to gauge macro trends but also is indicative of what Wall Street professionals are thinking about individual stocks. As an example, we can show that coming into January, GOOG was loved, while HOG was one of the most bearish stocks based on sell-side sentiment. Both announced earnings earlier last month, and the chart below demonstrates that in both cases, sentiment was predictive of market direction.

While it's compelling to demonstrate what the sell-side has gotten right in the past, we have isolated four stocks that have earnings coming up this week. Two of them are very bullish by sentiment right now, and two are dramatically bearish. The sell-side is feeling positive towards Encana (NYSE:ECA) and Strayer Education (NASDAQ:STRA), while they are feeling particularly negative towards McCafee (MFE) and Toll Brothers (NYSE:TOL).