Yeah, yeah, yeah... The inventory at the SPDR Gold Shares ETF (NYSEArca:GLD) made another new all-time high last Thursday. What else is new? It was the ninth new high in the previous 13 days and the 12th new high in the previous 23 days.

Here's a different way to look at the seventh largest (and fastest growing) gold holdings in the world - month by month since the fund was started back in late-2004.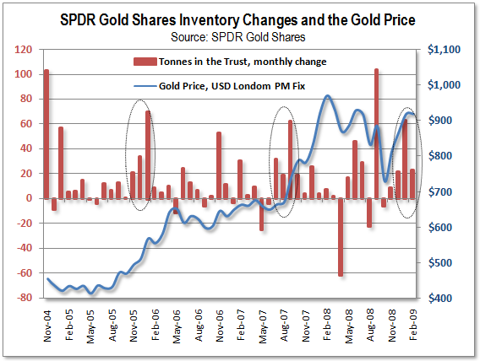 Aside from the initial purchases to start the ETF, those three circled periods are the fastest three-month rates of increases in gold inventory and it doesn't take a rocket scientist to see what happens to the gold price during and after these periods.

With three weeks left in the month of February, the fund has already increased its gold holdings by 109 tonnes since December 1st, slightly behind the record three-month increase of 125 tonnes in January of 2006 that occurred just before the spring price peak. In the chart above, that peak looks like a footnote (these are month-end prices, so the $725 an ounce price in mid-May of 2006 does not appear).

It's not clear which direction the yellow metal is going to go, but analysts are falling all over themselves, ratcheting up their price predictions.

Goldman Sachs figures it will go to $1,000 an ounce in the next three months (up from a timid forecast of just $700 not long ago) while UBS concurs with the $1,000 price target sometime in 2009 and Merrill Lynch projects a price of $1,500 sometime over the next 12-15 months.


Full Disclosure: Owner of physical gold and long GLD