General Electric Co.'s (NYSE:GE) troubled industrial and financial businesses are leading to a credit-rating cut, which will likely force the conglomerate to reduce its dividend, JPMorgan said last Friday.
But until the Fairfield, Conn., company lowers its dividend, it will be near impossible for it to restructure with a possible spin-off of GE Capital, analyst Stephen Tusa said in a note to investors.
The 6-month chart, compliments of Yahoo! Finance, illustrates why the oldest, original member of the Dow Jones Industrial Average is so alarmed.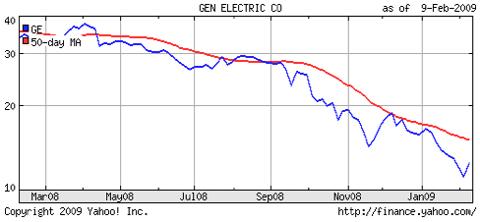 Sure enough, shares of General Electric Co. jumped Monday in a big way as investors cheered the possibility that the conglomerate may eventually cut its dividend, adding billions of dollars to its balance sheet.
Tusa wrote:
These events are necessary catalysts of change for a culture that was built to manage earnings in a way that is clearly unsustainable over the long term. The bottom line is that, with deteriorating fundamentals - clearly at [GE Capital] and with industrial following - staying the course is a hurdle to capitulation.
The following content we are told, comes from a press release that the company issued Friday and was attributed to CEO Jeff Immelt:
The Board and I believe that it is in the best interests of the Company's shareowners to continue to pay an attractive dividend. The Board and I will continue to evaluate the Company's dividend level for the second half of 2009 in light of the growing uncertainty in the economy, including U.S. government actions, rising unemployment and the recent announcements by the rating agencies.

Our fundamental priorities will remain keeping the Company safe and secure in the current environment and investing in attractive growth opportunities.
Cutting the dividend might be the way to help the situation, and of course this would give the conglomerate more cash to shore up its troubled financial business and possibly preserve its coveted "AAA" rating.
Yes, but how about the fact that GE has over 1/2 of $Trillion of debt? In its most recent quarter it reported debt of $546 billion, and that is a total debt to equity ratio of 4.885. Their book value per share is reported to be around $10.09, so the current share price is closing in on the book value.
GE did declare its next regular quarterly dividend of 31 cents a share payable in April, but the above remarks do sound a bit like that commitment to paying $1.24 a share this year might not be quite as firm as it was just a couple of weeks ago.
The volume on Monday was a stunning 233 million shares, almost double the daily average. Some analysts believe that the final passage of the federal government's economic stimulus package will also cause GE to rally further.
That might be true, and a rally to recent highs of around $17 would not surprise us. Speculators might be willing to take a gamble here and ride this kind of momentum. But with the dire fiscal challenges that GE faces, we are just as likely to see GE trading back down closer to its book value before this year ends.
Dividend-paying companies hate to cut their dividends. That's why NYSE Euronext (NYSE:NYX) after reporting disappointing quarterly results, chose to maintain its current dividend payout.
If GE eventually cuts its dividend it will be done only out of sheer desperation. As many learned painfully from their investment experience with such titans as Citigroup (NYSE:C), cutting your dividend doesn't always protect your share price.
In fact it can be perceived as a harbinger of more difficulties to come, a further decline in the price of the stock and that is what GE is trying hard to avoid.
Disclosure: long NYX